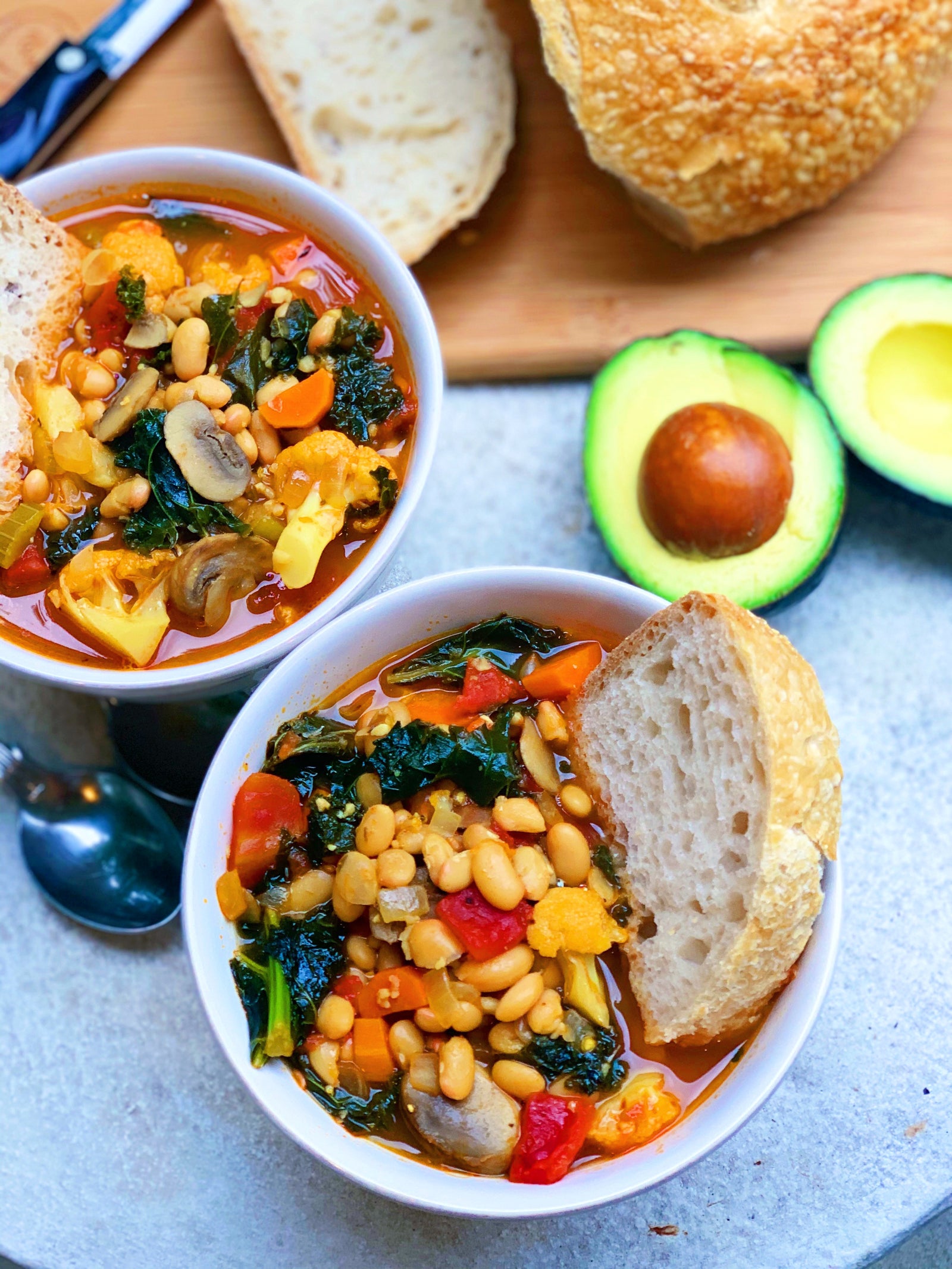 Smoky Tomato, Mushroom, & White Bean Soup
You know those soups that make you wish you were snuggled under a cozy blanket, next to a crackling fire, with a large glass of red wine? One bite of this soup and you will know EXACTLY what I mean.
This soup actually passed the test of my ENTIRE family –including my dad—which is big people. Its absolutely divine and packed full of flavor. We served with avocado and a local homemade sourdough dipping bread… and every last drop was soaked up!!
 I n g r e d i e n t s 
1 sweet onion, chopped
1 cup carrots, chopped
1 cup celery, chopped
2 cloves garlic, minced
2.5 tsp smoked paprika
½ tsp cumin
½ tsp turmeric
½ tsp thyme
1/2 tsp sea salt
Few pinches pepper
2 tbsp tomato paste
1 small cauliflower head, chopped into florets
1, 32 oz container vegetable broth
2 cups water
1 can rotel tomatoes
2 tbsp nutritional yeast
2 tbsp tamari
1, 8oz container white mushrooms
2, 15 oz cans great northern beans
3-4 cups kale , rough chopped
Optional: one tbsp siracha
Heat two tbsp olive oil in a large soup pot over medium heat. Add your onion, carrots, and celery and sauté until carrots are fork tender and onions are translucent. Add your garlic and your spices, stirring until spices become fragrant, about 30 seconds.
Add your tomato paste and cauliflower into the soup pot, and stir until cauliflower is evenly coated. Sauté for two minutes.
Now add your mushrooms, beans, vegetable broth, water, Rotel tomatoes, tamari, and nutritional yeast and stir. If using siracha add in now.
 Bring your soup to a boil. Allow to remain at a boil for a few minutes and then turn down to a simmer. Stir in your kale. 
Simmer your soup for 30 minutes. Taste soup and adjust seasonings. I added more sea salt!
Store in refrigerator in a sealed container.  
Soup is even better next day!