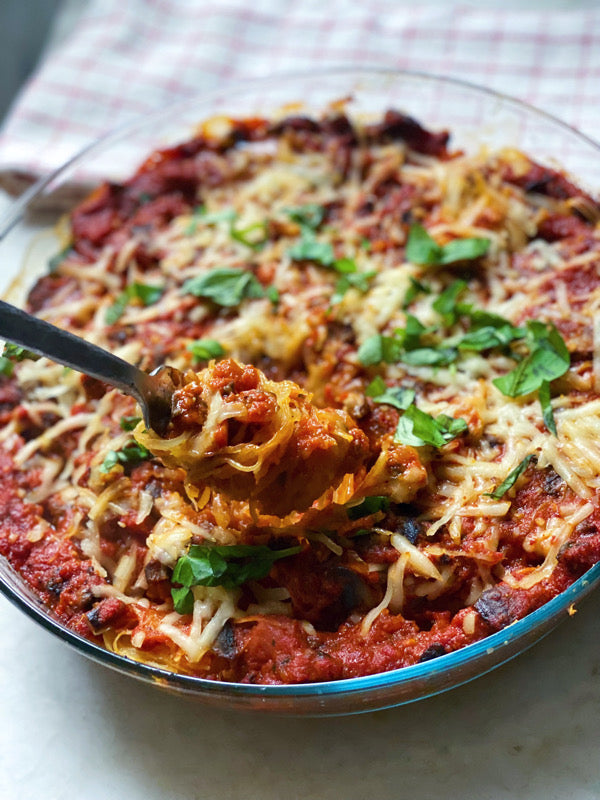 Spaghetti Squash Lasagna Bake
Layers of melty cheese, hearty mushroom "meat" sauce and spaghetti squash noodles make up this delicious lasagna spin-off. 
I love when a dish checks off all the boxes - nourishing, hearty, satisfying, and of course, men-approved. 
This would be the perfect meal prep item or leftover savior for your family. Feel free to swap spaghetti squash for your family's favorite noodle or swap out the sauce with a true meat sauce! You do you!
Serves 8 
Equipment 
Large saute pan 
2 qt Pyrex dish — round or rectangle 
Oven 
Ingredients 
2 small spaghetti squash 
2 tbsp olive oil, divided 
1 medium onion, sliced thin or chopped 
2 cloves garlic, minced 
4 cups baby Bella mushrooms, de-stemmed and chopped 
2 tbsp almond flour 
2 tbsp tomato paste 
1 24 oz jar marinara sauce 
1/2 cup chopped basil, divided 
1 cup vegan mozzarella, divided 
1/4 cup grated parmesan cheese 
Salt and pepper to taste 
Preheat the oven to 425 F. Line a sheet pan with parchment paper. 
Cut both spaghetti squash in half lengthwise and scoop out all the seeds in the center with a spoon. Discard the seeds. 
Rub olive oil on the inside of each squash and season with salt and pepper. 
Place the squash flesh side-down onto the parchment paper. Roast your squash for 30-35 minutes, flipping over about 15 minutes in. When ready, remove the squash from the oven and allow to cool. 
While your squash cooks, prepare your lasagna sauce. 
Heat the remaining olive oil in a large skillet over medium-high heat.
Sauté the onion until translucent. Add the garlic and sauté a minute more. 
Add in your mushrooms and almond flour. Sauté 6-7 minutes. 
Pour in your marinara and fresh basil. Bring your sauce to a rolling simmer, and then turn your sauce to a low simmer. Add a few pinches salt and pepper. 
Stir occasionally and your sauce will thicken as it simmers. Taste and adjust seasoning. 
Once cooled, use a fork to scrape out your spaghetti squash from each shell into pyrex dish. 
Stir in 1/2 cup of your mozzarella and all of your parmesan cheese. Season with salt and pepper, taste , and adjust to preference. 
Pour your lasagna sauce in an even layer over the spaghetti squash noodles. Lightly stir to create little pockets for the sauce to seep into the noodle layer, but do not mix. 
Add your remaining cheese and place back in the oven another 12-15 minutes, or until your cheese has melted. 
Before serving add more fresh basil and a sprinkle of parmesan. 
Save leftovers in a sealed container in the fridge.