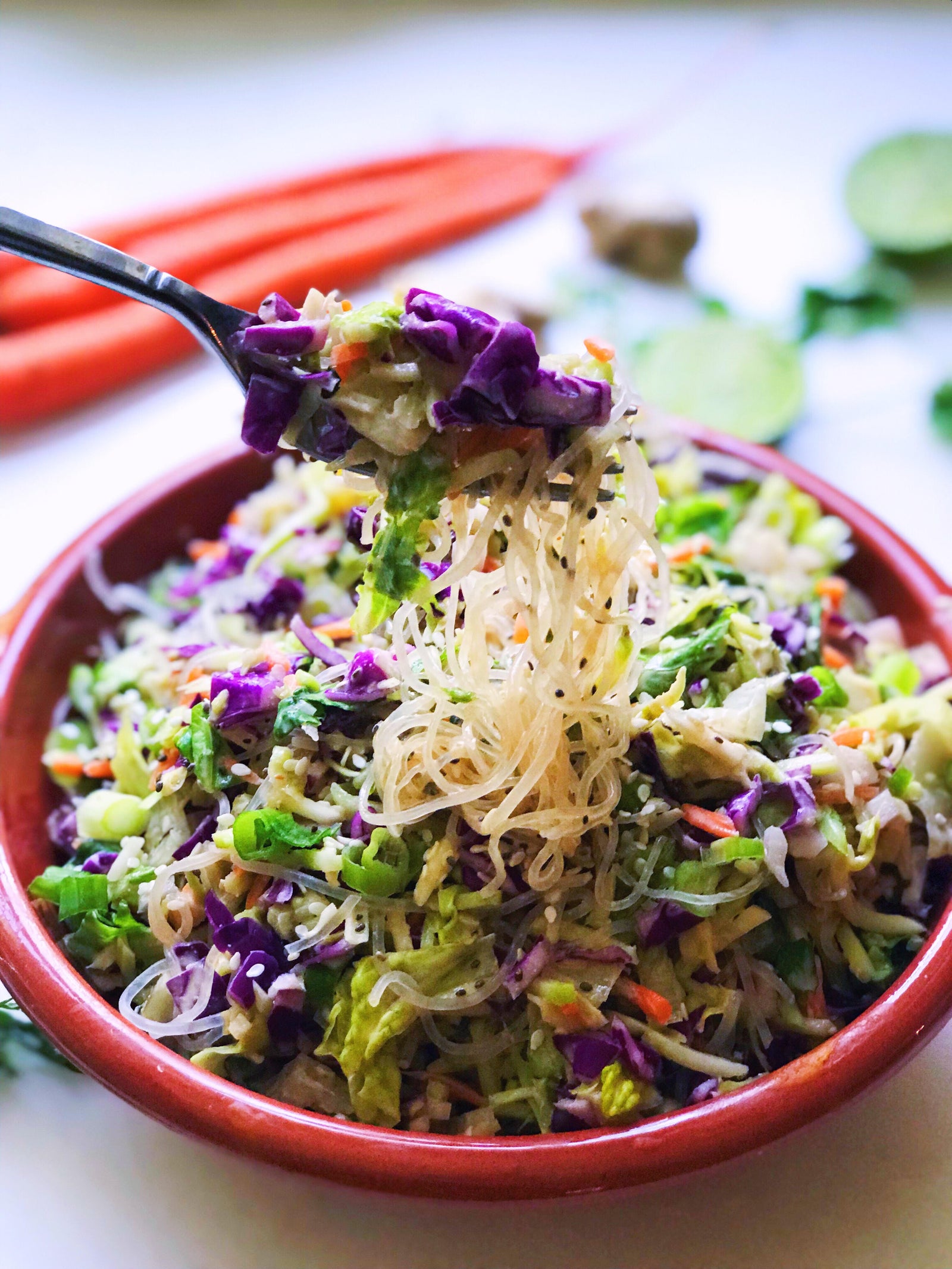 This is the dish that has SAVED me in this summer heat!  Especially those days I haven't been up for "cooking" aka not turning on my stove. 

This slaw is fresh, crisp, creamy, and it's got noodles. Well, kelp noodles. 
Before I lose ya, these noodles have NO taste and can meld into whatever flavor you want them to… cue my Spicy Cashew Dressing.

Happy sidenote — these noodles are insanely good for you— they contain an abundance of iodine that has been said to reduce inflammation, aid in thyroid problems, help prevent cancer, and promote heart health. & one serving provides for about 15% of your daily calcium intake. What ya got to lose?

S l a w  I n g r e d i e n t s 
2 cups fresh romaine, finely shredded
3 cups (one 12oz. bag) broccoli slaw mix, finely chopped ( you can use any slaw mix you like, mine was the organic 365 brand from @wholefoods)
1./2 cup red onion, (1/2 a small onion) , finely chopped
1 - 2 cups red cabbage, finely chopped
1/2 cup carrots, shredded
1 package Kelp Noodles ( I used @seatangle brand from @wholefoods)
Optional toppers: sesame seeds, green onions.
.
**If you aren't ready to try kelp noodles ( you will love them ) you can sub with 1 can @palminipasta or soba noodles!
.
How To Prepare Kelp Noods: If you prefer your kelp noodles less crunchy and more like a "noodle" rinse them, and then soak them in a bowl w/ warm water, 1 tbsp lemon juice, & 1/2 tsp sea salt for 30 minutes. I like them crunchy for this salad so I just thoroughly rinse and pat dry to add to the salad.

D i r e c t i o n s
Combine all slaw ingredients into a large bowl! Mix. Make dressing (below) , mix well into salad, and salt to taste!

SPICY CASHEW DRESSING 
I n g r e d i e n t s 
1/3 cup + 1 tbsp cashew butter
1 tbsp toasted sesame oil ( Trader joes has a great one)
2 tbsp grapeseed or avocado oil
2 tbsp rice vinegar
Juice of 1 small lime
1 tsp ginger, grated
1 tbsp fresh cilantro, diced ( more to taste)
1 small clove garlic, minced
1/2 tsp - 1 tsp red pepper flakes OR 2 tsp+ siracha (preference)
2 tsp raw honey
3-4 tbsp warm water to thin
1/2 tsp salt.

D i r e c t i o n s 
Add all ingredients to a food processor or blender, until desired consistency. 
Taste & adjust seasonings!