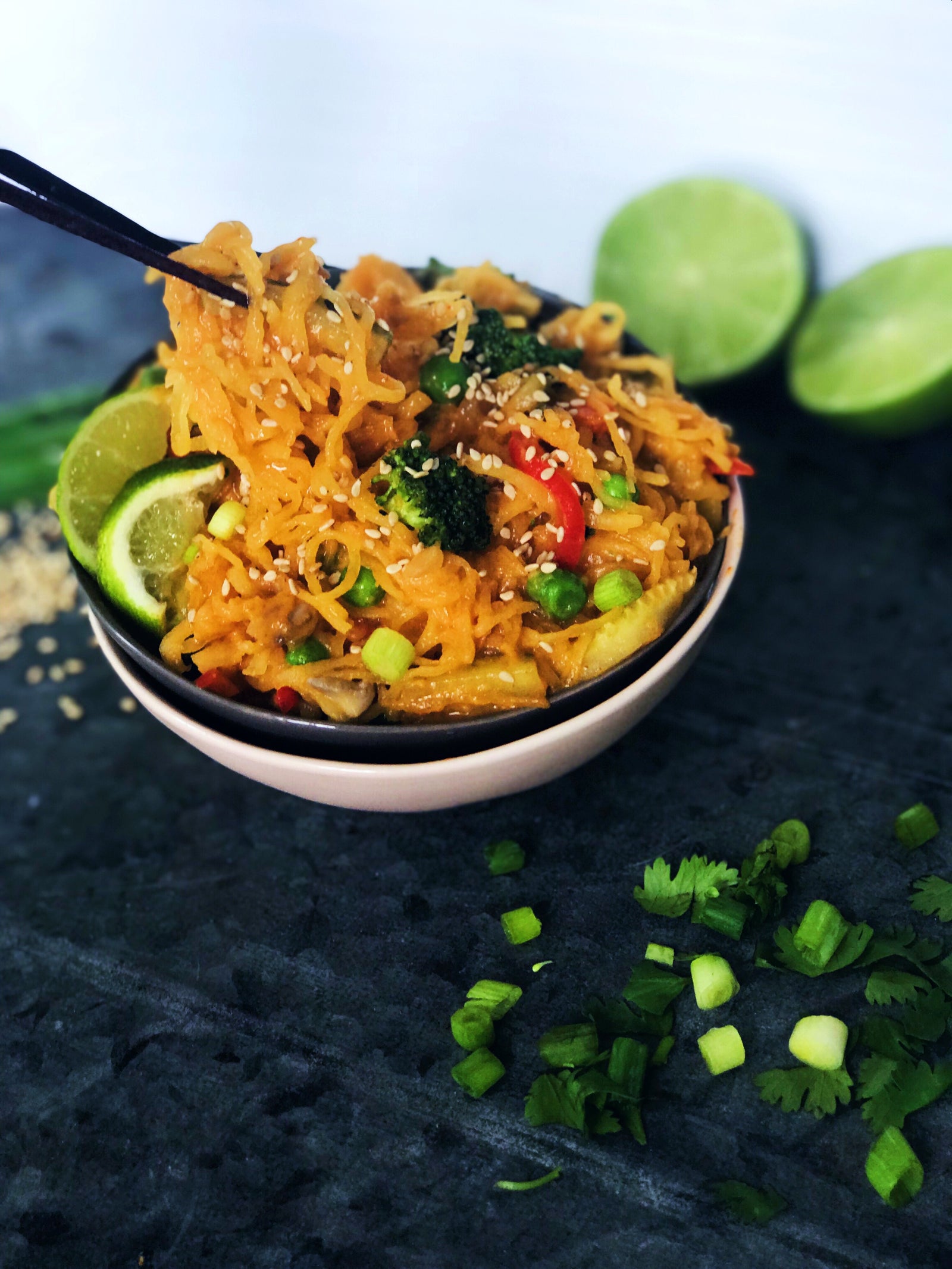 Sometimes you just want to dive head first into a big bowl of noodles. And if your sometimes is more like ALL the time ( like my hubs) then this recipe was made for you! 

I must say, it hits all the spots and yea yea, all the things -- vegan, gluten free, CLEAN. 

I n g r e d i e n t s 
1 large cooked spaghetti squash
1/2 tsp fresh grated ginger
1 small onion, diced
3/4 cup broccoli florets,diced
1 small zucchini, sliced into 1" strips, & then in half
3/4 cup mushrooms, sliced into 1" strips
1 small red pepper, sliced into 1" strips
1/2 cup peas
optional toppers: cilantro, green onion, sesame seeds
salt to taste 

S a u c e 
1/2 cup full fat coconut milk
1 tsp fresh grated ginger
1 tbsp fresh chopped basil
1.5 tbsp gluten free siracha (more if like REAL spicy)
1 clove garlic
1.5 tbsp toasted sesame oil ( I used trader joes)
2 tbsp red curry paste ( I used Thai Kitchen ) 
2 tbsp gluten free Tamari or coconut aminos
1 tbsp raw honey
1.5 tbsp cashew butter, almond , or peanut
1/4 teaspoon sea salt
1/2 lime.


D i r e c t i o n s 
Begin by making your sauce. In a blender add all your ingredients EXCEPT your BASIL & LIME. Blend until smooth. Taste and adjust your seasonings. Pour sauce into a small sauce pan and turn to a low simmer. Add in your fresh basil, stir in. Let simmer on low for 5-7 minutes. Turn off heat and stir in your lime. Set aside. .
.
In a large saute pan add your onion & ginger. Saute for about 3 minutes. Next add your red pepper and saute. After another 3 minutes add in all other veggies and cook 5 minutes more. Add in your cooked spaghetti squash & stir until all combined. .
Turn heat to low and slowly stir in your sauce. Once all combined turn off heat & taste. I added a little more salt and siracha! Top with your favorite toppings & dive in! .