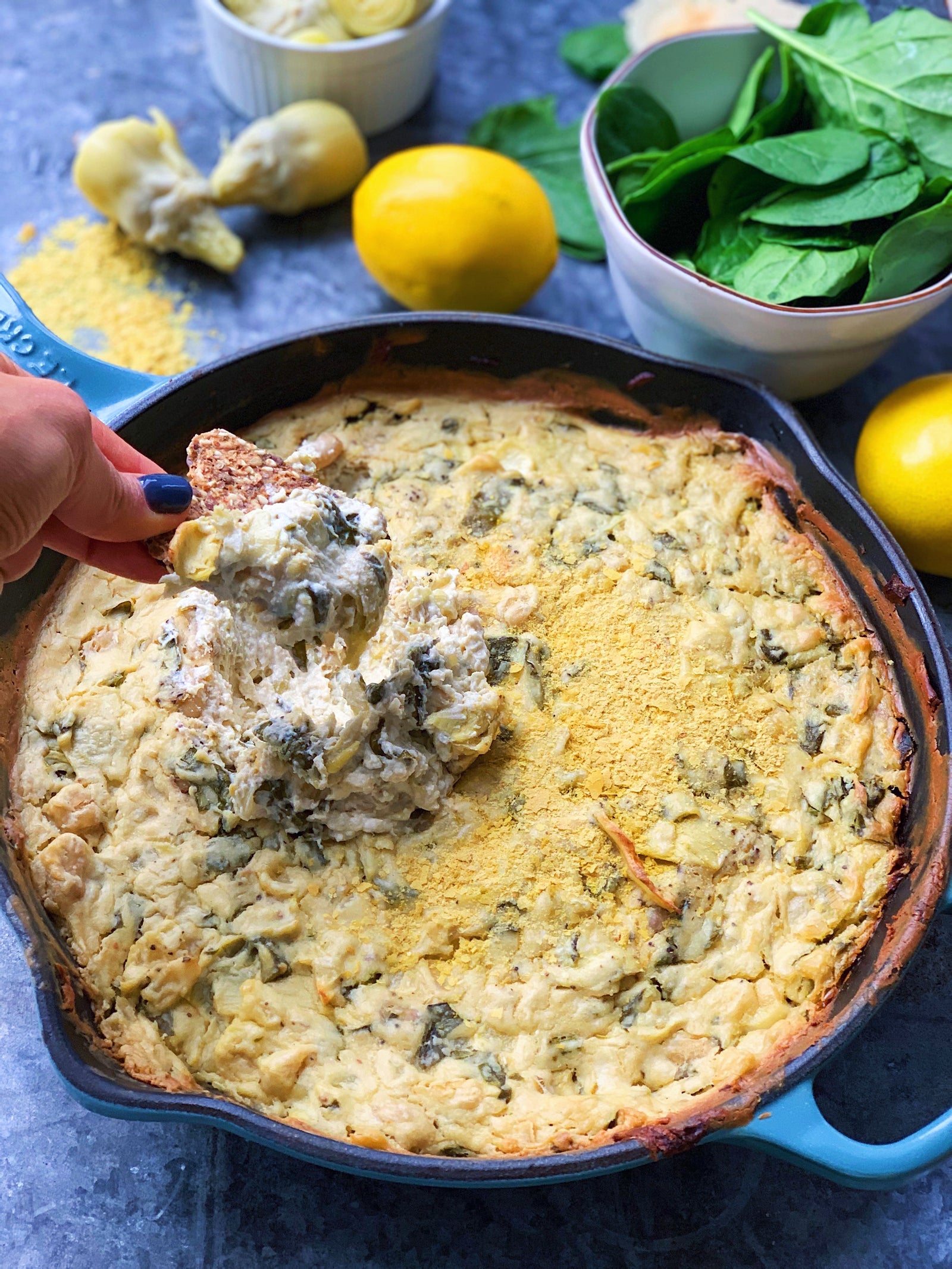 SPINACH ARTICHOKE & WHITE BEAN DIP
All my dip lovers where are you at?? 
Trying to shake things up with your typical holiday appetizer spread? Maybe you are on the hunt for a recipe that you desperately hope non-plant-based eaters will love too? Whatever the case … this Spinach Artichoke Dip is your answer!
I like a dip packed with the good stuff – I'm talking loads of artichoke, spinach, and white beans to give your chip something to hold onto. Not to mention the "cheesy" cream sauce that holds it all together. It's a match made in heaven and I can't wait for you all to meet! 
*This recipe was inspired by Minimalist Baker 
Ingredients
2 tbsp olive oil
1 onion, chopped
3 large garlic cloves, minced
1.5 can quartered artichoke hearts ( drained, rinsed, pat dry)  rough chopped
1 can great northern beans ( drained, rinsed)
6 cups fresh spinach, finely chopped
1 cup raw cashews ( soaked minimum 6 hours in cool water—these will expand to more than a cup while soaking– after soak drain and rinse )
1 8oz container vegan cream cheese  ( Kite Hill has the best version I've tasted)
3 tbsp nutritional yeast
3 tbsp fresh lemon juice
1/2 tsp sea salt 
¼ tsp pepper
1/2 cup almond milk
Preheat the oven to 375F. 
Add olive oil to a large cast iron skillet and warm to low-medium heat. When olive oil has heated, add your onions and begin to sauté. Stir for a few minutes and as the onion begins to soften add your garlic. Sauté until onions are translucent and garlic is fragrant about 5-7 minutes total.
Turn off skillet and move off the warm burner. Quickly scoop up and add HALF your onion/garlic mixture to the blender.
Now, while the skillet is still warm add your chopped artichoke, white beans, and chopped spinach. Stir until all is combined and spinach has begun to shrink. Set aside while you prepare the rest of the blender ingredients.
Into the blender ( with the onion/garlic mixture) add the rest of ingredients in the ingredient list -- a whole container of cream cheese, nutritional yeast, lemon juice, cashews, salt, pepper, and almond milk.
Blend on high for a few minutes until the mixture is extremely creamy. Taste and adjust salt/pepper/ nutritional yeast preferences.
Pour entire batch of sauce into the cast iron skillet. Using a large wooden spoon or baker's spatula mix sauce into the veggie mix until everything is evenly coated and even. Taste again for salt/ pepper preference.
Feel free to sprinkle a little more nutritional yeast on top at this point!
Place in oven and bake for 35-40 minutes or until completely cooked through and dip begins to brown around the edges.
Allow to somewhat cool before diving in! Store in a sealed container in the refrigerator once completely cooled.