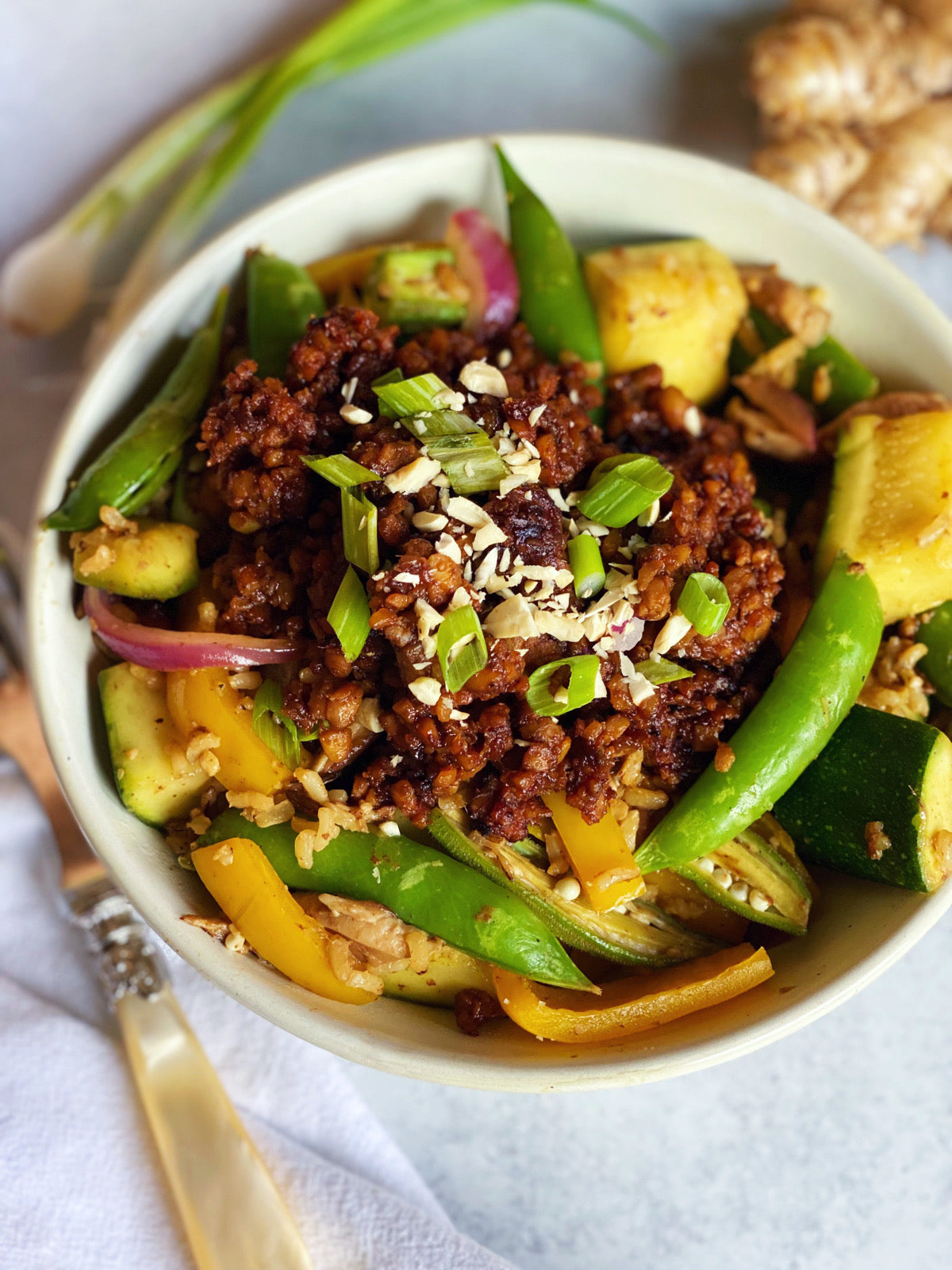 Sticky Sesame Ginger Tempeh
When you are craving something meaty and rich in flavor this tempeh recipe is for you. Its bold, satisfying, crispy, and steeped in your favorite Asian flavorings.
Well, let's back up a second. Let me introduce you to this vegan protein superstar, otherwise known as tempeh. Tempeh is made of fermented soybeans ( aka much better on your digestive system than tofu ) and has been used in Indonesian cooking for years. It's the perfect meat substitute, and this recipe proves how much flavor it's capable of having!
Add to a stir fry, steamed broccoli, over a salad, or on a bowl of sticky rice! Taste and watch how this meal sneaks into your weekly prep rotation!
*This recipe was inspired by the insanely talented , The First Mess .
 Ingredients:
1 pack original tempeh ( I used Lightlife )
1.5 tbsp toasted sesame oil
2 tbsp grated ginger
2 garlic cloves, diced
2 tbsp low sodium tamari
1 tbsp liquid aminos (sub extra tbsp of low sodium tamari)
2 tbsp coconut sugar
Juice from one small lime ( roughly 1.5 tbsp)
1 tbsp rice vinegar
2 tsp sriracha
Toppings:
Sliced green onion
Sesame seed or crushed peanuts/cashews
Suggested Use:
Over vegetable stir fry
On an Asian salad
Over sticky rice
Equipment Used:
Steam Pot
Large nonstick Sauté Pan
Mixing bowl
Directions: 
Slice your tempeh block into thin ½ inch slices. Add them to a steam pot with water and steam for 7-8 minutes. Remove from steam pot and when cool enough to handle lay them side by side on a dish rag or pieces of paper towel. Take another dish rag and pat dry.
In a small mixing bowl add your tamari, liquid aminos, coconut sugar, lime juice, rice vinegar and sriracha. Whisk well.
Warm your toasted sesame oil in your sauté pan over medium heat
Break your tempeh into tiny little crumbles and add into your sauté pan. Sauté for about 4-5  minutes, until tempeh begins to brown in color. Add your grated ginger and garlic. Sauté for another minute.
Pour the sauce into the skillet and and quickly stir to coat the tempeh. Continue to cook the tempeh until sauce begins to caramelize, about 5-6 minutes, scraping down the skillet when needed.
Serve the sticky tempeh over a stir fry, salad, or add to a wrap!