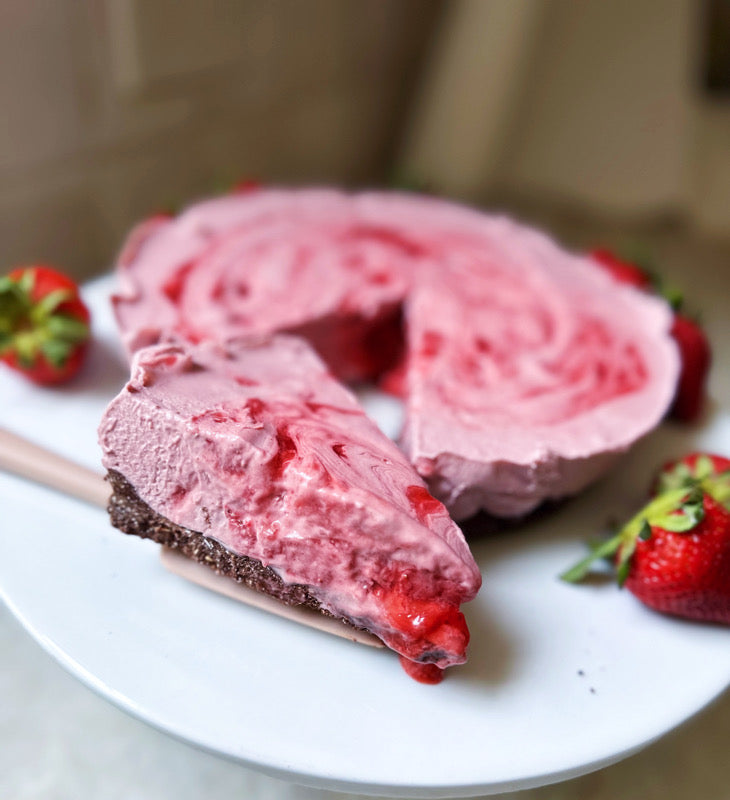 Strawberry Glaze Cheesecake w/ Chocolate Cookie Crust
A chocolate cookie crust, creamy strawberry filling, and sweet strawberry glaze layer together to create the ultimate summer cheesecake.
Who else is in for a classic strawberry-chocolate combo?
This no-bake cheesecake is just as delicious as she is beautiful and requires zero "cooking," just a blender, and your hands will get the job done.
Cool off with every creamy bite. 
Serves: 8
Equipment: 
High-Speed Blender
Mixing Bowl 
Crust 
2/3 cup cacao powder 
1/3 cup almond flour
1/3 cup oat flour 
1/2 cup coconut sugar 
1/4 cup coconut oil, melted
1 tsp vanilla extract
1/2 tsp sea salt
Glaze 
1.5 lbs fresh strawberries, half diced and half halved 
2 tbsp water 
1/3 cup honey 
1 tbsp tapioca starch 
2 tbsp water 
1 tsp vanilla extract 
1/4 tsp sea salt 
Filling
1.5 cups raw cashews, soaked overnight
1 can full-fat coconut milk, refrigerated overnight 
2 cups frozen strawberries, slightly thawed 
1/2 cup maple syrup
1/4 cup coconut oil, melted  
1.5 tsp vanilla extract 
1/4 tsp sea salt 
Prepare your crust:
Line a cake pan with parchment paper. 
Add cacao, coconut sugar, oat flour, almond flour, and salt into a mixing bowl and mix well. 
Use the back of a fork to mix in your melted coconut oil and vanilla extract until one cohesive crust is formed. 
Use your fingertips to press the crust into the bottom of the cake pan forming an even layer. Leave your crust out while you prepare your glaze and filling. 
Prepare your glaze:

 
Place diced strawberries, 2 tbsp water, and honey in a small pot on the stove. Bring to a simmer over low -medium heat, stirring continuously. 
Keep your strawberries at a simmer for 7-8 minutes, stirring frequently, until your diced strawberries break down. 
In a small bowl, mix tapioca starch with the other 2 tbsp water and stir until all is dissolved.  
Stir the tapioca starch mix into the strawberry glaze and cook for another 2-3 minutes. Remove the sauce from heat and allow it to cool and thicken for another 30 minutes. 
Prepare your filling while your glaze is cooling!  
Prepare your filling:

 
Drain and rinse your cashews. Add cashews to a high-speed blender along with your strawberries. 
Turn over your coconut milk can and open it from the bottom. Discard or save the liquid in a container for another time. 
Scoop out the hardened coconut cream and add it into the blender. 
Add remaining maple syrup, coconut shreds, vanilla and sea salt. 
Blend batter until smooth and creamy, ensuring no clumps left.
Pour your filling over your crust. 
Swirl in 1 cup of your strawberry glaze with a spoon or toothpick ( save the rest for serving or for pancakes, waffles, or an ice cream topping!) and place cheesecake in the freezer for a minimum of 4 hours. 
Allow the cheesecake to thaw for 30 minutes before serving. Serve with an extra scoop of glaze and enjoy.