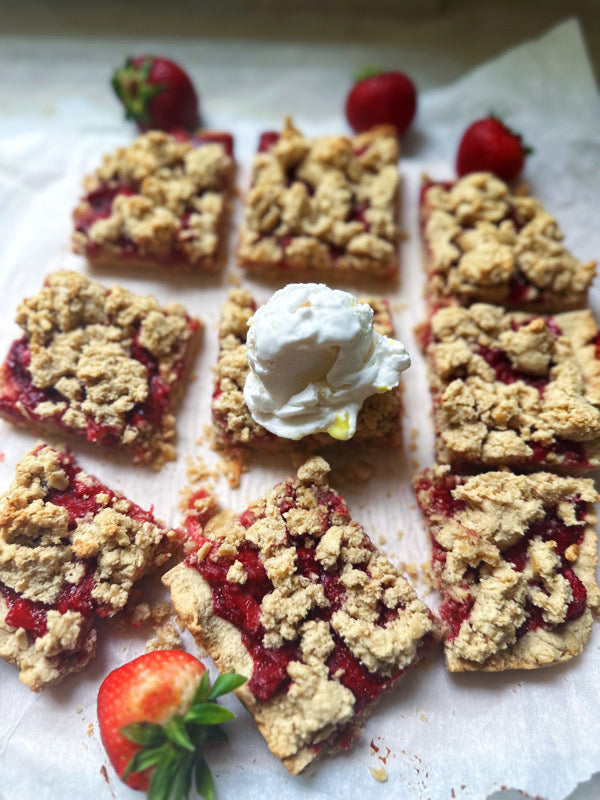 Strawberry Shortcake Bars
It's strawberry season which means it is strawberry baking season in this house. Y'all LOVED the 'no-bake' strawberry cheesecake so I went a little further this time to tackle one of my favorite and nostalgic childhood desserts. 
These strawberry shortcake bars hit the spot— in flavor and in presentation. They are delicious enough to be eaten alone, but come on, add a dollop of whipped cream or vanilla ice cream and live a little. 
Summer is flying by just like these bars will fly out of this pan! 
Enjoy y'all !
For the crust:
2 cups gluten-free oat flour
1 cup fine almond flour

 

¾ cup oats
1/2 teaspoon salt
1/4 cup honey ( sub maple syrup ) 
1/4 cup maple syrup 
1/4 cup melted coconut oil

 

1/4 cup vanilla bean or unsweetened cashew yogurt ( I used Foragers)

 

1 tsp lemon juice

 

1 tsp teaspoon vanilla extract
optional : 1/4 tsp almond extract 
For the filling:
2 tsp arrowroot + 1.5 tbsp water

 

1.5 lbs fresh strawberries, chopped

 ( about 5 cups ) 

3 tablespoons pure maple syrup or honey 
1 tbsp lemon juice
1/4 tsp vanilla extract 
Prepare the crust 
Preheat oven to 350F and line a 9x9 baking dish with parchment paper. 
Add almond flour, gluten-free oat flour, gluten-free oats, and salt into a large mixing bowl. Stir well. Add your maple syrup, melted coconut oil, yogurt, lemon, vanilla extract, and almond extract ( if using ), and use the back of a fork to work the liquid into the dry mix until a crust/ crumble forms. 
Reserve about 1 cup for your topping. 
Use your fingertips to press the remaining dough into the parchment-lined dish to form a crust. Bake for 12 minutes. 
Prepare filling while crust bakes. 
In a small dish, mix your arrowroot flour and water until no clumps remain. Set aside. 
Add your strawberries and maple syrup to a skillet over low-medium heat. Bring the mix to a simmer, stirring frequently. Reduce heat to low and stir in your arrowroot mix, lemon juice, and vanilla extract. Continue to stir frequently for another 5-6 minutes. Remove from the hot burner until your crust is out of the oven. 
Remove the crust from the oven and spread the strawberry filling directly onto the crust. 
Crumble the reserved crust on top of the filling ( do not spread ) so that you can still see some strawberry filling. 
Bake for another 30-33 minutes or until your crumble is golden brown. 
Remove from oven and allow to completely cool before slicing or else they will crumble. 
Serve with whipped cream or vanilla ice cream for the full strawberry shortcake feel! 
Store in the refrigerator in a sealed container for up to 5 days.