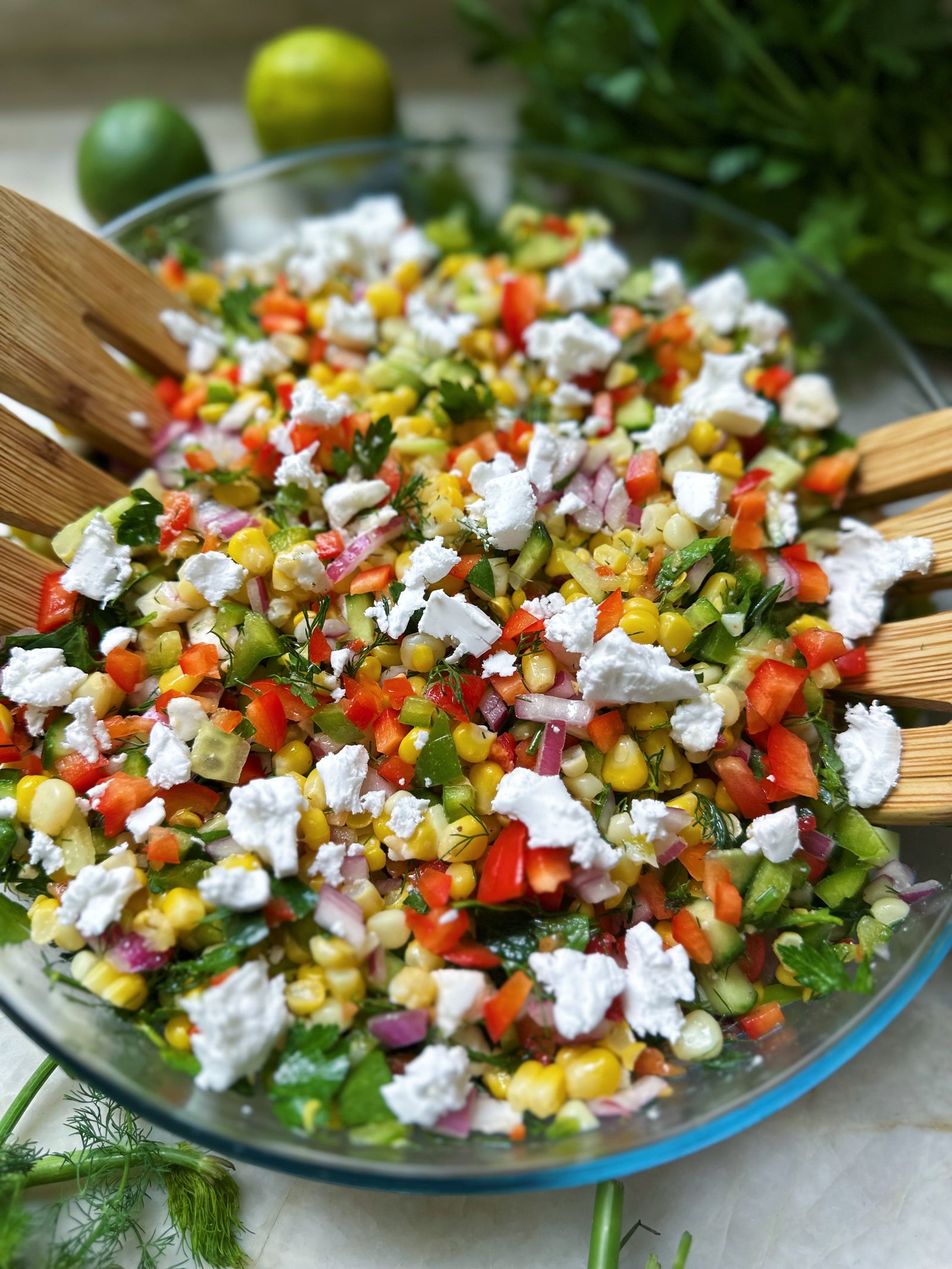 This vibrant and fresh corn salad is here to stay all summer, at least in my house! 
It had been 8 days since I had tested in my kitchen which may be a new record over here. The babies were hit hard by the stomach bug last week and I wanted to only wear the mom hat for a while but happy to report everyone perked up on Friday and we were able to enjoy the weekend! 
I crept into the kitchen early this morning before the house woke up to plan some testing, and the first on my list was this rainbow beauty 
I love a salad with a flavor punch and lots of crunch and that's exactly what this one has to offer. 
Fresh corn, crunchy peppers, spicy jalapeños, crisp cucumbers, creamy vegan feta, and ripe avocado all come together to deliver something special.
Perfect for your next picnic or bbq! 
Ingredients
4 ears of corn, husks removed
1 large red pepper, diced
1 large green pepper, diced 
2 Persian cucumbers, diced ( or 1 English cucumber )  
1/2 large red onion 
1/2 cup fresh herbs of choice, chopped ( cilantro, parsley, dill ) 
1/2 cup vegan feta or cheese of choice 
2 jalapeños, de-seeded and sliced ( optional ) 
1 ripe avocado, cubed ( optional ) 
1/4 cup olive oil
3 tbsp lime juice 
1 tbsp red wine vinegar 
1/4 tsp chili powder 
1/4 tsp cumin 
1/4 tsp salt and pepper ( more to taste ) 
Add ears of corn to a pot of boiling water and boil for 3 minutes. Drain and allow to cool. 
Once cool enough to handle slice the kernels off the cobb and add into a large salad bowl. 
Add your diced red and green pepper, cucumber, red onion, herbs, feta, and jalapeños into the salad bowl. 
In a separate bowl whisk olive oil, lime juice, red wine vinegar, chili powder, cumin salt, and pepper. Taste and adjust any flavorings. 
Drizzle on the desired amount of dressing, mix well, taste, and adjust your salt or vinegar. 
Lightly toss in your avocado! 
Allow to marinate for fifteen minutes before serving.