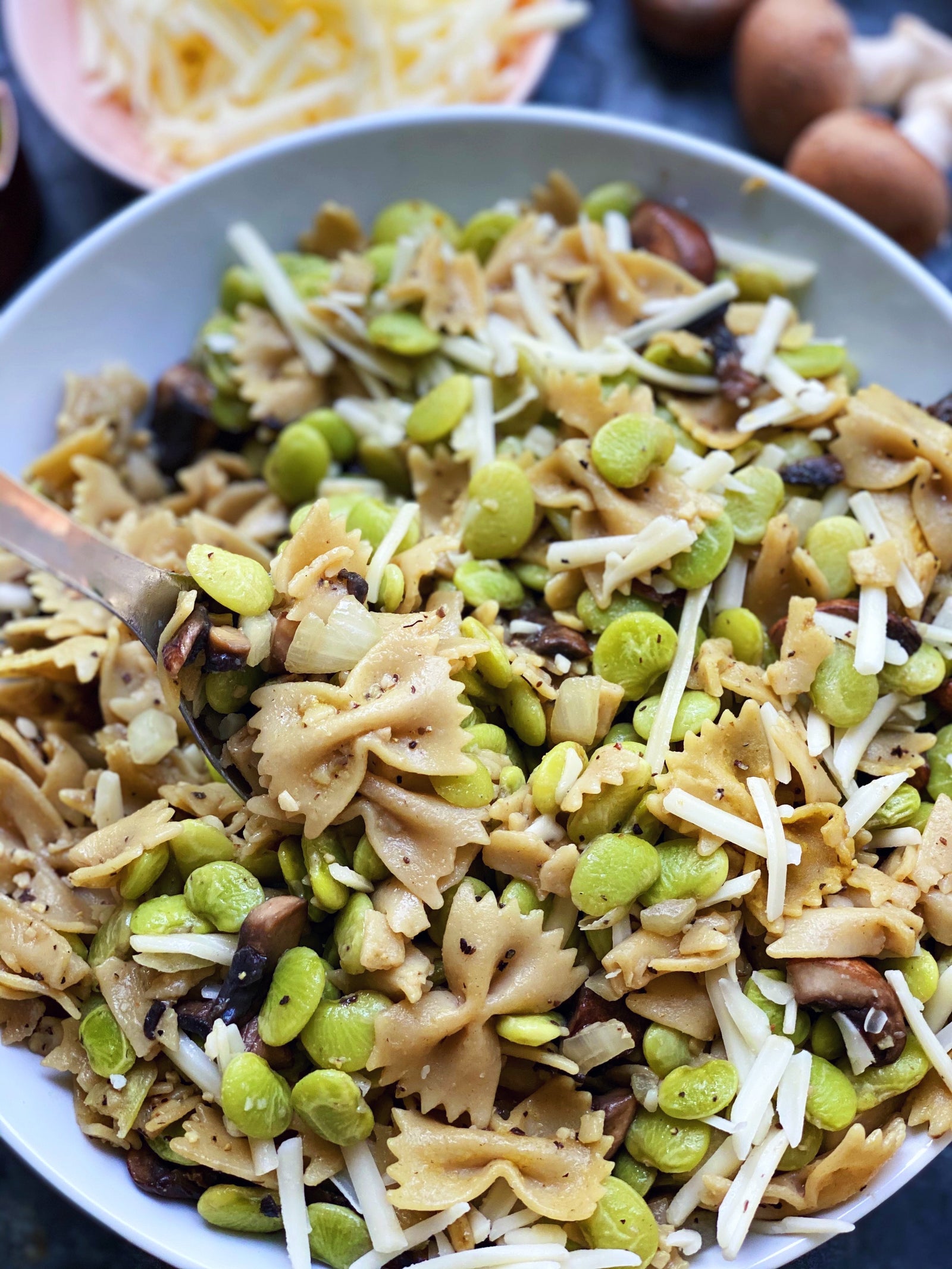 SUMMER LIMA BEAN BOWTIE PASTA
It is no secret one of my major pregnancy cravings has been LIMA BEANS! Don't ask me why but I have been craving them in every way possible – with a squeeze of lemon, in a stir fry, adding into salads, but my most FAVORITE right now is this warming lima bean pasta!
 It's the perfect summer pasta if you ask me – light, veggie packed and yet still undeniably comforting and satisfying.
After posting this dish over the weekend and receiving so many requests for the recipe, I came straight home and got to work! I hope you love it!
I n g r e d i e n t s
1 box bowtie pasta  ( any pasta will do )
Olive oil
½ large sweet onion, chopped
2 garlic cloves, minced
3 cups cooked lima beans ( I cooked from frozen – cooked to package instruction before making pasta)
2 cups baby bella mushrooms, destemmed and chopped
1-2 tbsp vegan butter or ghee
2.5 tbsp nutritional yeast
½ cup Violife Shredded Mozzarella Cheese ( any mozz will do ! )
1 tsp salt
½ tsp pepper
Serves 4 Entrée Portions
D i r e c t i o n s 
Boil your pasta according to package instructions. For a gluten free pasta, be sure and add a dash of olive oil into the boiling water, stir occasionally while boiling..
While your pasta boils, begin to sauté your veggies. In a large deep sauté pan warm a dash of olive oil over medium heat. Add your onions and sauté for a few minutes until translucent. Add your garlic and mushrooms and sauté five minutes more. Add in your cooked lime beans and sauté until all warmed through, turn heat to low while you drain your pasta.
Once drained add your pasta into your sauté pan with your vegetables and turn heat to low. Mix everything well. Add your vegan butter or ghee and mix through. Turn off your burner.
Add your nutritional yeast, mozzarella, salt and pepper and mix well. Taste and adjust to your preference!
Serve warm. Store in a sealed container in the refrigerator.