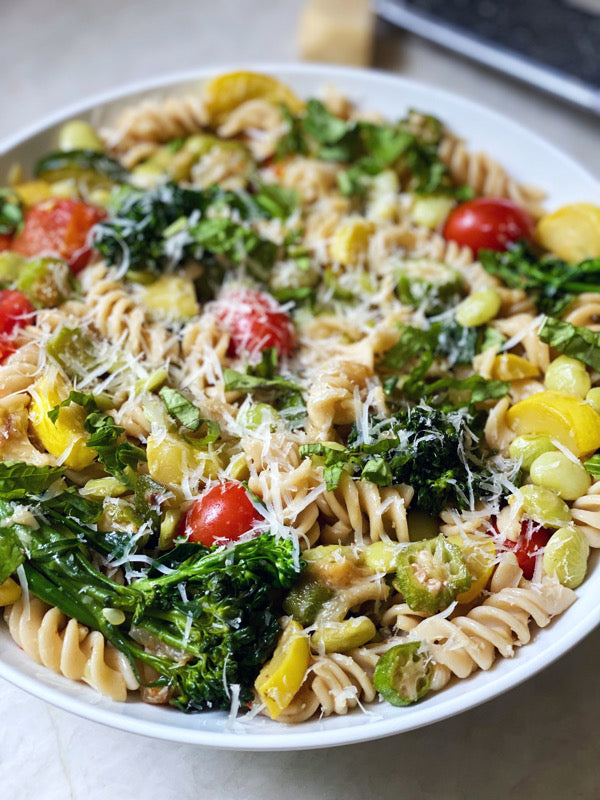 Lightened Up Pasta Primavera
All of summer's best flavors in one bowl of.... pasta! 
The beauty of this dish (other than the vibrant vegetables)? It takes less than twenty minutes from start to finish! 
The vegetables simmer down in your broth of choice and with a touch of miso paste and vegan parmesan, a creamy pasta sauce forms! 
This dish is super easy, versatile, and one that will please the whole family! Swap out the veggies, the grain, or opt out of the grain! You can't go wrong. 
1 8oz box pasta 
1 tbsp olive oil 
1 small onion , diced
1 cup cherry or grape tomatoes, whole 
2 garlic cloves, minced 
1 squash , quartered 
1 zucchini , quartered/
6 okra , sliced
1 cup broth , vegetable or chicken or bone 
2 tsp miso paste 
1 cup broccoli or broccolini , cut into florets 
1/2 cup lima beans, cooked or canned
1/3 cup grated vegan parmesan 
salt to taste
pepper to taste
optional : squeeze fresh lemon 
Boil your pasta and set aside while you prepare the rest of your dish. 
In a large saute pan warm your olive oil over medium heat. Add your onion and saute until transluscent. 
Add your tomatoes and saute for two minutes. Add your garlic, zucchini, squash , and okra and saute a few minutes more. 
Add your broth and miso paste and bring mix to a simmer. 
Stir in your miso paste as your bring your broth to a simmer. Add your broccolini, lima beans, salt, pepper and stir. 
Allow your veggies to simmer for 6-8 minutes. Turn off the burner and stir in your pasta ( amount based on preference) and parmesan cheese. 
Mix well and allow the pasta to soak in all the flavors. Add your squeeze lemon if using and stir again. 
Taste and adjust seasoning. 
Serve with extra parmesan cheese and any herbs you like!