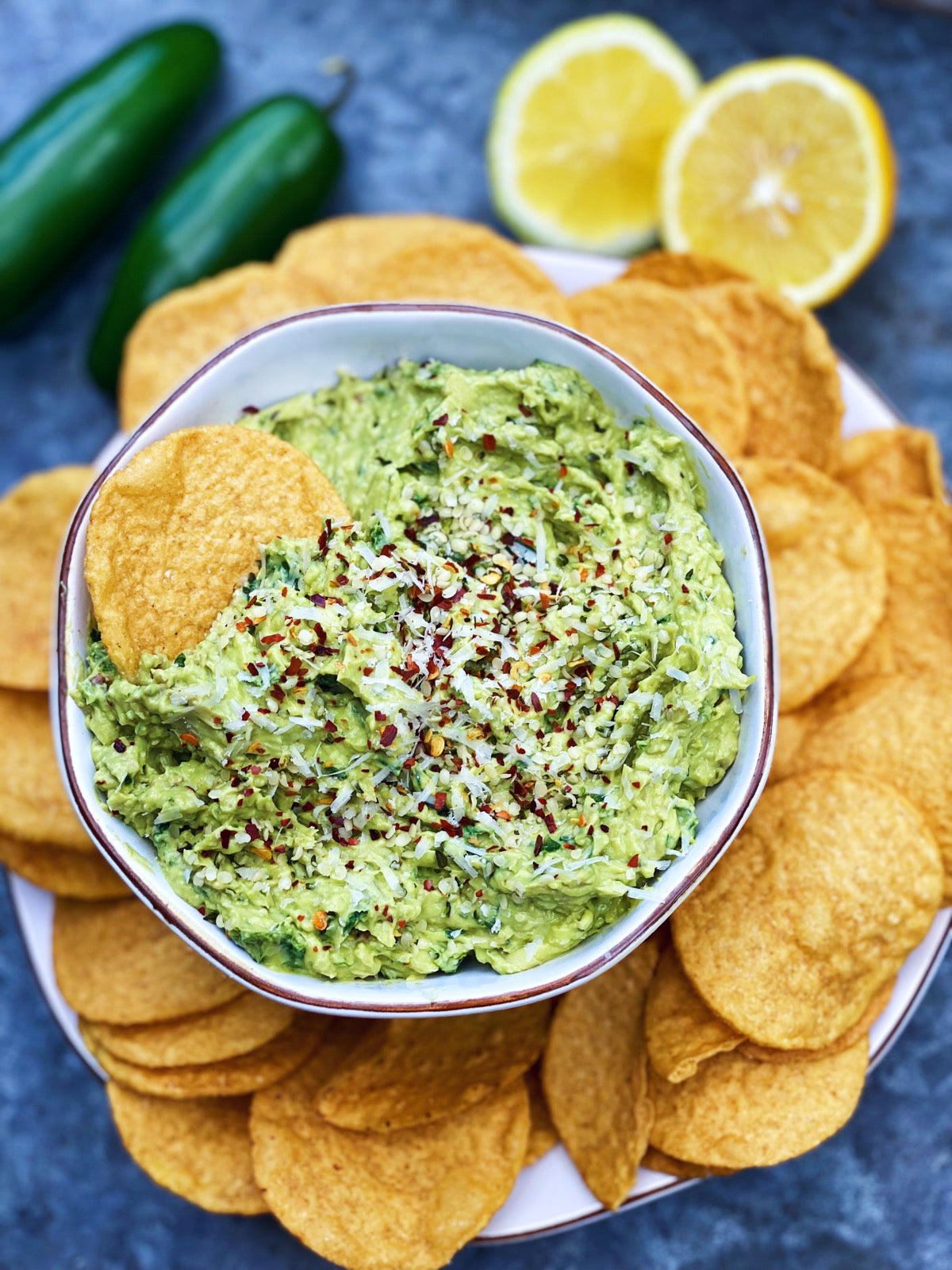 Superfood Avocado, Kale, & Artichoke Dip
When something this delicious can come together in 5 minutes, I wonder why in the world I bother with anything else.
Have a dinner party...make this dip. Need a snack...make this dip. Indulgent craving....make this dip. But then don't forget to feel incredible about making said dip because It is rich in healthy fats, nutrient dense greens, and plant-based protein! 
I'm telling you nothing makes me happier  ( for you ) than when I nail a SERIOUSLY easy and healthy recipe that is sure to impress a crowd. 
I hope you enjoy this one!  
Serves: 5
Equipment:
Food Processor
Sauté Pan
Mixing bowl
NOTE: If not serving immediately, use this method to preserve the beautiful green color and prevent any browning.
Ingredients
1 14oz can artichoke hearts, quartered
2 cups chopped curly kale ( remove all stems)
3 regular avocados
1 garlic clove
2 tbsp hemp seeds
2 tbsp cashew butter (I used unsalted -- tahini should work too)
3 tbsp lemon juice
1 tbsp nutritional yeast
1/2 tsp sea salt + more to taste
1/2 tsp pepper
Suggested Toppers:
Red pepper flakes
Extra Hemp Seeds
Jalapeno Slices 
Directions
Drain and rinse your quartered artichoke hearts. Pat dry and set aside.
Finely chop your kale and remove any stems. Add a dash of olive oil into a skillet and add your chopped kale. Over low heat, *slightly* sauté your kale until just soft, about 2 minutes. Move off heat and allow to cool.
In a large food processor add the flesh of your avocados, garlic, lemon juice, hemp seeds, cashew butter, nutritional yeast, sea salt, pepper. Process until an avocado mousse forms.
Pulse in your kale for about 60 seconds, so you can still see green bits but all is mixed in well. Now pulse in your artichokes. You want clumps in your dip , so only pulse until all is mixed through.
Add dip into a mixing bowl and adjust any salt, pepper, lemon, or nutritional yeast. I added a few pinches more sea salt!
Top with desired toppings, I used red pepper flakes, hemp seeds, and some jalapeno slices for a kick! 
Serve alongside tortilla chips, toasted pita bread, or vegetables! Also delicious as a spread!
Enjoy