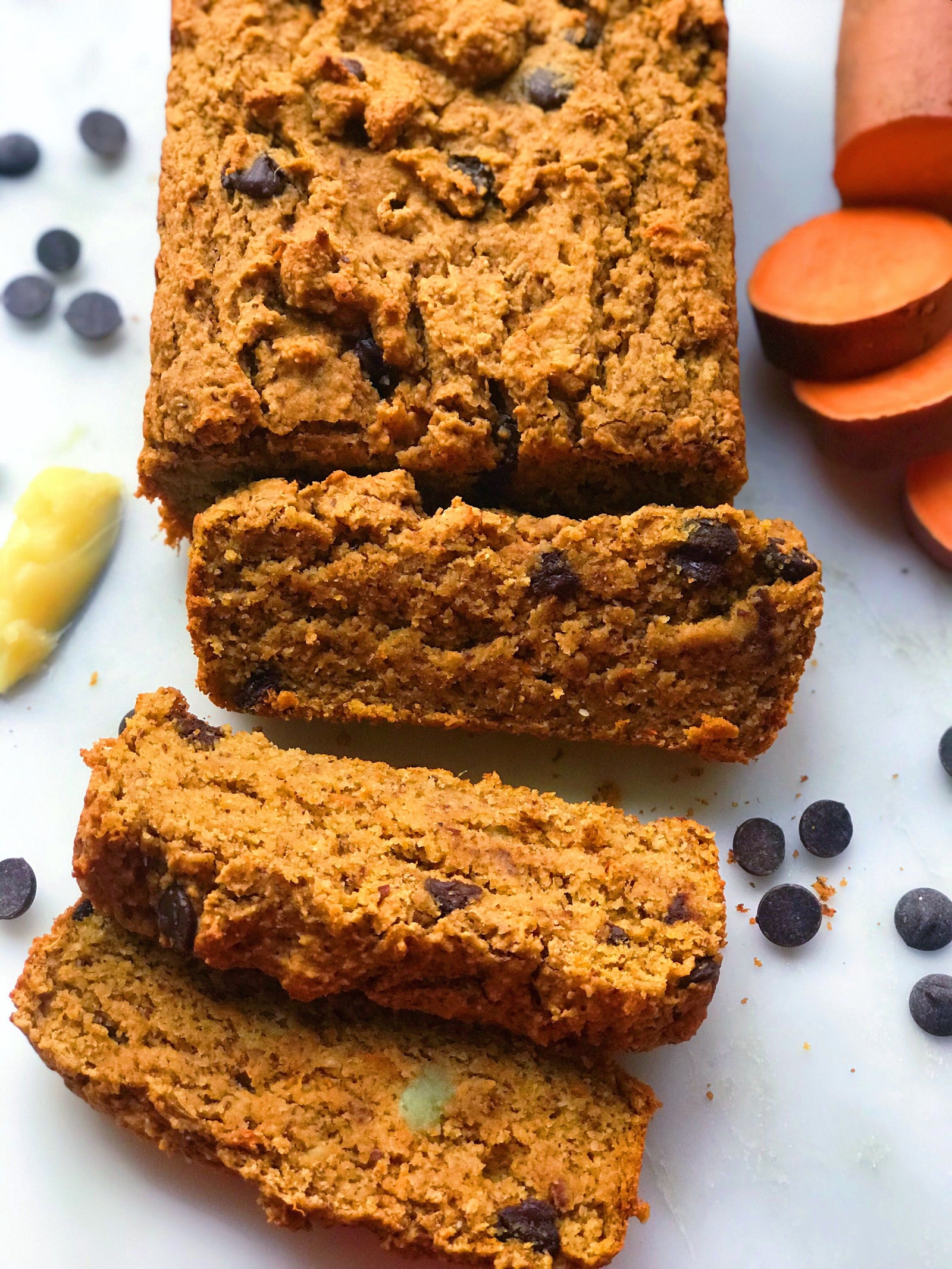 SWEET POTATO CHOCOLATE CHIP BREAD
When youre craving a little sweet, a little savory, a little doughey and a lotta THICK…. Insert this 'Sweet Potato Chocolate Chip Bread.'
I am all about banana bread, in every form, but sometimes its nice to switch it up a bit. Lather on some ghee, some homemade chia jelly (here), or some creamy nut butter and call it a day.
Cant wait for yall to try this on!
I n g r e d i e n t s  
DRY
1.5 cup GF oat flour (blend your oats until a fine flour)
1 cup blanched almond flour
¼ cup tapioca flour
2 tbsp coconut sugar
½ tsp cinnamon
2 tsp baking powder
½ tsp baking soda
½ tsp salt
WET
2 flax eggs ( 2 tbsp flax meal + 6 tbsp water)
1 cup sweet potato mash ( from 1 large roasted sweet potato)
½ cup almond milk
¼ cup maple syrup
1.5 tsp vanilla
2 tsp apple cider vinegar
Other: 
½ cup chocolate chips 
 D i r e c t i o n s 
PREP: Preheat oven to 400. Wrap one large sweet potato in foil. Poke a few holes in skin through foil. Roast on a baking sheet until flesh is tender and can be easily pierced with a fork. Remove from oven and let cool. Once cooled, open sweet potato and scoop out 1 cup of flesh. If there is any remainder save and freeze for smoothies or for snacking!
Preheat oven to 350F. Spray a bread pan with coconut oil spray (or use a paper towel to coat pan with coconut oil) and set aside. 
Prepare your flax eggs in a small bowl, set aside. In a large mixing bowl add all of your dry ingredients, whisk until fully combined. In a separate bowl add your flax eggs. Add the rest of your wet ingredients EXCEPT apple cider vinegar, and whisk until fully combined.
Add your dry ingredients to your wet and fold in until mixed. Add your apple cider vinegar and mix in. Mix in your chocolate chips.
Pour in your bread pan and bake for 40-42 minutes or until toothpick comes out clean.