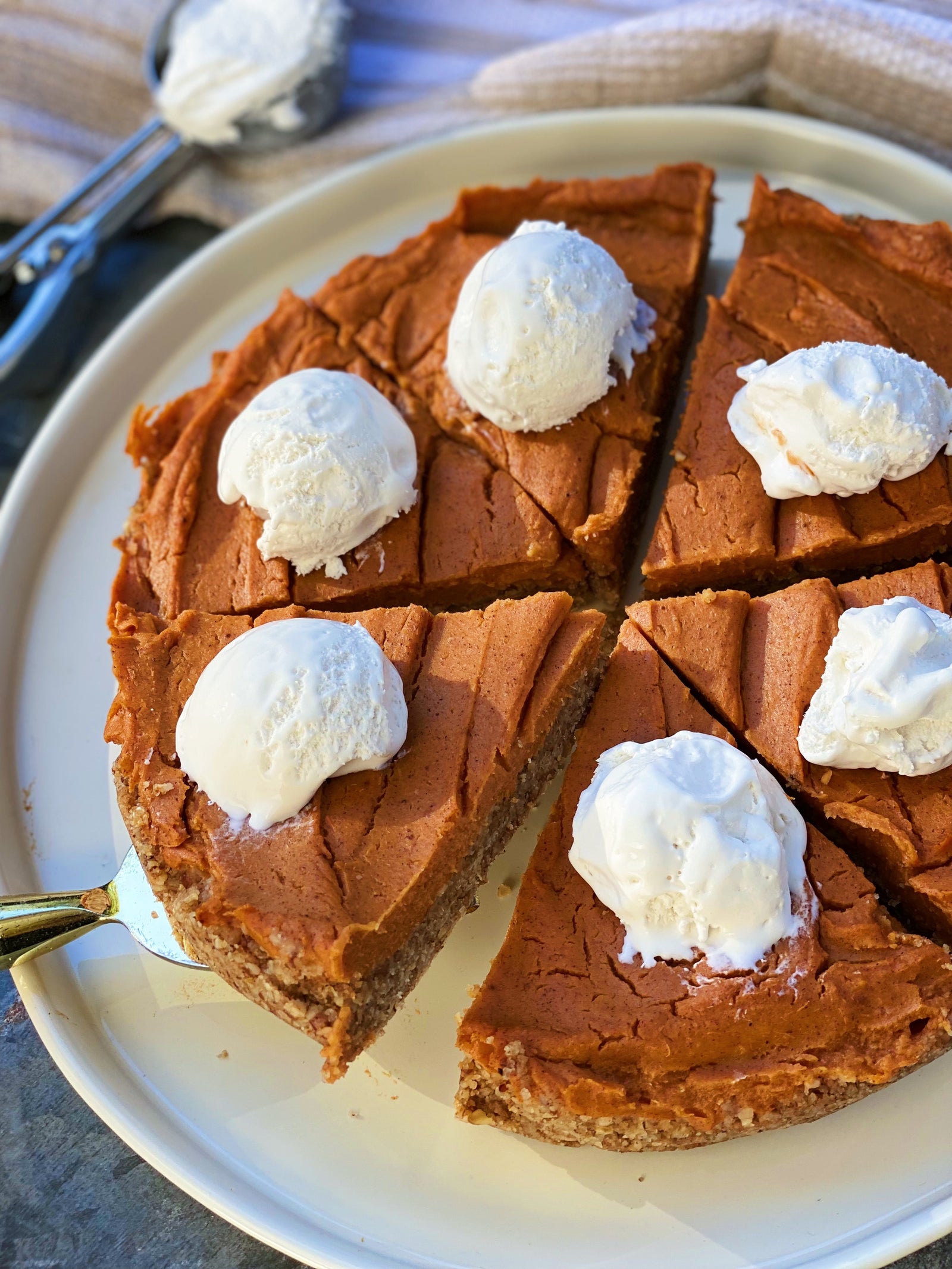 Sweet (potato) as Pie!
Thanksgiving just brings out the southern girl in me and so does this PIE!!!
I retested an old recipe and adjusted a few measurements to ensure this one deserved a spot on your holiday dessert table! It's made with real sweet potato and sweetened only with real maple syrup.
My favorite part about this recipe (besides the incredible flavor) is that it is even better if made the day before serving—for those who typically host, you know what a savior that is!
Grab some whip cream, a fork, and your sweet tooth because this pie is just as decadent as it is delicious!
Ingredients
Crust
1 cup pecans, rough chopped
1 cup gluten free oats
1 cup almond flour
3.5 tbsp coconut oil, melted
2 tbsp maple syrup
2 tbsp coconut sugar
1 tsp vanilla
1/2 tsp sea salt
F i l l i n g : 
2 cups sweet potato flesh/mash , (yielded from  2 large roasted sweet potatoes- see prep)   
1/4 cup maple syrup
2 tbsp arrowroot powder
2 tbsp coconut oil, melted
1.5 tsp vanilla extract
2 tsp pumpkin pie spice
1/2 tsp cinnamon
½ cup + 2 tbsp almond milk
1/4 tsp sea salt
TOPPING:
(optional) vegan whip cream, vegan ice cream, or extra pecans! 
Directions
Prep: Preheat oven to 400F. Wrap 2 large ( or 3 small) sweet potatoes in foil, piercing with a fork in 4-5 places. Roast on a baking sheet until insides are super tender and skin is peeling away from flesh. Allow to cool. Scrape out the insides and measure 2 cups of the mash. You can save the skins and any remaining sweet potato mash for salads or snacking!
To make:
Line a 9" cake pan with parchment paper. Preheat oven to 350F.
Add your oats and pecans into a large food processor. Process until they resemble flour. Add in all other crust ingredients and process. You may have to scrape down the sides in between processing and continue processing until crust forms into one cohesive mixture. Mix should be slightly sticky and wet. If too sticky add more oat flour, if not sticky enough add a splash of warm water.  
Scoop out your crust mixture onto parchment paper. Press your mix firmly into bottom of dish to form a crust, working to ensure thickness is consistent throughout, pinching upwards on the sides to form an edge.
In same food processor (no need to rinse) add in all your filling ingredients. Process until smooth, creamy, and no clumps are left. You may need to scrape sides of processor once or twice. Taste and adjust your sweetness!
Pour the mixture over the crust, ensuring an even layer of filling. If you have too much mixture (due to sweet potato variances) you can save to freeze for smoothies, oatmeal, etc.
Smooth the filling out with the back of a spoon. Add into oven and bake for about 30-33 minutes or until sweet potato layer is no longer "mushy" and sides begin to pull away from the pan.
Allow your pie to cool completelyand then refrigerate AT LEAST three hours before slicing and serving. Keep refrigerated until ready to serve!
This is a great "make ahead" dessert for Thanksgiving!