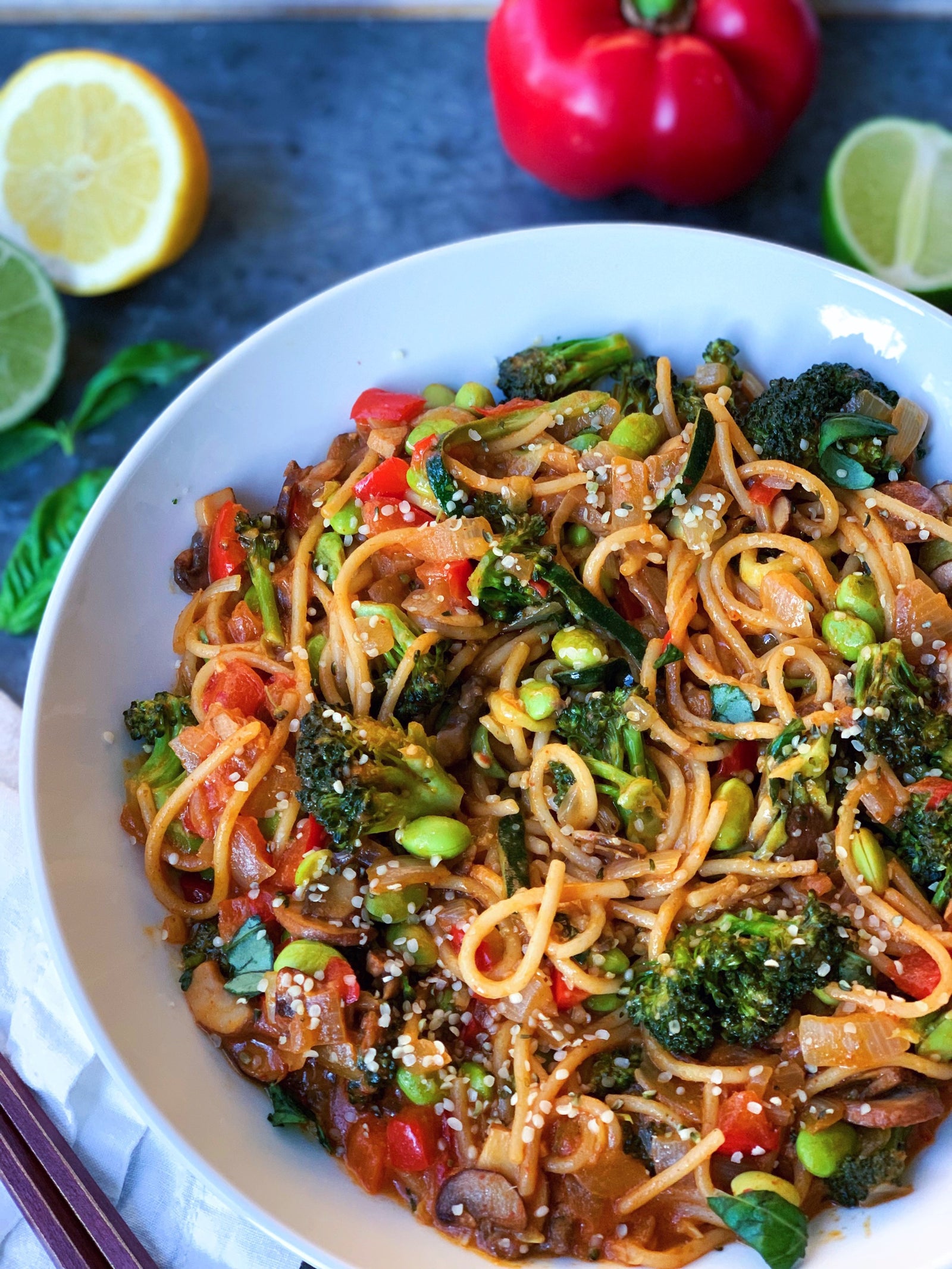 Have you ever had a hankering for a big bowl of steaming noodles?
What about a big bowl of steaming noodles simmering in a fragrant, flavor packed curry sauce? With veggies galore?
Well if you hadnt already, I bet you have now .
This dish was born on a Sunday night with the need to satisfy both my husbands cravings, as well as my own, with ingredients I already had on hand. 
Noodles (him ) + vegetables (me) + a sauce we both would be ok swimming in (both of us)= winner winner ASIAN dinner!
Whether you use brown rice noodles, zucchini noodles, kelp noodles, or another noodle that I havent thought of I can PROMISE you, this bowl is one worth salivating over!
Make your grocery list, and get ready for noodle heaven!
Serving Size : 3-4
I n g r e d i e n t s
VEGETABLE SAUTE 
1 tbsp extra virgin olive or coconut oil 
1/2 large sweet onion, diced ( other half used for sauce)  
1 tbsp grated ginger ( grated from fresh root) 
1 small red pepper, chopped 
1 cup cremini or shiitake mushroom, chopped 
1 broccoli crown, chopped into florets 
1/2 cup frozen peas or edamame 
1/2 cup green onion, sliced 
Optional: 1 -2 tsp siracha  
Sesame seeds for topping 
1/2 - 1 small lime
Sea salt to taste 
THAI CURRY SAUCE
1 tbsp toasted sesame oil
1/2 sweet onion, diced 
2-3 garlic cloves, minced (preference,I used 2) 
1 can full fat coconut milk
3 tbsp thai red curry paste 
1 tbsp coconut sugar 
NOODLES:
Options Below: 
2-3 large zucchinis, spiralized 
1 pack Brown rice spaghetti noodles
1 pack Kelp noodles 
OR 
A combo 
( I used 1/2 pack brown rice spaghetti & 1 spiralized zucchini) 
D i r e c t i o n s:
If you are using brown rice noodles, go ahead and boil your water. If using zucchini noodles or kelp noodles, I find It is easiest to get them ready so they are easy to add in. 
In a small sauce pot, add your toasted sesame oil over low-medium heat. Add in your diced onion ( half). Once your onion begins to saute, add in your minced garlic. Saute until transluscent. 
Add in the rest of the sauce ingredients, and stir until well combined. Stir occasionally while bringing sauce to a boil. Once boiling,  reduce heat to a low simmer. Keep heat to low until ready to serve, stirring occasionally. 
If cooking pasta, go ahead and add It to the boiling water.  Drain the pasta when It is finished. 
In a large, deep saute pan add a dash olive oil or toasted sesame oil. Add the other half of the diced sweet onion. 
After a few minutes, add in your ginger, and saute a minute more.
Add the rest of your vegetables into the saute pan (except green onion) and continue to saute five minutes more.
Now pour roughly two cups of the sauce into the saute pan over the veggies. Stir in your peas/ edamame and allow the vegetables to simmer in the sauce for a minute or two. Stir in your siracha ( if using). 
Now add in your noodles ( zucchini noodles, kelp noodles, or brown rice noodles.) 
Using tongs or a large fork, work the noodles into the mixture. Add in extra sauce based on preference. We like It sauce! Allow the noodles to simmer in the sauce for a few minutes. 
Add in salt based on preference, and stir through. I added in a few pinches pink Himalayan sea salt. 
Turn off, stir in fresh lime juice from 1/2 a lime. Top with your green onions.   
Additional toppers:  sesame seeds, lime wedges, and/ or Siracha when serving. 
Enjoy immediately! Leftovers will save for 2-3 days in a sealed tight container.