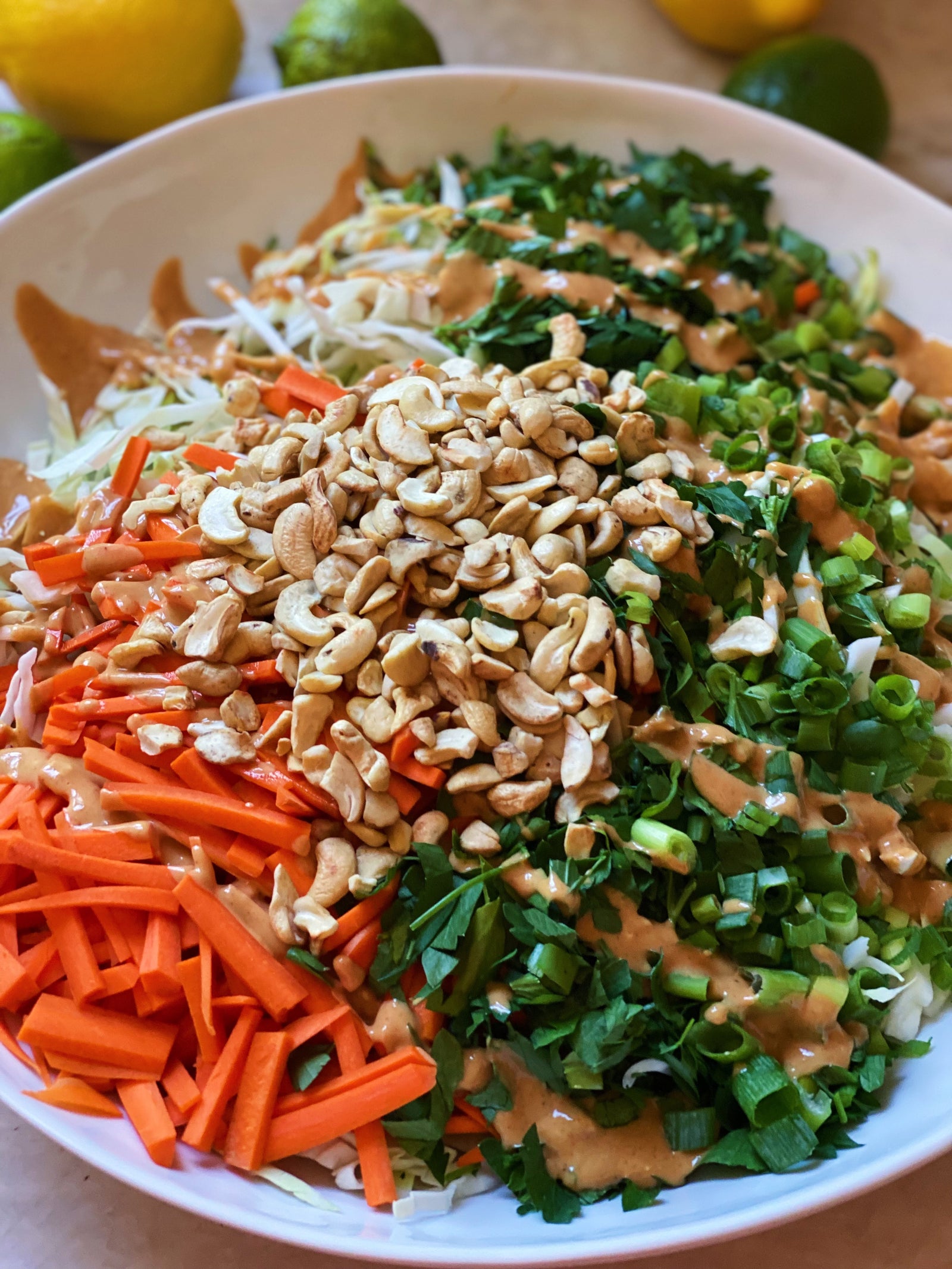 Who knew four ingredients could make such a killer slaw? Shredded cabbage, carrots, parsley ( or cilantro ), and green onions...that is IT. The creamy dressing really kicks up the flavor with ingredients like peanut butter, toasted sesame oil, rice vinegar, sriracha, and freshly squeezed lime. 
Add some avocado, crispy tempeh, or your protein of choice, and this slaw really can stand alone at the dinner table! 
It is also ideal for any of you meal prep gurus out there! It gets even better as it sits and marinates in the dressing. 
Can't wait to see your recreations! 
Equipment 
Large Mixing Bowl 
Serves: 4-5 
Ingredients 
1 small green cabbage head, shredded
5 carrots, peeled and finely sliced into strips 
1 bunch cilantro or parsley, diced 
1 bunch green onions, diced ( about 1/2 cup ) 
1/2 cup cashew pieces, raw or toasted 
Dressing 
1/4 cup peanut butter , runny 
2" knob ginger, peeled then grated 
1 garlic clove, grated or minced 
1 tbsp toasted sesame oil 
Juice of 1 lime, about 1.5 tbsp 
1 tbsp rice vinegar 
1 tbsp low sodium tamari 
2 tsp maple syrup 
2 tsp sriracha ( optional) 
1/2 tsp sea salt ( more to taste) 
3 tbsp water to thin 
Add all your salad ingredients into a large bowl, except your cashews. 
In a separate mixing bowl add all dressing ingredients, except your water.
Whisk well. Add your water as you whisk until you reach desired dressing consistency. Taste and adjust your lime/ salt/ maple syrup/ or rice vinegar. 
Pour the desired amount of dressing over your salad. Mix well with salad tongs or massage the dressing into the salad with your hands. 
Add your cashews and lightly toss. 
Add any desired topping like avocado or a protein and serve! 
Save leftovers in a sealed container in the refrigerator.