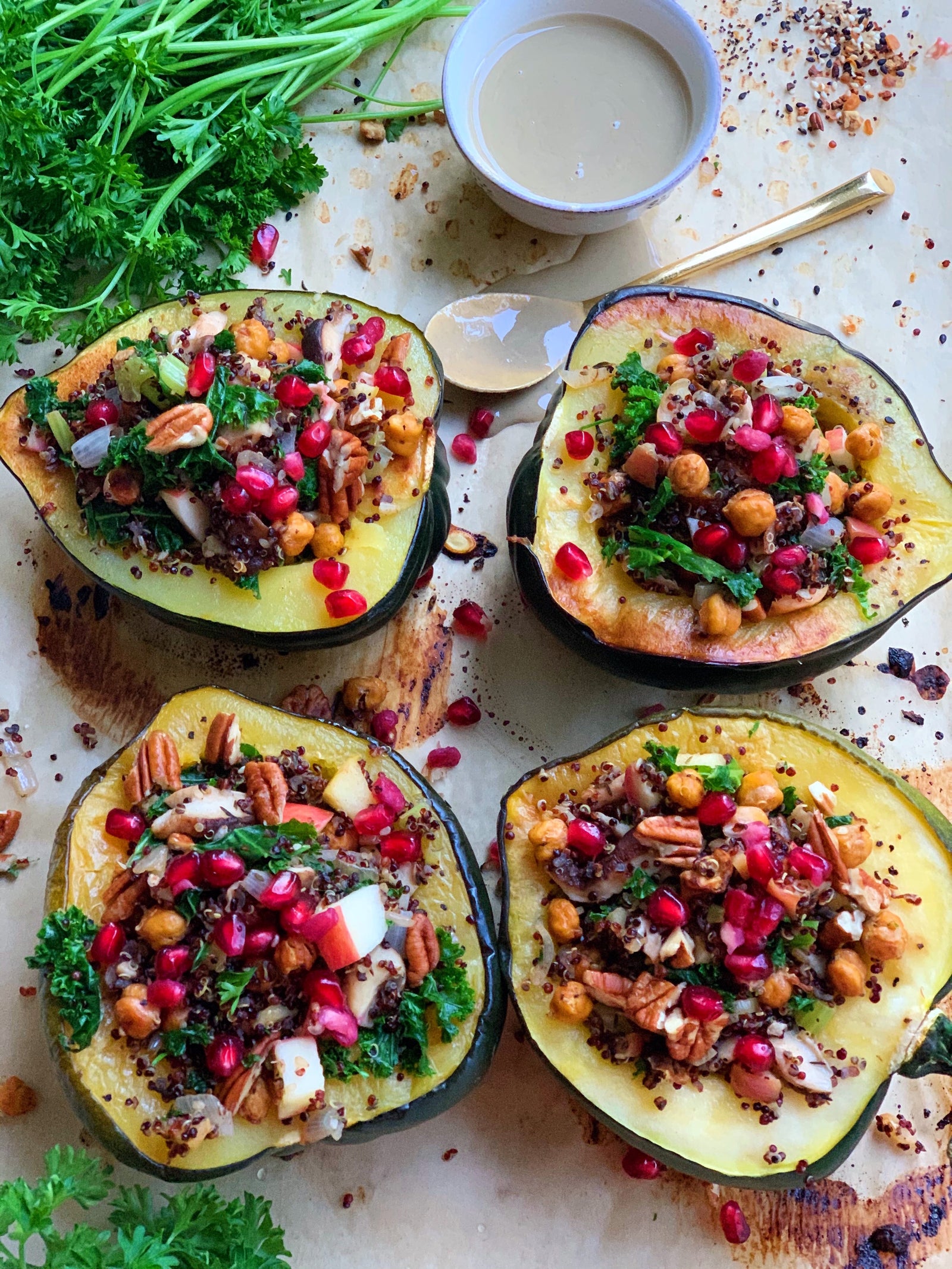 THANKSGIVING STUFFED ACORN SQUASH
We've got one week until Thanksgiving which means menus are getting set and ovens are turning on... BUT I couldnt let you finalize a single thing without checking out these Thanksgiving "Stuffed" Acorn squash first! 
Flavor packed. Check. Nutrient Dense. Check. Veggie Loaded. Check. Protein Packed. Check.
Trust me, if you are looking to contribute to the T-giving spread, while secretly making sure you have something to eat, these veggie loaded squash bowls would be the perfect place to start!  
I n g r e d i e n t s
 
VEGGIE QUINOA SAUTE
2 cups cooked quinoa (prepared ahead of time) 
1 Tbsp avocado, coconut oil, or olive oil
1 small red onion, (about 1 cup chopped onion )
1 small red apple, chopped (peel on) 
1 tsp sage
2 tsp fresh thyme
½ tsp cinnamon
2 cloves garlic
3 cups shiitake mushrooms
1 cup chickpeas or lentils
3 cups loosely packed chopped kale
1/2 cup roughly chopped pecans
1/2 - 1 tsp sea salt ( preference) 
few shakes pepper 

SQUASH PREP
2 acorn squash ( or butternut squash) , sliced lengthwise
2 Tbsp avocado or melted coconut oil ( divided)
1 tbsp maple syrup (divided)
1/4 tsp ground cinnamon (optional)
pinch sea salt
 
FOR TOPPING
1 cup pomegranate seeds ( divided amongst each half)
Drizzle of Maple Tahini Dressing ( recipe linked)
 
D i r e c t i o n s
 
Preheat oven to 400 degrees F and set out a baking sheet with parchment paper or grease a baking dish.
 
In the meantime, if you haven't already done so, prepare quinoa according to package instruction. You need 2 cups cooked quinoa for this recipe.
 
Halve the squash lengthwise (tip and stem) and scoop out seeds with a spoon. Brush face with olive oil, maple syrup ( use 1 tbsp to divide amongst each squash half), sprinkle cinnamon and sea salt. Place cut-side down on your lined baking sheet or baking dish.
 
Bake squash for 20 minutes, then flip the squash over to cut-side up. Bake for another 35-40 minutes or until a knife easily pierces the squash in the thickest parts.
 
While baking, prepare your Tahini – Maple Dressing and set aside.
 
Now to prepare your veggies – add your oil in you saute pan over medium heat. Add your shallots and chopped apples and saute about 5 minutes. Next, add your seasonings ( thyme , sage, and cinnamon) and garlic and saute about 30 seconds.
 
Now add your shitake mushrooms, chickpeas, and saute until slightly browned, about 5 minutes.
 
Add your cooled quinoa and continue to saute a few minutes more ( I like to saute until my quinoa gets crispy.)
 
Now add your kale and pecans and saute until kale is just wilted.
 
Add Salt and pepper and stir. Taste and adjust salt. 
 
When ready to serve top scoop mix into each acorn squash.
 
Top each squash with pomegranate seeds and drizzle with maple tahini dressing!