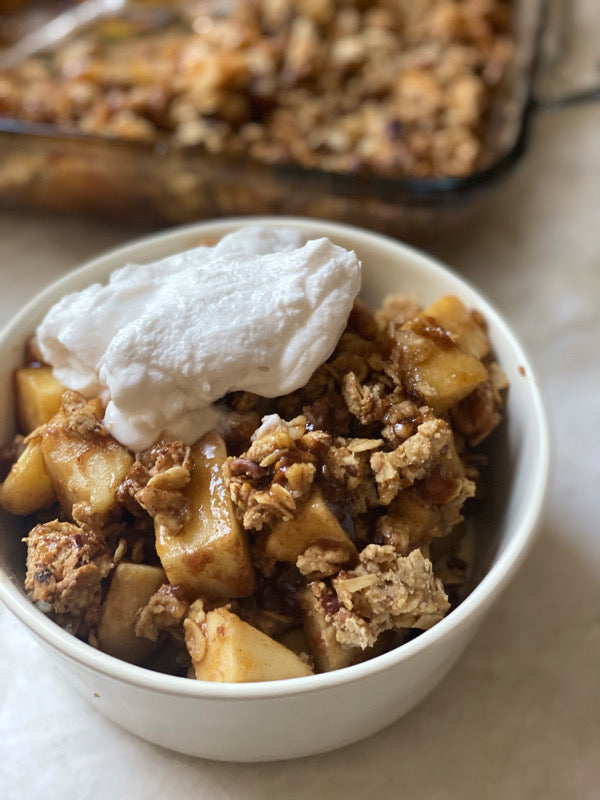 The Best Vegan Apple Crumble
Apples become a primary food group for me in the fall. Need some breakfast? Try my "apple date muffins". What about lunch? My "fall for kale salad" will hit the spot. Dessert you say? Well, this category is fully covered. Let's just say I have a slight obsession with apple desserts -- crisps, loaves, pies...if you are craving It, I've got It.
Today's dessert might quickly soar to the top of my apple creations. A warm and gooey maple apple filling with a thick and crunchy crumble topping. 
Serve with some coconut whip cream or an extra large scoop of vegan ice cream. 
Enjoy!
Servings :10 
Equipment: 
Mixing bowl 
Oven 
9x13 pyrex dish 
Apple Filling
8 apples, peeled, cored, and chopped 
2 tbsp fresh lemon juice 
1/2 cup coconut sugar 
1/4 cup unsweetened apple sauce
1/4 cup water 
3 tbsp arrowroot starch 
2 tbsp maple syrup 
1.5 tsp vanilla extract 
1 tsp cinnamon
3/4 tsp fresh grated ginger 
Pinch sea salt 
Crumble
 1 cup gluten-free oats
1 gluten-free oat flour 
1 cup raw pecans
3 tbsp tapioca flour 
3 tbsp maple syrup
2 tbsp unsweetened apple sauce 
2 tbsp coconut sugar
1/3 cup coconut oil or ghee, melted
1.5 tsp vanilla 
1 tsp ground cinnamon
1/2 tsp sea salt
Preheat the oven to 350 F. 
Add your chopped apples into your pyrex dish. Add all other filling ingredients. Mix with a large spoon or your hands until the apples are evenly coated. 
In a large mixing bowl add your oats, oat flour, pecans, and tapioca flour. Mix. 
Now add all other crumble ingredients and using your fingers ( or a fork ) work the wet ingredients into the dry mix until a crumble-like texture forms. 
Pour over apples in an even layer. 
Bake for 50 minutes uncovered or until the crumble is golden brown and the filling is bubbling. 
Allow crisp to sit at least 15 minutes before serving. 
Store in a sealed container in the refrigerator for up to 4 days.