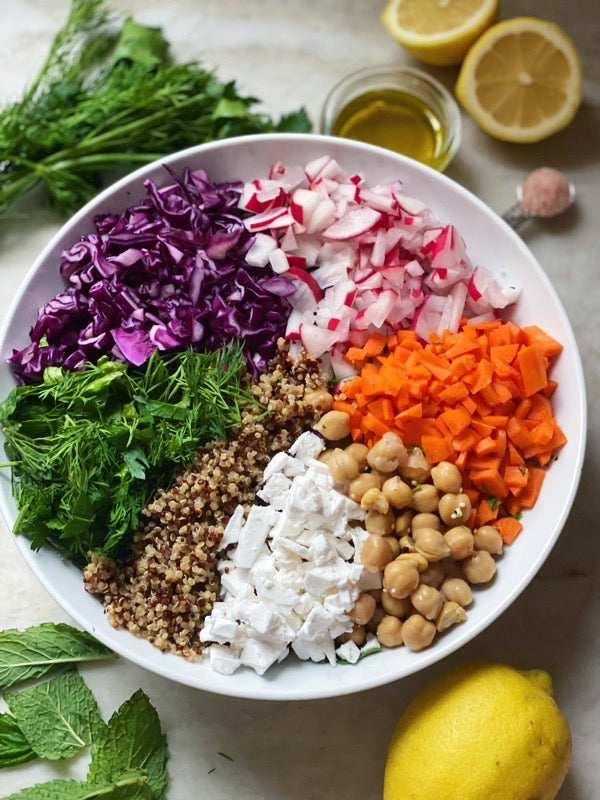 Post-holiday my body has been craving a little reset. Nothing that deprives or restricts but one that provides optimal nourishment, and of course, optimal flavor. 
This is my go-to salad recipe for when I want to pack in the veggies and just rebalance everything going on in there. All ingredients are very finely chopped ( my favorite way to eat a salad) and it is packed with fresh herbs and powerhouse vegetables. 
My husband actually requests this salad now and he likes to add some extra quinoa on top of his portion. Whatever It takes. 
Yall enjoy this one, it is bursting with flavor! 
Dressing
1/3 cup olive oil 
1/2 cup lemon juice 
2 tsp fresh ginger, grated ( optional ) 
dash raw honey ( optional ) 
1/2 tsp sea salt 
Ingredients 
3 cups romaine, shredded or finely chopped
1/2 cup fresh dill, finely chopped
1/2 cup fresh parsley, finely chopped 
8 mint leaves, finely chopped 
1 cup red cabbage, diced
1 bunch radish, diced
2 carrots, peeled and diced 
1 cup chickpeas
1 cup cooked quinoa 
1/2 cup vegan feta ( or any cheese of choice ) 
optional : 1/2 large red onion, diced 
salt to taste 
Prepare your dressing first by whisking all ingredients in a small bowl or container. Allow the dressing to marinate while you prepare the salad. 
In a large bowl add all salad ingredients. Add a few pinches sea salt and pepper. Mix again. 
Add desired amount of dressing , mix well, taste and adjust any seasonings.