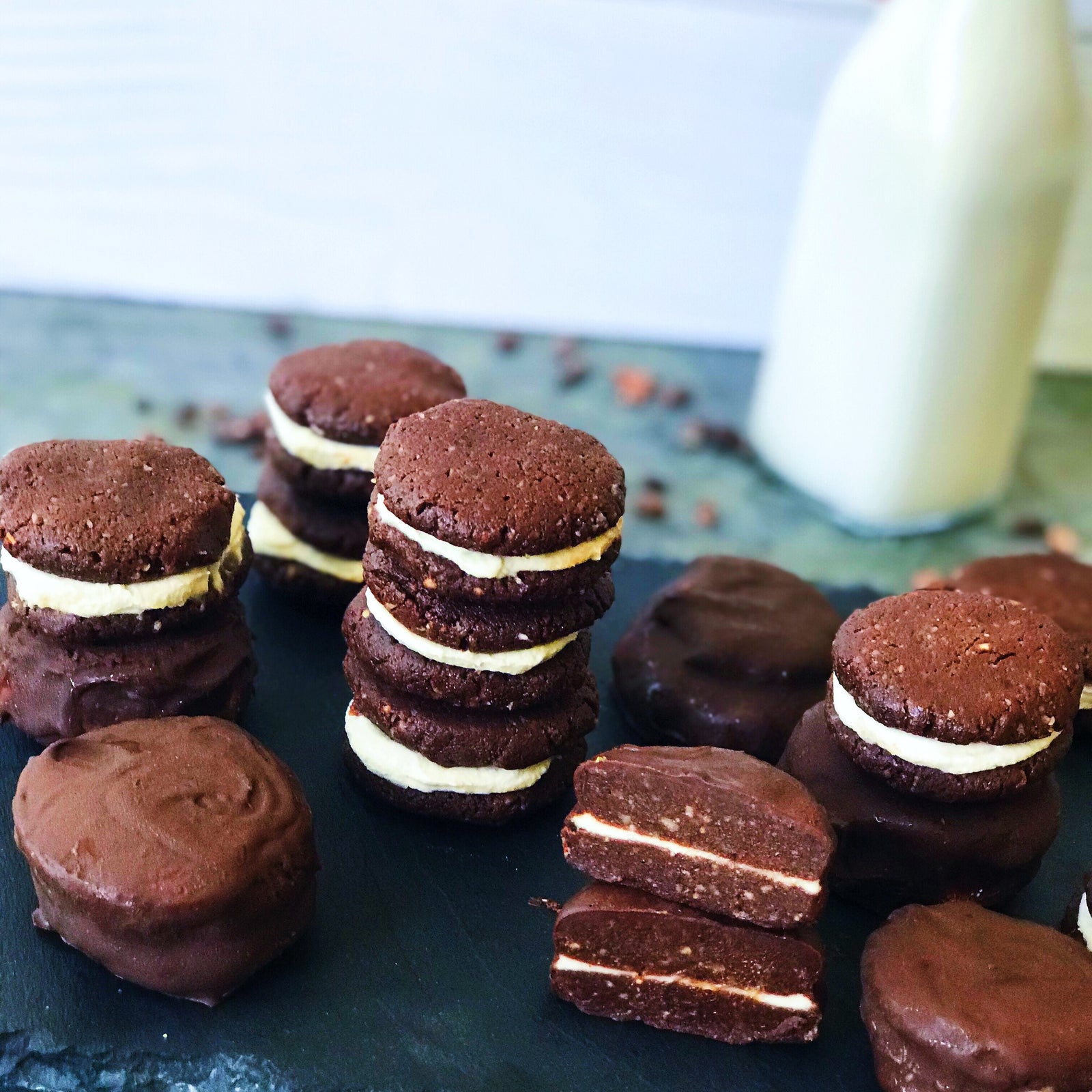 THIN MINT RAW OREOS W/ COCONUT CASHEW CREAM FILLING
As a kid I had an oreo obsession...could not go a day without one. So..
Epipahny
#1
.. I had yet to create my favorite pastime. Epiphany
#2
why not make a baby with Americas other fave cookie? THIN MINT RAW OREO was born.
I n g r e d i e n t s 
C r e a m  F i l l i n g 
1.5 cup cashews, soaked for 6-8 hours or 1 hour soaking in almost boiling water, then drain
3 tbsp maple syrup
1/2 cup coconut cream (cream off the top of a coconut milk can chilled OVERNIGHT in refrigerator -- I use either
@thaikitchen
or
@wholefoods
365 brand)
2-3 tbsp of the leftover liquid in coconut milk can
1 tbsp melted coconut oil
1 tsp vanilla
pinch sea salt 
Drain cashews & pour everything into blender. Blend until creamy and thick! Pour into a container and place in fridge to "set." It will continue to thicken in fridge ( the longer It chills the more It will thicken! You will have leftover filling- I use for daily smoothies or fruit topping!
**Make the cream FIRST and let chill in refrigerator for 3+ hours, or until it thickens into a cream** 
C o o k i e   I n g r e d i e n t s 
3/4 C pecans
1/2 C almond meal
2 tbsp almond four
10 dates ( soaked in hot water 10 minutes to soften up )
1/3 cup cacao powder
3 tbsp melted coconut oil
1 tbsp maple syrup
1/2 tsp vanilla
pinch sea salt (if you choose to forego thin mint layer you can add 1 tsp peppermint oil here or in filling).
In a food processor add pecans, almond meal, almond flour. Process until a flour like consistency! Add all other ingredients. Process until all combined. You dont want your mixture too "wet"... if too dry add 1 tsp warm water at a time. 
On a parchment lined baking sheet (something that can fit in fridge/freezer) roll the cookie into small balls & flatten until desired shape. Place in freezer to chill ( 15 minutes).
Once chilled make your Oreos by spreading a layer of coconut cream in between two cookies. Repeat until no more cookies. 
T h i n   M i n t   L a y e r 
( cut this recipe in half like I did if you want your batch half oreo/ half mint)
2 bars chocolate (
@hukitchen
1 tsp peppermint oil, more to taste
1 tbsp melted coconut oil
melt chocolate in a microwave safe bowl at 45 sec. increments, stirring in between. when completely melted stir in peppermint + cocooil. Dip each cookie into choc and place back on tray! Let chill in freezer for 15 minutes. Store in sealed container in freezer!