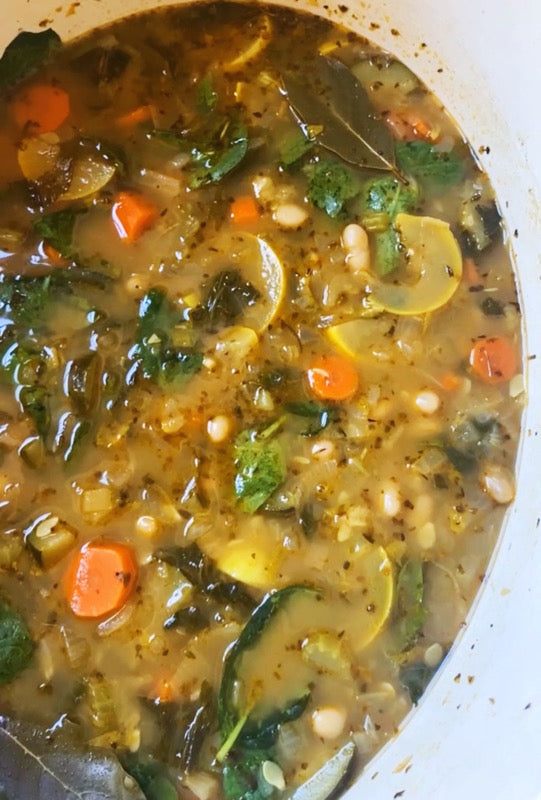 Tuscan White Bean & Vegetable Soup
This soup is perfect for a hearty but quick and easy weeknight dinner. It's hearty, satisfying, and packed full of nourishing goodness. But even better, It can come together in less than 20 minutes... though as with any soup, the longer It can sit, the better. 
Love a fool-proof recipe that you can make your own! Customize by adding your favorite veggies or protein, and as always... top with some shaved parm ( Violife foods makes a great vegan one! ) 
Ingredients 
2 tbsp olive oil 
1 onion, diced
1 shallot, diced
2 cloves garlic,  minced 
2 large carrots, sliced into coins 
2 celery stalks, chopped 
1 zucchini, sliced 
1 squash, sliced 
2 bay leaves
1 tbsp Italian seasoning 
1/4 cup nutritional yeast 
5 cups broth 
2 tsp sriracha 
2, 15-ounce Cans cannellini beans drained and rinsed
3 cups fresh spinach or kale, rough chopped 
1 tbsp fresh lemon juice 
1 Teaspoon sea salt
1/2 teaspoon pepper
Optional: 1/4 cup vegan parmesan 
Add your olive oil to a large soup pot and warm over low-medium heat. 
Sauté your onion, shallot, and garlic in the olive oil for a few minutes.  
Add your carrots, celery, zucchini, and squash, and sauté a few minutes more.
Add your bay leaves, italian seasoning, and nutritional yeast. Stir well. 
Add your broth and sriracha. 
Bring your soup to a boil, then reduce the heat to low, cover, and simmer for another fifteen minutes.
Stir in your beans, spinach, lemon, salt, and pepper. 
Optional: stir in your shaved or grated parmesan 
Taste and adjust your spices and seasonings.