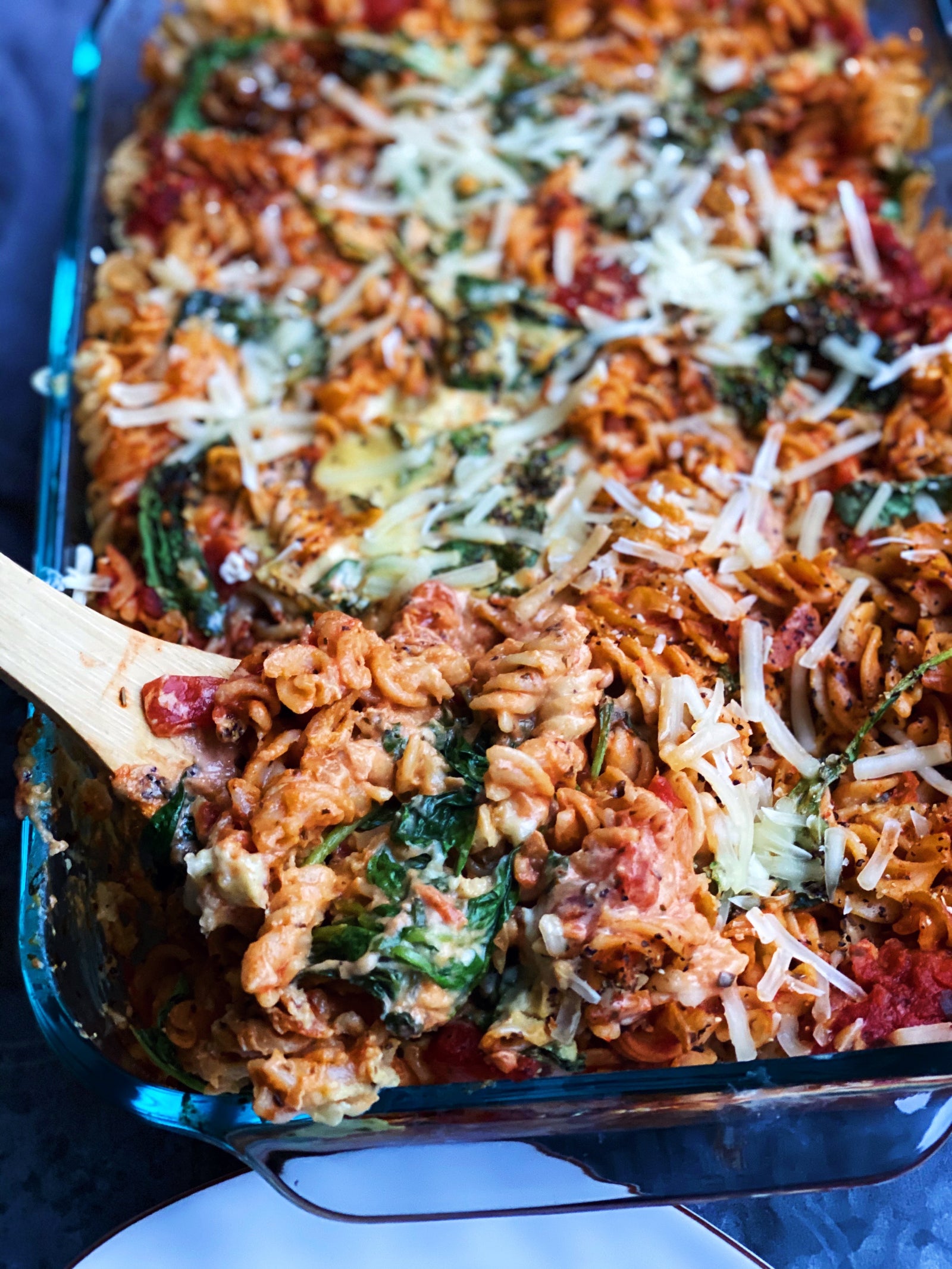 Mama mia! This baked ziti could compete with the best of them! The ultimate comfort food sure to satisfy your italian fix any day of the week. For all of you who always ask my favorite easy recipes that could feed a whole family, THIS stands at the top of the list! 
Golden cheezy top... creamy center... warm pasta... veggie packed... GOODNESS. 
Cant wait for you all to try! 
CASHEW CHEESE
1 cup cashews ( soaked covered in water overnight)
1 garlic clove
1 cup full fat coconut milk ( from a can )
2 tbsp nutritional yeast
2 tbsp tapioca flour
1 tsp sea salt
2 tbsp water
BAKED ZITI
2  8oz brown rice pasta box/bag
2 tbsp olive oil
1 onion diced
2 garlic cloves, minced
2 tsp dried basil
1 tsp sea salt
Few pinches pepper
2 cups loose arugula
1 25 oz jar tomato basil marinara ( divided)
1/2 – 1 cup voilife shredded mozzarella
This recipe serves 8-10 people
Directions 
Preheat your oven to 375 F and get out a 9x13 baking dish.
Boil a large pot water and boil both your pasta boxes. I like to add a dash olive oil to the water to prevent sticking! For this dish I prefer my pasta al dente, so I strain two minutes early. While your pasta cooks prepare your cashew cheese.
Drain and rinse your cashews. Add all cheese ingredients into your blender and blend until smooth and creamy. If your coconut milk has separated in the can blend that FIRST prior to making your cashew cheese and then leave 1 cup in your blender and save the rest for a smoothie or another recipe in your fridge.
In a large deep saute pan ( you will be adding your pasta to this) warm your olive oil over medium heat. Add your diced onion and saute for a few minutes. Add in your garlic and saute a few minutes more. Now add all your pasta , sea salt , basil , and ½ cup marinara sauce. Mix well with your spatula.
Spread ½ cup marinara on the bottom of your 9x13 baking dish to coat. Add ½ your pasta, then layer ½ the cashew cheese, then half of the REST of your marinara, and then 1 cup of your arugula. Optional: Sprinkle a bit more sea salt and pepper over that layer Using a spatula slightly mix in the arugula into your marinara, cashew cheese, and pasta, so that it is coated.
Repeat this step with the rest of your pasta, marinara, cashew cheese, and arugula, and then mixing arugula into the sauce.
Now top your baked ziti with as much shredded mozzarella as you like!
Bake in the oven for 35-38 minutes or until cheese is melted, baked ziti is bubbly, and the edges of the pasta are crisping up.
Allow to cool to your desired temperature and serve.
Saves in a tightly sealed container in the refrigerator!