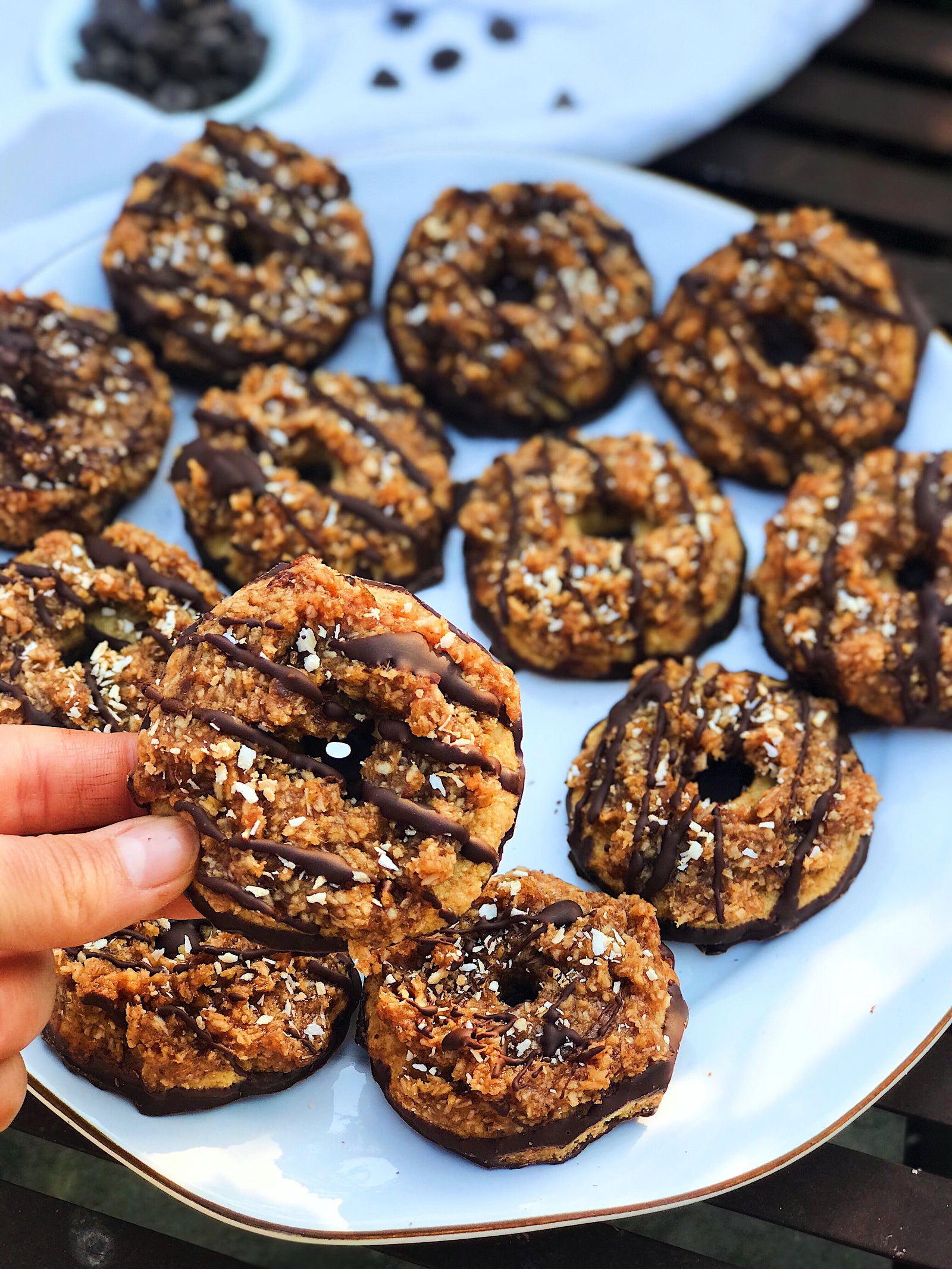 Doesn't just saying the word 'samoa'  bring back a flood of delicious memories from your childhood? Who does not love the original cookie... I repeat WHO?? 
Caramel.
Chocolate.
Coconut. 
My mouth is watering just typing this! 
These babies will have you crying out, "gimme SAMOA!!"
I n g r e d i e n t s 
CRUST:
1 cup almond flour
4 tbsp coconut sugar
4 tbsp tapioca flour
4 tbsp melted ghee
1 tbsp coconut flour
2 tbsp coconut milk
1/4 tsp sea salt .

FILLING
11 dates, remove pits and soak in hot water for 10 minutes if dates are hard 
1 cup shredded coconut, toasted on a parchment lined baking sheet for 5-8 minutes on 300F. Do not let burn!!
1 tsp vanilla 
1/4 cup almond butter 
1/4 tsp salt 
OTHER
2 dark chocolate bars ( I used Hu Kitchen or about 1 cup dark chocolate chips) .
Preheat oven to 350 F. Prepare a cookie sheet with parchment paper.


D i r e c t i o n s 
Sift your almond flour + coconut flour into a large mixing bowl. I like to sift through a mesh strainer to get all the clumps out! But not necessary. Add your tapioca flour, coconut sugar, sea salt and whisk until completely combined. Add your melted ghee + coconut milk and stir until a dough forms.

Roll dough into 2 inch balls & place on parchment paper. I was able to get exactly 12 balls. Then with your hands, flatten balls into a cookie shape, smoothing out edges with fingers, I used the tip of a straw to create the middle circle! .
Place in oven and bake for 10-12 minutes, or until tops are golden brown! Allow cookies to COMPLETELY cool before adding filling.

Add all your filling ingredients (make sure coconut is toasted) into food processor and blend until smooth! .

Once your cookie crusts have cooled, spread filling on top each cookie! You can use the straw to reshape the hole if It gets covered! 

Place your baking sheet in fridge to chill for 30 minutes minimum!

After chilled, prepare chocolate. Break both choc bars into a few pieces & add into a microwave safe bowl. Microwave in increments of 45 seconds stirring in between. Dont burn chocolate so be sure and stir after each microwave stint!
.
Dip each base of 🍪 in chocolate + transfer back to parchment paper. I used my hands! Use remaining chocolate to drizzle on top of each cookie, I used a spoon. NOW place 🍪 back in fridge for 15-30 min for choc to harden! Enjoy!