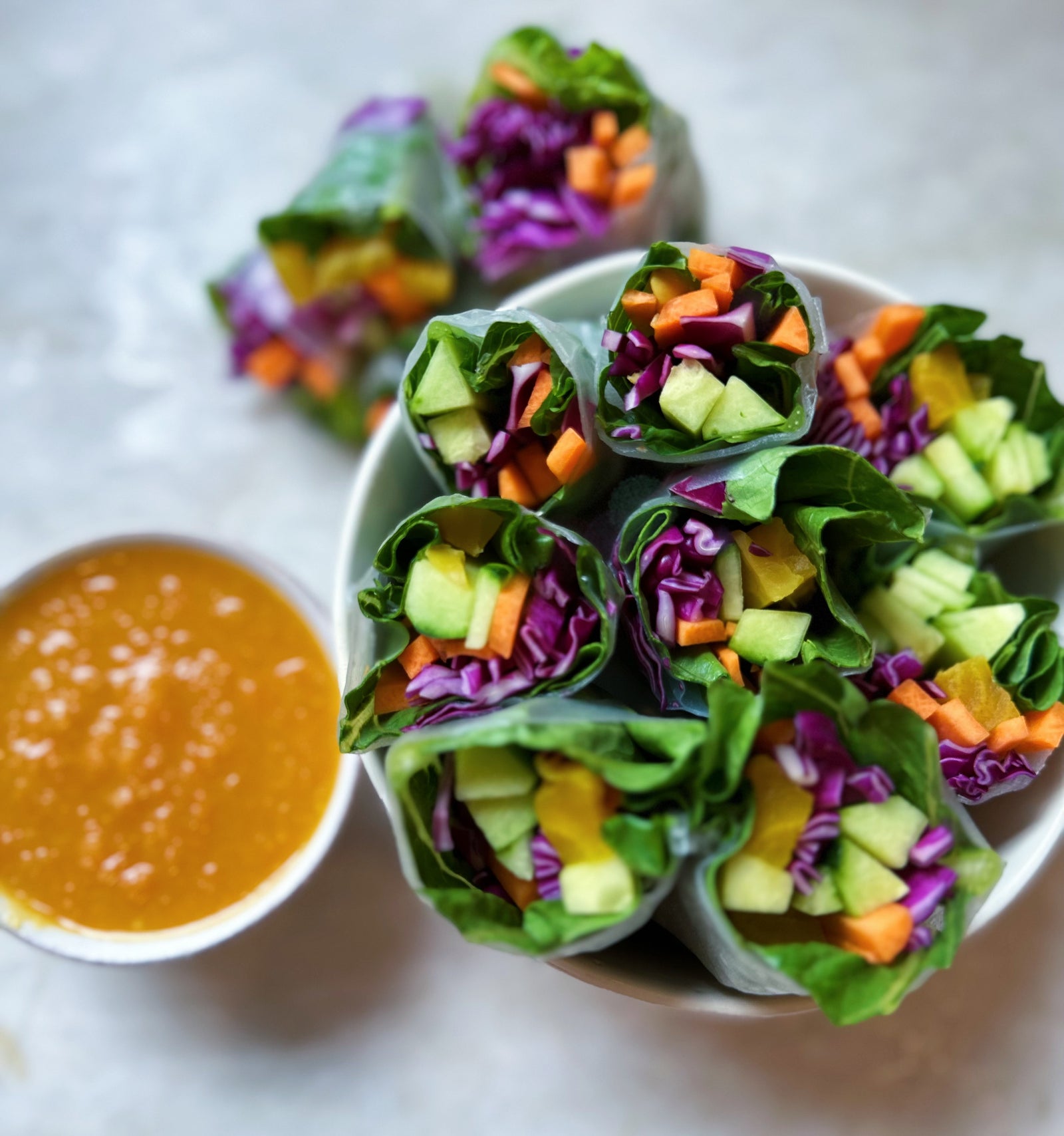 Rainbow Veggie Rice Paper Rolls with Carrot Ginger Dressing
Im praying if I keep making light, fresh, and colorful things then Spring weather will decide to come and stay for us. 
Thankfully, I could eat these veggie spring rolls every single day! They are so light and refreshing , yet so satisfying ( to eat and to master.) 
Below is just merely suggestions, fill them with whatever you like! 
And this dressing.... drinkable. One of my all time favorites. 
Make these for your next girls night and watch them get devoured. 
Equipment 
Large rolling surface 
Food processor ( or large bowl and whisk ) 
Serves 
5-6 rolls 
5 rice paper sheets ( extra if first time rolling ) 
5 large pieces romaine leaves, stems trimmed off ( you want to use the part thats easy to roll ) 
1 large carrot or 2 small , peeled and sliced into matchsticks
1 large cucumber, sliced into matchsticks
1 roasted beet , sliced into matchstick ( can sub a bell pepper ) 
3/4 cup shredded red cabbage 
Optional: green onions 
Optional: sesame seeds 
DRESSING
3/4 cup carrot,  peeled and rough chopped ( 2 small carrots ) 
1/3 cup avocado oil or avocado oil 
¼ cup rice vinegar
3 tbsp sweet onion, finely diced 
2 tbsp unsweetened apple sauce
1 tbsp toasted sesame oil
2 inch knob ginger, peeled & rough chopped
3 tsp chickpea or white miso
1 tbsp raw honey
1/2 tsp sea salt to start
Prep your vegetables first and have them within reaching distance of your rolling surface. 
Prepare your dressing. Add all your dressing ingredients to a food processor except your salt. I prefer this dressing grainy ( like in a Japanese restaurant) but if you want it totally smooth use a blender.  Process for a 60 seconds. Add in your salt and pulse a few more times. Taste and adjust flavors.
Prep your rolling station! 
 For a great visual of rolling, check out this website.
The best way to keep rice paper from sticking to your cutting board is to keep the surface wet.
Run your cutting board under water or use a damp cloth to blot and wet the board. 
Fill a shallow pyrex or cake pan with cool room temperature water ( something the rice paper rolls can easily glide in and out of.) 
Slide a piece of rice paper into the water , flipping only once after about 8 seconds. You don't want to maneuver too much as it can become too pliable and sticky. 
When its moderately wet on both sides remove the rice paper and gently shake off any excess. Lay it flat on your cutting board or surface, smoothing out any wrinkles. 
Quickly lay your romaine down, centered on the bottom half of your rice paper. 
Pull the bottom half of the rice paper up and over your vegetables, pulling the ingredients back in as you tuck the rice paper underneath them. Give it one full roll. 
Then, as you would a burrito, tuck in the side flaps and continue rolling to close. 
Repeat until filling is gone. 
Slice each roll in half and serve alongside dipping sauce. 
When storing, careful not to let the rolls touch too much. They will stick together!