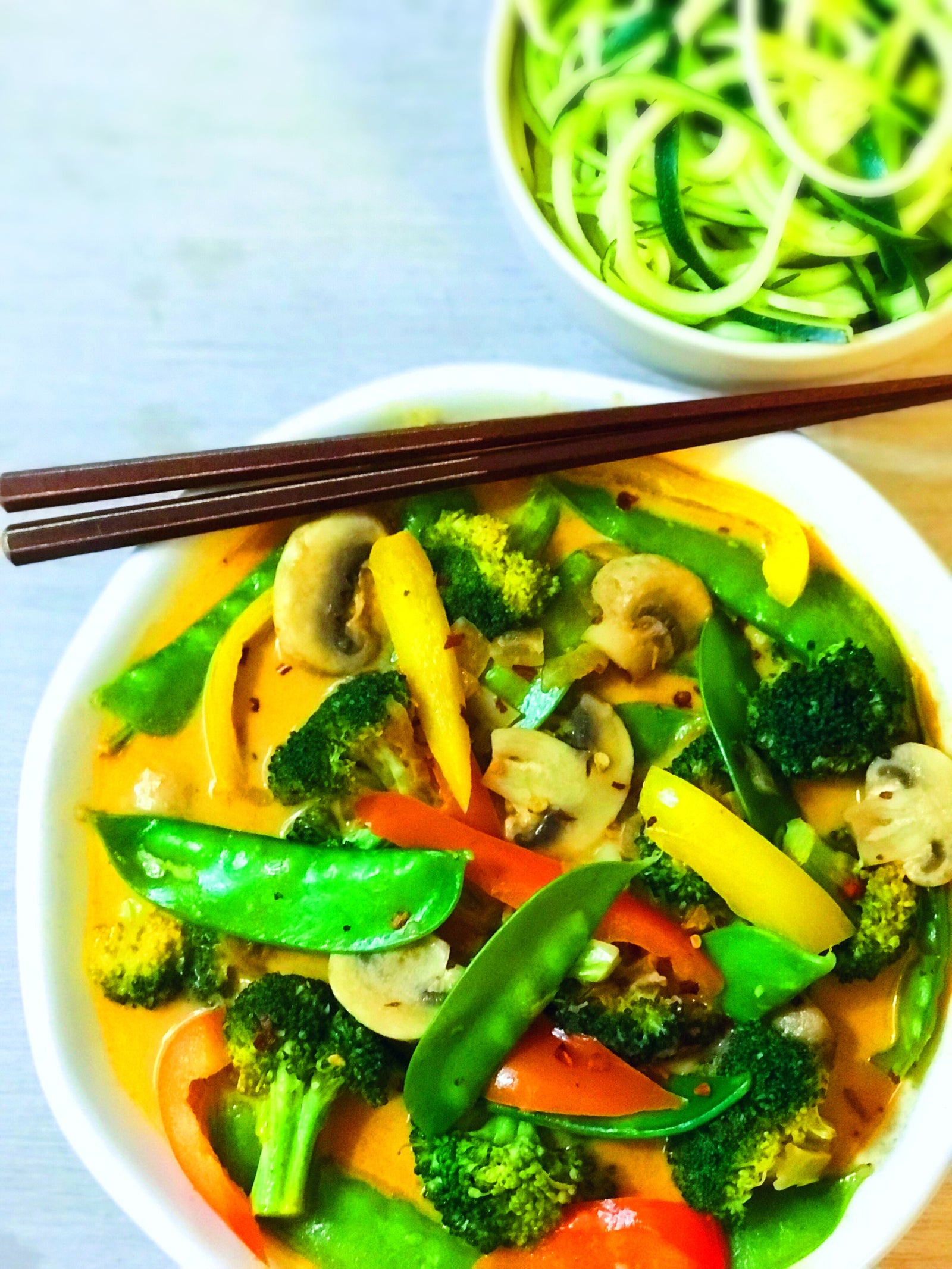 **This bowl is on fiyaaa , this bowl is on fiyaaaa .** (cue background music). 
Alicia Keys knows, red curry warms the soul.
You want this in your life. Just trust me. I clearly like my curry in a state of veggie overload, but you do you, and customize as you wish. My husband for instance uses his curry as a gateway to endless bowls of white rice.... but nothing new there. One thing we agreed on? Ending our meal with bowl to face, licking any drop left behind.
Let me know if you don't finish yours the same way .
I n g r e d i e n t s 
1 onion
3 cloves garlic, minced
2 tbsp grated ginger, about a thumb size
1-2 tbsp siracha ( if you enjoy spicy), 
3 tbsp red curry paste
2-3 tbsp Tamari
1-2 teaspoon toasted sesame oil
2 cans full fat coconut milk (I do 1 full fat, 1 light )
2 cup veggie broth / bone broth / or chicken broth
2-3 tbsp coconut sugar
V e g e t a b l e s 
1 cup broccoli
10-12 baby bella mushrooms
1 yellow pepper, sliced or diced
1 cup snow peas
O p t i o n a l  A d d - I n s  
White or brown rice for serving
Zucchini noodles for serving


D i r e c t i o n s 
Heat your pot over medium heat. Add olive oil, onion, ginger and garlic and sauté until translucent. Add the chile (if using) or cayenne and red curry paste. Stir to combine.

Add coconut milk (both cans) and your broth. Stir. From here add tamari, sesame oil, coconut sugar, siracha, salt and pepper. Stir for about a minute. Taste sauce and adjust seasonings as needed.

Bring your sauce to a low boil and add veggies you are using. I used broccoli, red and yellow pepper, mushrooms, and snow peas. I add the broccoli at the very end because I prefer less cooked!

Reduce heat to a simmer and cover until the veggies are cooked to your liking, stirring occasionally!