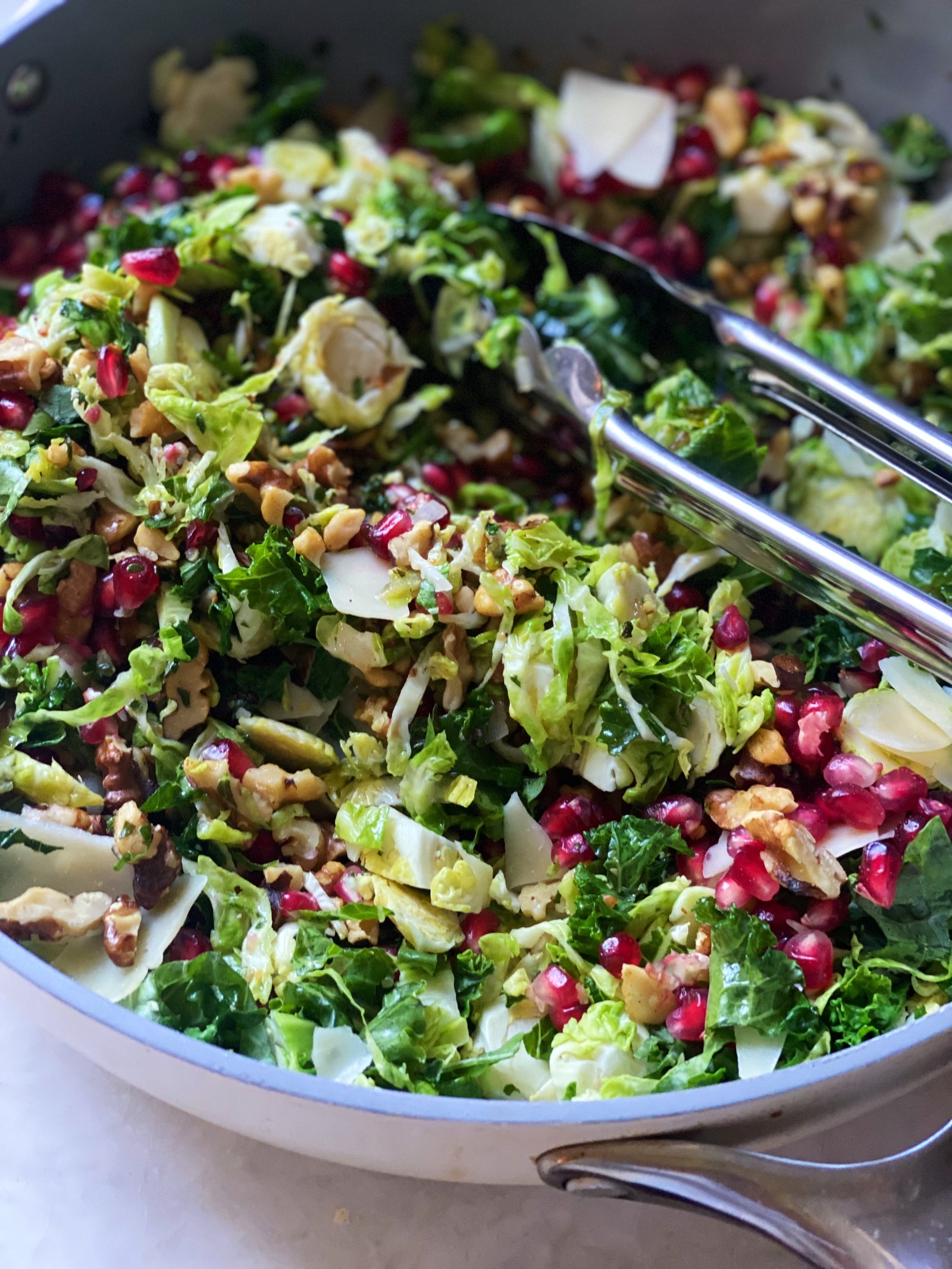 Warm Brussels Sprout Salad
Go ahead and make room on your thanksgiving grocery list for this crowd-pleasing, warm, dreamy, flavor-popping salad. 
Sautéed shredded brussels sprouts, caramelized shallots, toasted walnuts, sweet pomegranate seeds, and vegan parmesan, all mixed in with my favorite lemon-dijon dressing. 
This salad is everything you wish for in a holiday spread. There is so much flavor that even the kid's table might go back for seconds. A dish with a punch of nourishment with every bite? Sign me up. 
>>>>>>
Equipment: 
large saute pan
stove 
mixing bowl 

Serves: 4 
INGREDIENTS
Dressing
1/3 cup avocado or extra virgin olive oil 
2.5 tbsp white wine vinegar
2 tbsp dijon mustard
1 tbsp maple syrup (more to taste)
Dash water
½ tsp Himalayan pink sea salt ( more to taste)
Few pinches black pepper

Salad
1 cup walnuts, rough chopped
1 tbsp olive oil 
2 shallots, diced 
4 cups shredded brussels sprouts
2 cups shredded kale ( de-stemmed ) 
3/4 cup pomegranate seeds
salt 
pepper 
1/2 cup vegan parmesan ( optional ) 

In a dressing container or mixing bowl, whisk all dressing ingredients together. Once thoroughly mixed, taste and adjust the salt/pepper or sweetness with maple syrup. Set aside while you prepare your salad. 

In a large sauté pan toast your walnuts over low heat for 2-3 minutes or until fragrant and darker in color. Once done, remove from the pan and set aside. 

Warm your olive oil in the same large skillet over low/medium heat. Add your shallots and sauté for 2-3 minutes or until translucent. 

Add in your Brussels sprouts and kale and sauté for another 4-5 minutes over medium heat or until your Brussels sprouts/ kale begins to soften. 

Reduce heat to low and add in desired amount of dressing and a pinch more salt. Toss well. 

Stir in your walnuts, pomegranate seeds, and parmesan. Taste and adjust any more salt or pepper. 

Serve straight from the skillet or plate onto a serving platter and serve warm!