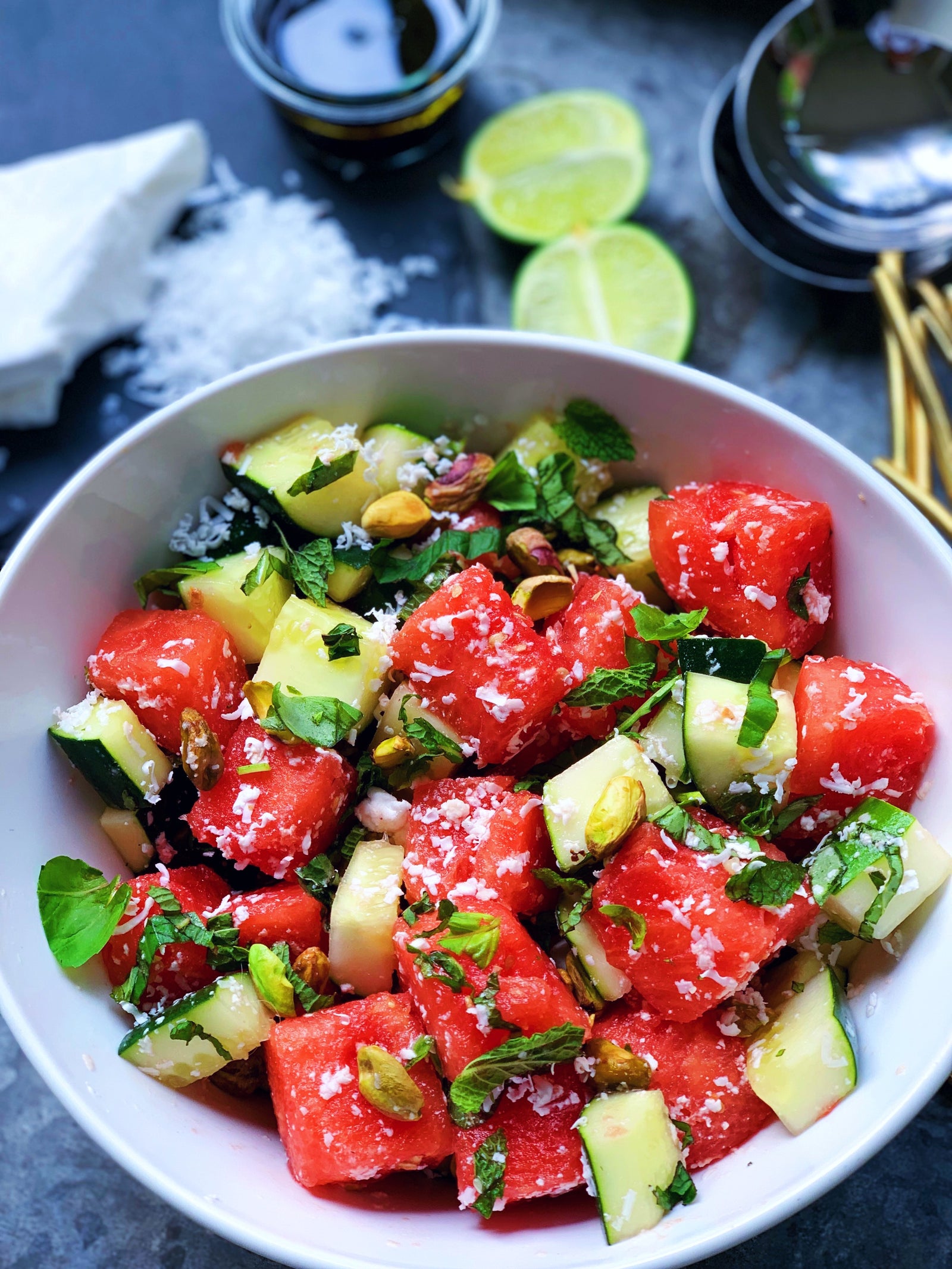 WATERMELON, FETA, & PISTACHIO SALAD
Ladies and gents its a summer classic for a reason.

A classic I had not been able to partake in for quite sometime until @violifefoods came into town and set up a permanent spot in my fridge.

This watermelon and "feta" salad with fresh herbs , crisp cucumbers, and roasted pistachios would wow the harshest of critics.

How do I know? Bc I have tested It on them! Well "he" in particular.... who went back for seconds. Even after he told me he didn't like "fruity" salads. To which I replied, "well good its not a salad."

Ahhem. He does now.
The key is picking out the perfect sweet and juicy watermelon to let this star shine. 
It can be prepped in 10 minutes, and is perfect for your next pool party, beach day, bbq, or summer hang out.

Mouth is watering just thinking about It, what about you?
I n g r e d i e n t s
3 cups fresh watermelon, large cubed
2 small Persian cucumbers , chopped ( peel is optional -I leave on ) 
2 heaping tbsp fresh basil, fine chopped
2 heaping tbsp fresh mint, fine chopped 
1/2 - 1  small red onion, diced or sliced (preference) 
1/2 cup roasted or raw pistachios 
1/2 cup VioLife Foods Feta Cheese, grated or sliced (more or less to taste) 
1 tbsp  olive oil
Drizzle Balsamic Vinegar 
Squeeze of fresh lime 
.
.
Add your cucumbers and red onion to a large bowl. Mix well. Carefully mix in your watermelon cubes, basil, and mint and lightly toss. Add in your pistachios and feta, lightly toss once more.Before serving drizzle on your olive oil, balsamic vinegar , and fresh lime. 
.