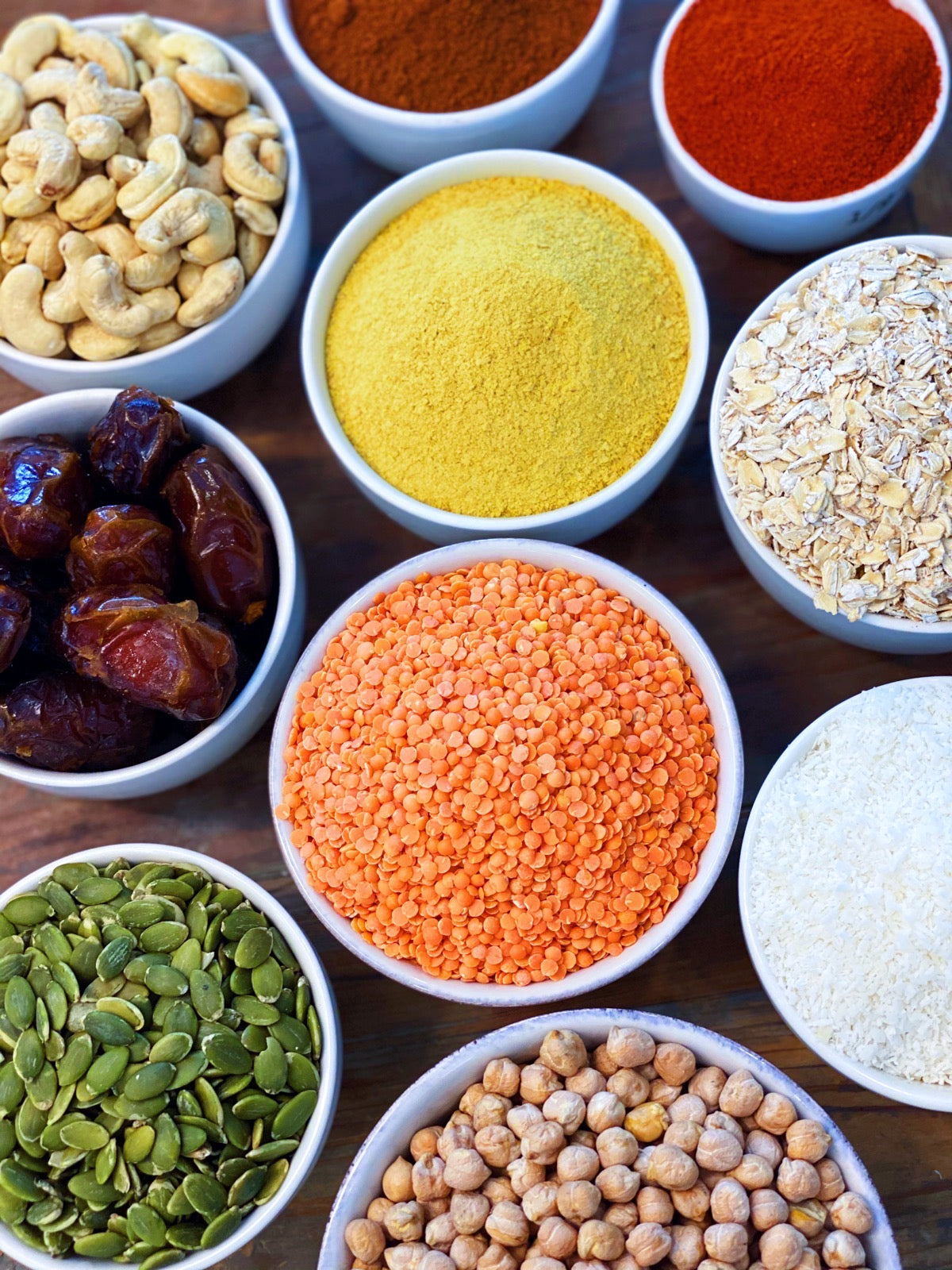 Finally tackling one of yall's most asked questions! "What are your pantry staples?"
It's a challenging question for sure, as a part of my job Is to always be testing, creating, and trying new things BUT I do think this list is pretty comprehensive and a perfect place to start.
This list is not meant to be a "MUST HAVE" but more of a guide into what I am constantly using in my recipes!!
I have broken It down into categories to help digest and organize on your end ... I hope you enjoy!!!
Now, off to tackle your  "what's in my fridge" question next.  
BAKING
Flours 
Almond flour
Gluten Free Oats/ Flour
Arrowroot Starch
Brown Rice Flour
Coconut Flour 
Ground Flax meal
Nuts /Seeds/ Nut Butters
Cashew Butter 
Almond Butter
Tahini 
Cashews
Almonds
Pecans
Sunflower Seeds
Pumpkin seeds
Walnuts 
Sesame seeds
Chia Seeds 
Shredded Coconut
Sweeteners
Unsweetened Applesauce
Medjool Dates
Raw Honey
Coconut Sugar
Maple Syrup
Enjoy Life Foods Chocolate Chips 
Extras 
Vanilla Extract
Baking Soda
Baking Powder
Oils
Toasted Sesame Oil
Extra Virgin Olive Oil
Avocado Oil / Grapeseed Oil
Coconut Oil
Seasonings/ Vinegar/ Sauces
Rice Vinegar
Red Wine Vinegar
White Wine Vinegar
Balsamic Vinegar
Apple Cider Vinegar
Low Sodium Tamari
Nutritional Yeast
Marinara Sauce
Sriracha
Grains
Brown Rice
Brown Rice Pasta
Chickpea Pasta
Quinoa
Legumes/ Cans 
Chickpeas
Black Beans
Lima Beans - these days
Red lentils
Full Fat Coconut Milk 
Palmini Noodles 
Spices
Cinnamon
Garlic powder
Onion powder
Pink Himalayan Sea Salt 
Black Pepper
Curry Powder
Everything Bagel Seasoning
Dill
Oregano
Thyme 
Parsley 
Turmeric
Cumin
Paprika
Smoked paprika
Favorite Snacks On Hand 
Siete Chips 
Lesser Evil Popcorn 
Hu Kitchen or Simple Mills Crackers