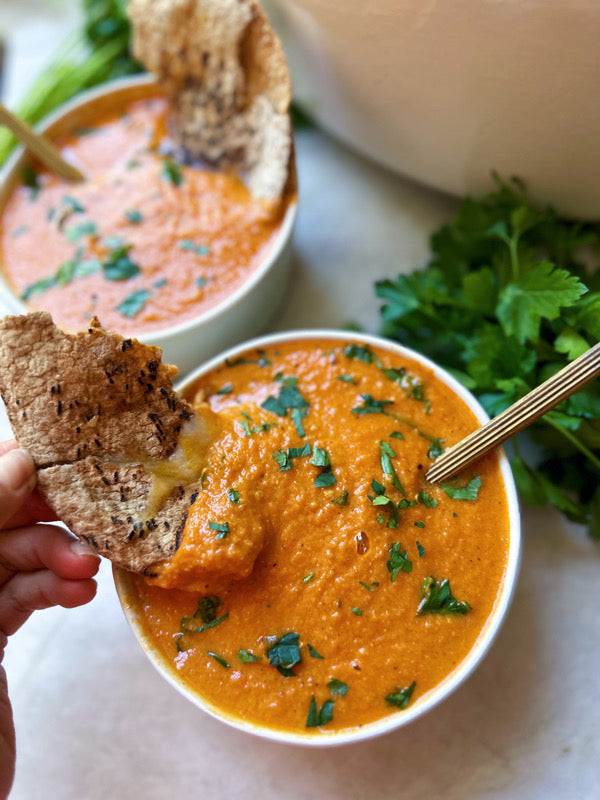 One Pot Creamy Tomato Soup ( nut & bean free! )
 Crusty bread, melty cheese, and a big bowl of creamy tomato soup…..my heaven. 
This soup has quite the impressive flavor profile, but what is even more impressive? How EASY it is to whip together. Ingredients in this soup are all roasted together in one pot and then blended with fresh herbs, creamy tahini, nutritional yeast, and maple syrup. 
She is vibrant, creamy, and has a depth of flavor that is begging to be dipped into. 
This recipe was lightly inspired by Cooking For Peanuts! 
Tomato Soup 
4lb vine ripe tomatoes 
1 sweet onion, peeled and quartered
4 cloves garlic , tops sliced off to expose ends 
3 tbsp olive oil 
1/3 cup tahini 
3 tbsp nutritional yeast 
2 tbsp tomato paste
1 tbsp maple syrup 
Handful basil leaves 
1 tsp Himalayan sea salt ( + more to taste) 
Few pinches red pepper 
Few pinches pepper 
1 cup broth 
Chopped parsley for topping 
Vegan cheese of choice to top 
Crusty bread for dipping 
Preheat oven to 415 F. Add tomatoes ( can leave vines attached ) , onion , and garlic to a large baking dish or oven safe dutch oven. Generously drizzle with olive oil, lightly toss, and place in oven. 
Bake 35-40 minutes or until the tomatoes have softened and are beginning to wrinkle and blister. 
Remove from oven. Discard your tomato stems. 
Add all ingredients from baking dish ( including all the yummy juices) into a high speed blender ( or can use an immersion blender here instead! .)
Add tahini, nutritional yeast, tomato paste, maple syrup, basil leaves, red pepper , salt and pepper and blend until smooth and creamy. 
Add soup back into dutch oven and turn to a simmer. Stir in your vegetable broth. Taste and adjust any salt ( will most likely need more ) , pepper and red pepper.  
Serve with fresh herbs, crusty bread, and a sprinkle of your favorite vegan cheese!