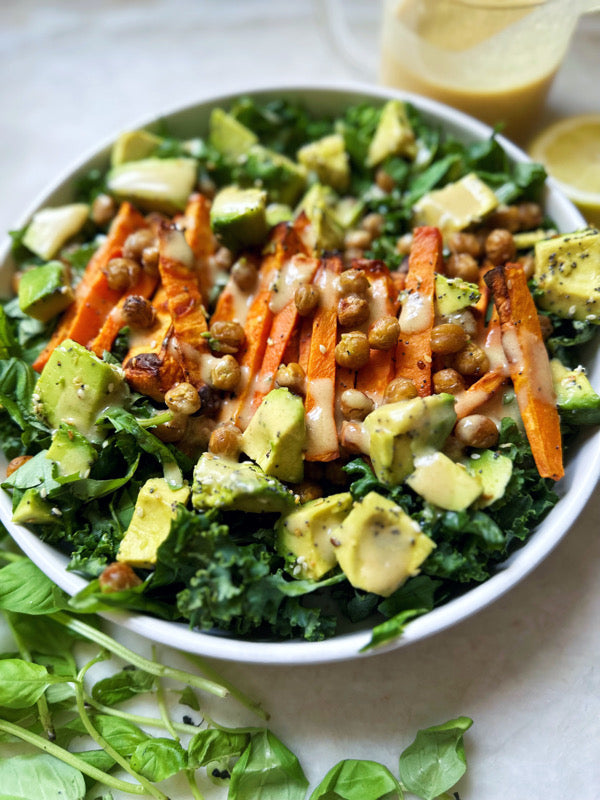 Sweet Potato, Chickpea & Honey Mustard Kale Salad
We know a hot/cold combo reigns supreme in my kitchen, and that goes for my salads as well! 
First things first, this honey mustard is something you want in your fridge 24/7. No weird oils or hidden sugars and tastes like the real thing... but better. 
A hearty bed of greens plus caramelized sweet potatoes, warm crispy chickpeas, creamy avocado, and of course THE DRESSING. 
This salad was inspired by Half Baked Harvest , the best of the best. 
Kale Salad 
2 sweet potatoes, peeled and chopped into matchsticks 
1 can chickpeas, drained, rinsed & pat dry 
3 tbsp olive oil 
2 tbsp Everything But The Bagel Seasoning 
Himalayan sea salt
pepper 
5 cups kale, de-stemmed and finely chopped 
1/2 cup basil, roughly chopped 
1 large avocado, diced 
Optional: 1 cup diced cucumber
Optional: vegan feta cheese 
Honey Mustard 
1/4 cup unsweetened cashew yogurt
1/4 cup avocado oil 
1/4 cup Dijon mustard
3 tbsp lemon juice 
2 tbsp honey 
1 tsp apple cider vinegar
Sea salt to taste 
Preheat oven to 400F and line a large baking sheet with parchment paper. 
Add sweet potatoes and chickpeas to a baking sheet. Drizzle on olive oil, EBTBS seasoning, salt, and pepper, and mix well. Spread all out on the baking sheet so no areas are overcrowded and have room to crisp up. 
Bake for 25 minutes, stir, and then bake for another 20+, until the sweet potatoes are golden and the chickpeas have begun to crisp up.
While baking prepare your salad dressing. Whisk all dressing ingredients together by hand or with an immersion blender. Taste and adjust sweetness with honey and acidity with lemon or acv. 
Add your kale to a large salad bowl. Drizzle on 1 tbsp of dressing and massage the dressing into the kale with your hands. 
Add your basil and lightly toss. 
When done roasting add your sweet potatoes and chickpeas ( still warm) to the top of your salad bowl. Drizzle on more honey mustard dressing. Top with avocado ( and any other optional toppings), lightly toss again, and serve!