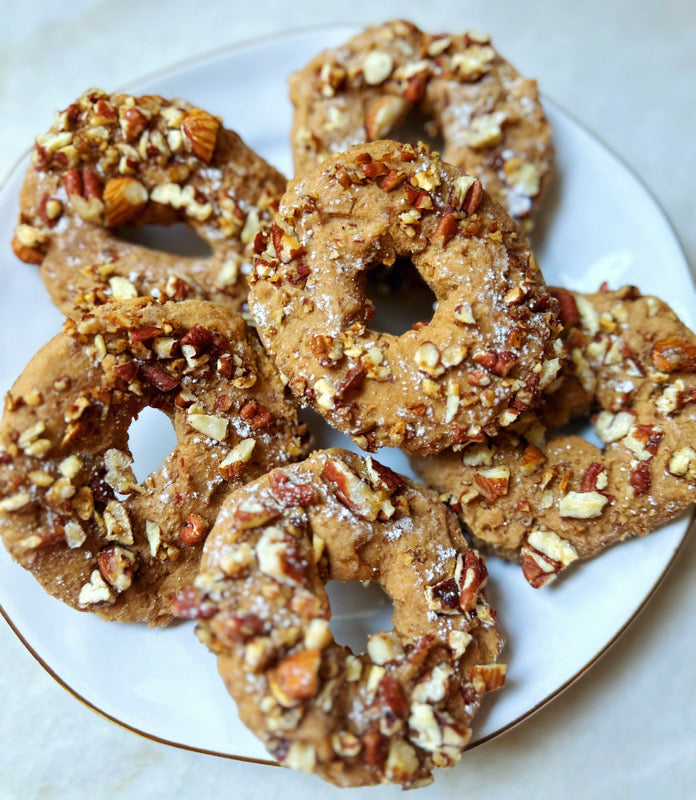 Pecan Pie Protein Donuts ( No-Bake!)
It is rare I go a night without a taste of something sweet after dinner, so I always am thoughtful about what I have in my freezer! 
These are my new go-to fall freezer stash because they are still nutrient-dense and packed with protein. 
Basically a fall cookie dough in donut form. Enjoy!
Ingredients
Protein Donut Ingredients 
10 medjool dates, soaked in hot water for 10 minutes
1 cup almond flour
1/2 cup unflavored vegan protein powder ( I use Sunwarrior ) 
1/2 cup sweet potato puree 
1/4 cup cashew butter ( runny ) 
2 tsp cinnamon 
1/2 tsp nutmeg 
1 tsp vanilla extract
Pinch Sea salt 
Candy Pecan Topping  
1/2 cup chopped pecans 
2 tsp maple syrup 
Additional & Optional Toppings 
Powdered Sugar ( I used one made with Monk fruit Sweetener) 
Chocolate Chips 
Nut butter drizzle 
Equipment 
Food Processor 
Freezer 
Serves
8-10 
Dry off dates and remove the pit from each one. Add dates to a large food processor along with all other donut ingredients. 
Process until smooth and creamy. Taste and adjust sweetness with a dash of maple syrup or processing in an extra date. 
Place the dough in the refrigerator while you prepare your pecan topping. 
Add chopped pecans to a small skillet on low heat. Toast pecans for 4-5 minutes, stirring occasionally, until nuts become fragrant. 
Remove off hot burner and add a dash of maple syrup. Stir and let cool. 
Line a baking sheet with parchment paper. 
Take golf ball sizes of dough and begin to roll them into thick logs. Create the shape of a donut by connecting the two ends and smooth out any leftover edges. 
Repeat until the dough is gone. 
Sprinkle each donut with powdered sugar. 
Add your pecan crumble topping by pressing the face of the donut into a bowl of the topping. 
Place donuts in the freezer for one hour. Serve from the freezer and store leftovers in the freezer. 
Enjoy!