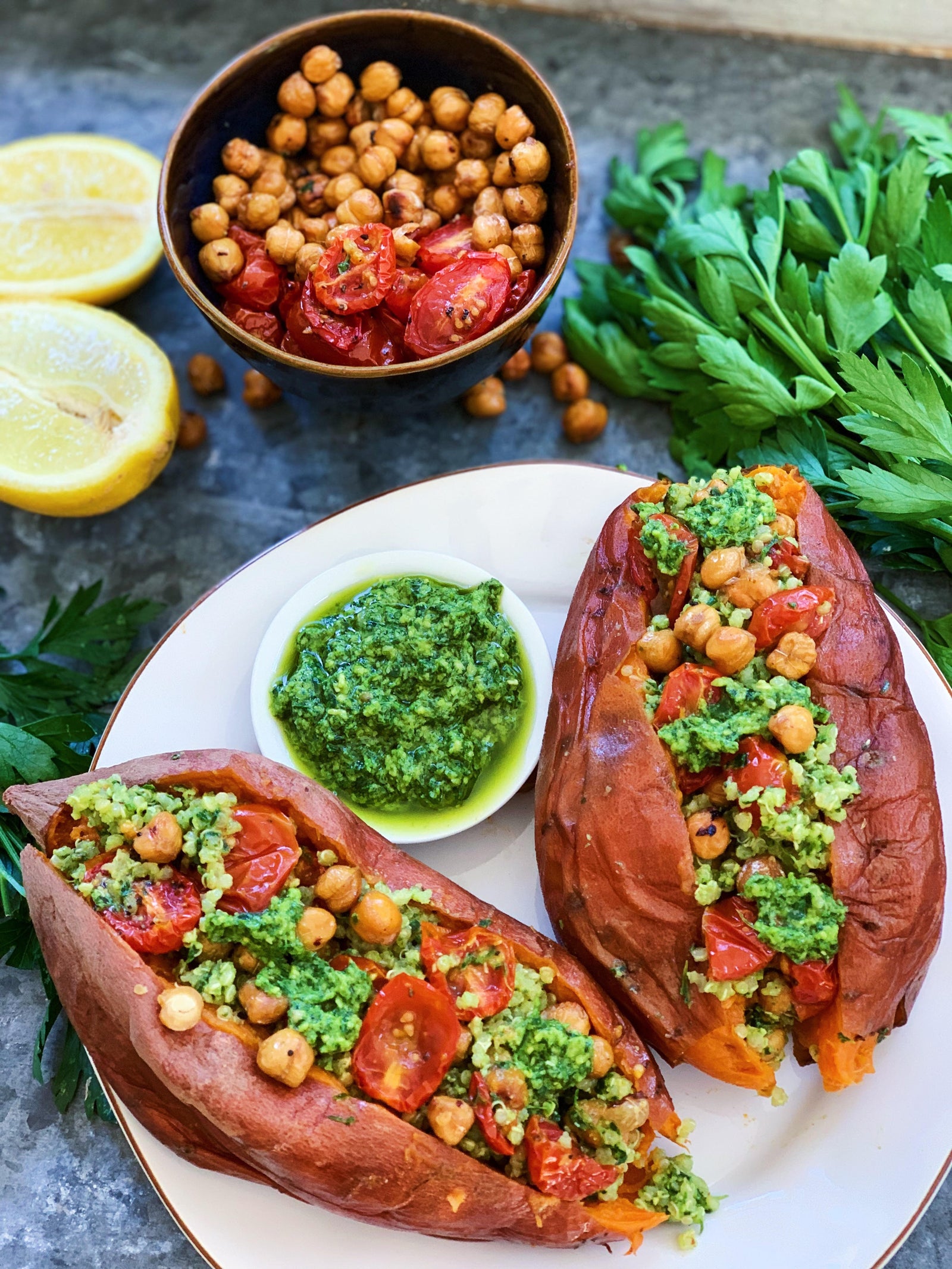 PESTO STUFFED SWEET POTATOES
Lets be honest. You are either a pesto person or you're not --there is no real in between. And ill let you in on a little secret-- I am 100% a pesto person through and through....on pasta, pizza, roasted veggies, dips, you name it, Im on board with it.  But my new favorite vehicle for upping my pesto intake? Smothered into a caramelized sweet potato with ALL the toppings
The ultimate loaded sweet potato-- with roasted grape tomatoes, crispy chickpeas, warm quinoa, flavor packed pesto -- just changing lives one bite at a time. 
 I love how this meal gets straight to the point -- what you see is what you get- and trust me, thats a good thing. 
Enjoy!
I n g r e d i e n t s 
2 cups packed fresh basil
1 cup packed fresh parsley
1-2 garlic cloves (preference… Im not a huge garlic fan)
1/4 cup pine nuts
2 tbsp lemon juice
2 tbsp nutritional yeast
1/2 -1 tsp tsp honey
1/2 tsp Himalayan sea salt
1 tbsp water
1/4-1/3 cup olive oil
O t h e r 
2-3 sweet potatoes 
1 batch roasted tomatoes (
recipe linked here
)
1 cup cooked quinoa ( cooked according to package instructions)
1 batch crispy roasted chickpeas (
recipe linked here
) 
Preheat your oven to 400F. Wrap your sweet potatoes in foil and poke 3-5 holes with a fork. If making, you could also roast your chickpeas at this time by following linked instructions! Bake sweet potatoes until soft and tender, usually about 45-55 minutes. Remove when ready and set aside. 
For the pesto: Add all ingredients into a food processor EXCEPT OLIVE OIL and process about 30 seconds. Scrape down the sides and then with the machine on (if possible) slowly add in the olive oil as the pesto churns.
You will need to continue scraping down sides as you continue pouring olive oil. Once its starts to resemble pesto, taste and adjust seasonings ( lemon , nutritional yeast, salt, honey, etc) 
Slice each sweet potato in half, lengthwise. In a small bowl add desired amount of quinoa, tomatoes, and chickpeas and toss. Now stir in desired amount of pesto. Salt and pepper to taste. 
Scoop mixture into each sweet potato, topping with an extra dollop of pesto. 
Store pesto leftovers in the fridge up to one week. You could also freeze in an ince tray!