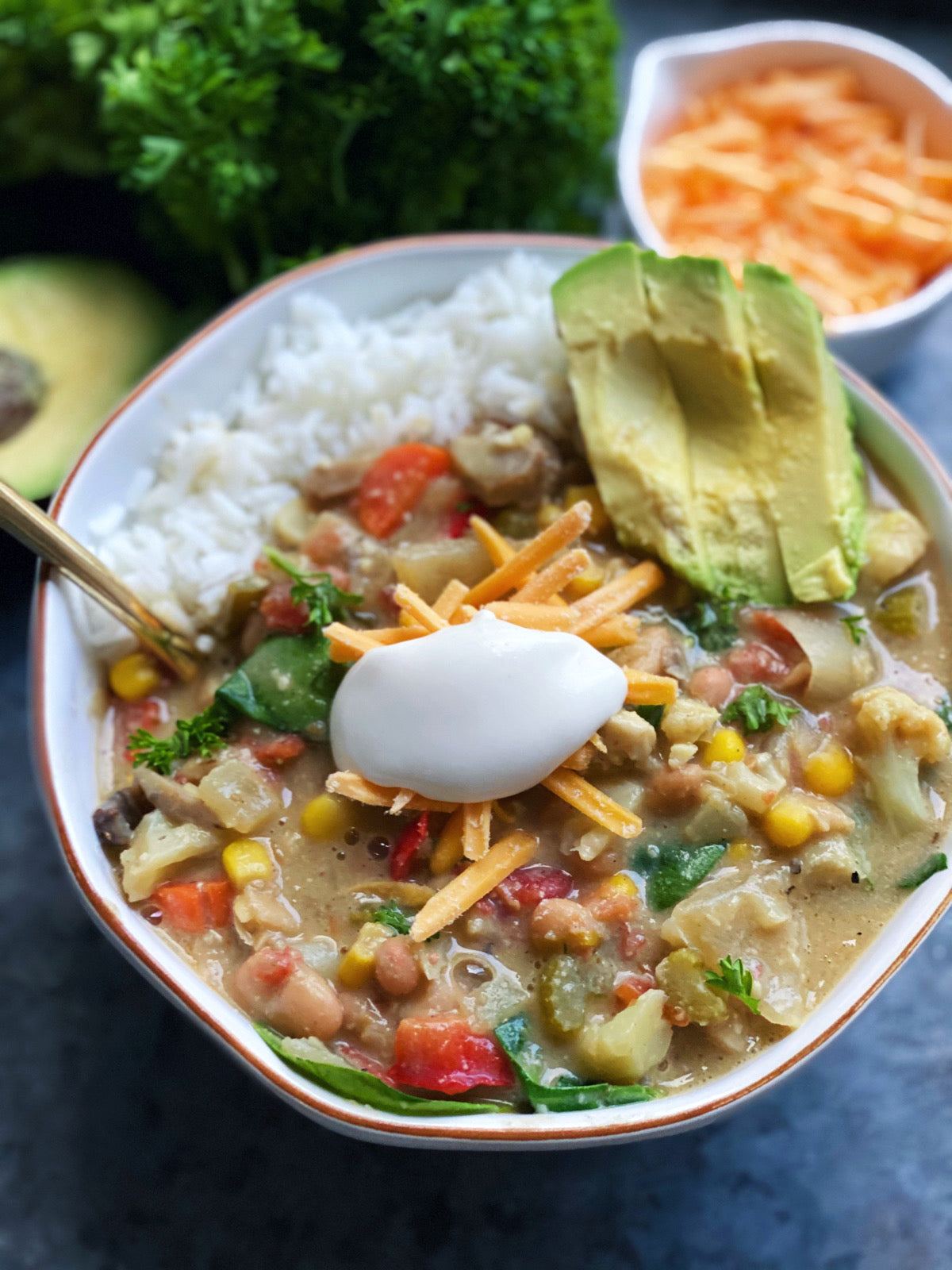 Southwest White Bean Chili
Southwest White Bean Chili to save these rainy day blues!! There is nothing I crave more than a big bowl of chili on a day like today.... maybe with some of my favorite cornbread muffins?
This soup checks all the boxes... it's hearty, creamy, packed with vegetables, and just begging for all the toppings. 
A must make! 
Ingredients
2 tbsp vegan butter or olive oil
1 onion, diced
3 ribs celery, diced
2 carrots, diced
2 cloves garlic, minced
1 jalapeno diced ( optional )
1 red pepper, diced
1.5 tsp cumin
2 cups caulifower rice
2 cups mushrooms, diced
1 can sweet corn, drained and rinsed
1 can rotel tomatoes
1 32 oz vegetable broth
1 can cannelloni beans , drained and rinsed
1/4 cup nutritional yeast
2 tbsp sriracha
2 cups spinach, chopped
1 tsp sea salt
1/2 tsp pepper
1 tbsp lime
Blender Ingredients
1 cup cashews, soaked overnight
1.5 cup green tomatillo sauce
2 tbsp arrowroot powder
1/2 cup nut milk
Serve With
Jasmine Rice
Avocado
Cashew Yogurt
Violife Mozzarella
Directions
Drain and rinse your cashews and add to your high speed blender. Add in your tomatillo sauce, arrowroot powder, and your nut milk. Blend on high until smooth and creamy, scraping down sides as needed. Set aside.
In a large soup pot, add your onion, celery, and carrots. Saute until onions become translucent, 4-5 minutes. Add your garlic, red pepper, and jalapeño , saute a few minutes more. Add in your cumin and stir.
Add in your cauliflower rice, mushrooms, corn and saute until all flavors are combined, 1-2 minutes.
Add your rotel tomatoes, vegetable broth, cannelloni beans, nutritional yeast, sriracha, salt, pepper, and stir. Bring mix to a boil and then reduce to a simmer. Stir in your spinach.
Stir in your blender mix and allow to simmer for 20 minutes so soup can thicken. Stir in your lime. Taste and adjust seasoning.