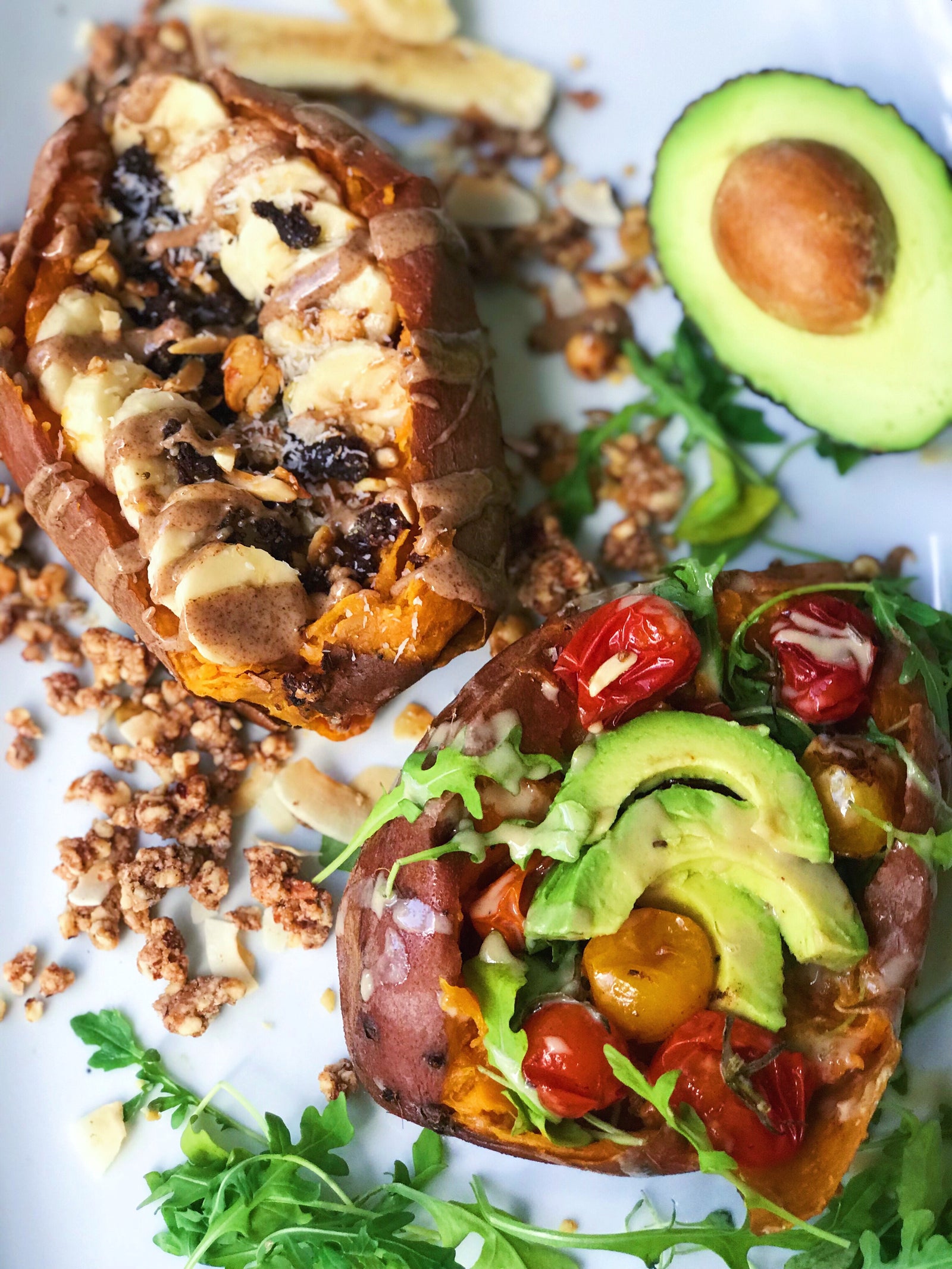 SWEET & SAVORY SWEET POTATO BOATS
Sweet & Savory Stuffed Sweet Potatoes
One recipe, multiple meals. Talk about bang for your buck. For all of you who struggle with the time and patience in having healthy options at your fingertips, this one is for you. 

Stuff them savory, stuff them sweet, or stuff them savory sweet. Eat them for breakfast, lunch, dinner, or snack. What am I getting at? Sweet potatoes are about to become your new best meal prepping friend.

Cook multiple potatoes at the beginning of the week and then fill with whatever you have on hand when you are ready to eat! Purely magical when you finish a long day and are ready to chow down. Options are endless but see how I stuffed mine below!

HOW TO PREP POTATO
Preheat oven to 400F. Wrap sweet potato(s) in foil, piercing a few time with a fork or knife. Place on a baking sheet and let cook until nice and tender, about 45-55 minutes depending on potato size. .
I n g r e d i e n t s
SWEET OPTION
1 sliced banana
1 Hushup & Hustle Blender Bomb
Drizzle almond butter
1/4 cup my homemade granola  (recipe here)

SAVORY OPTION
roasted tomatoes (I had precooked)
arugula
1/2 avocado
drizzle of tahini 
D i r e c t i o n s 
Once your sweet potatoes have cooled add desired toppings. Store in a sealed tight container and add ingredients right before you want to eat them! Rewarm your sweet potato in the oven or in microwave!