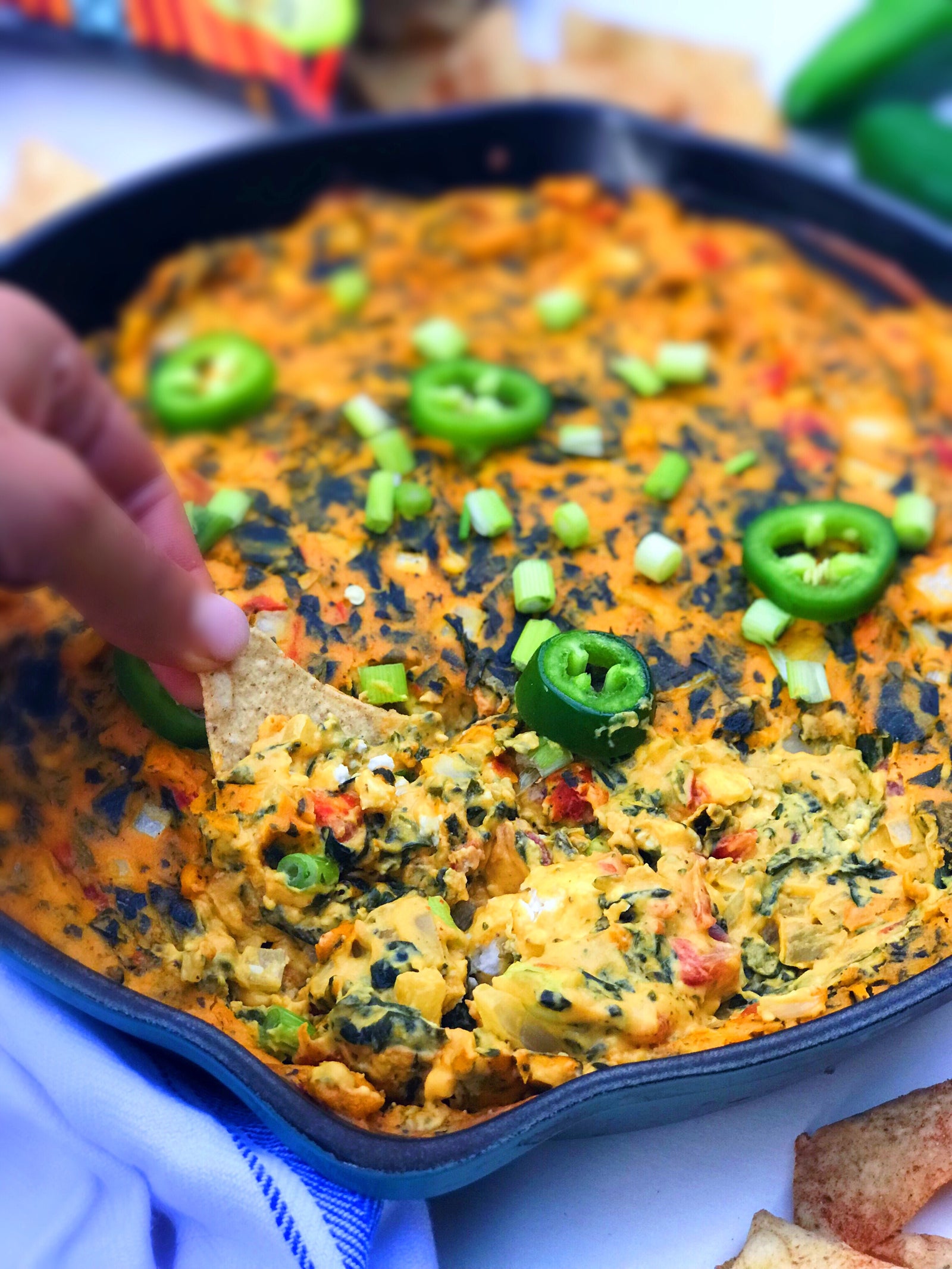 The BEST Cheesy Spinach Dip
I LOVE the way I eat. I often get asked how hard it is to eat a plant based diet, and as weird as it may sound to some, its not hard at all. In fact, I wouldn't have It any other way.
BUT if there is one thing that gets me... its hot, melty. gooey, ooey CHEESE. All the cheese. My body on the other hand has made It very clear that It feels differently, so its something Ive learned to live without.  Until now.....  
I  cannot express in words how excited I was when I tasted this dip for the first time. It truly was love at first scoop. 
I also have never been so excited for YALL to try a recipe. Its that dang good. Tailgating inspo, holiday party appetizer, or just a straight scoop able snack, this cheese dip will win over the most dairy loving hearts. 
I n g r e d i e n t s 
1 batch of my vegan cheese sauce (recipe here) 
3 cups frozen chopped spinach ( defrosted and excess water squeezed out)
1 8 oz container Vegan Cream Cheese ( I use Kite Hill Foods ) 
1 can Rotel tomatoes ( you can sub hot chunky salsa here, but Rotel is best ) 
1 small sweet onion, diced 
2-3 tbsp sriracha 
1/2 tsp sea salt.
toppers: jalapeno and green onion  
D i r e c t i o n s 
Preheat oven to 400F. Lightly grease a large cast iron skillet or casserole dish. Once your spinach has thawed squeeze out all excess water with a paper towel. Add spinach to a large bowl. Add in all other ingredients and stir until well combined. Taste and adjust your saltiness and heat with the sriracha! 
Spread dip into your casserole dish or cast iron skillet and bake on 400 for 25-30 minutes or until the top has turned a golden brown and started to pull away from the sides of the dish. 
Allow to cool before digging in! This will save in an airtight container in the fridge for up to 4-5 days.