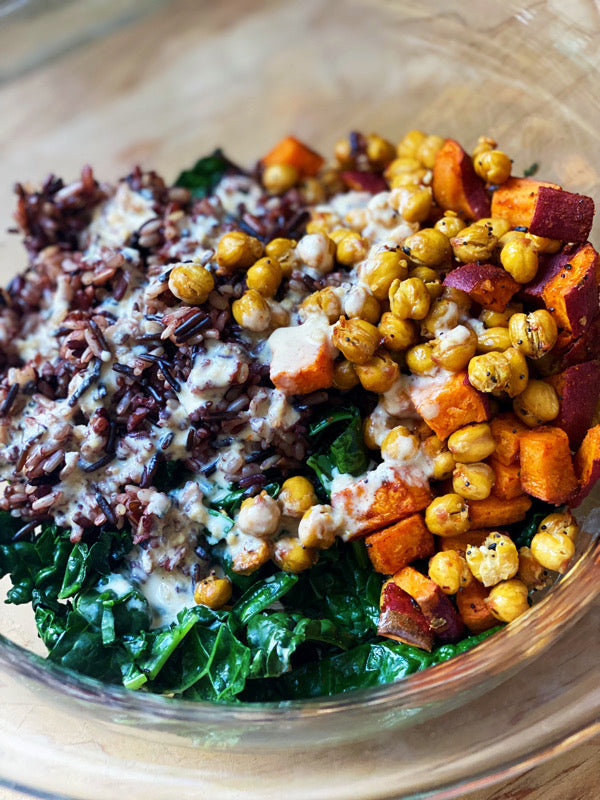 (almost ) One-Pan Buddha Bowl
I eat some variation of this bowl weekly! It's so easy to prep, you can add whatever you have in your fridge, and the main factor, It is absolutely delicious. 
Throw in some extra veggies to roast, double the dressing to have on hand, or add some cold crisp greens if you are like me and love a "hot-cold" combo ! 
The perfect weeknight meal for you and your family! 
Equipment
Mixing Bowl 
Large Baking Sheet
Skillet 
Serves: 2
Buddha Bowl  
Roasted Chickpea
1 can chickpeas, rinsed and pat dry 
drizzle olive oil 
1 tbsp Everything But The Bagel Seasoning ( I used this one ) 
few pinches sea sea salt
Smokey Sweet Potato 
1 large sweet potato, diced into 2" cubes 
drizzle olive oil 
1/2 tsp smoked paprika 
1/4 tsp cumin 
few pinches sea salt 
Sauteed Kale 
1 bunch lacinto kale, de-stemmed, rough chopped 
dash maple syrup 
sea salt 
Other 
1.5 cups cooked rice ( any grain will do ) 
1 shallot 
Maple Tahini
 Dressing 
½ cup runny tahini
2 tbsp fresh lemon juice
2 tbsp maple syrup
1/2 tsp grated fresh ginger
1 garlic clove, minced
½ tsp sea salt
1/4 cup cold water
DIRECTIONS
Preheat your oven to 400F and line a large baking sheet with parchment paper. 
In a large mixing bowl add all your sweet potato ingredients. Mix well and space out evenly on your baking sheet. Roast for 15 minutes. 
While roasting, mix all your chickpea ingredients in the same mixing bowl. After 10 minutes remove your baking sheet from the oven and carefully spread out your chickpeas onto It. 
Roast for another 25 minutes. Sweet potatoes are done when a fork pierces through nicely. You want your chickpeas to have a golden color, starting to slightly brown. 
While your sweet potato/chickpea mix roasts prepare your kale and dressing.  
For kale you have two options: Either add a dash olive oil to a skillet and warm on medium heat. Add your kale and stir. Sauté lightly so that your kale turns even brighter green. Turn off burner. Stir in a dash maple syrup and a pinch of sea salt. Set aside until ready to prepare your bowl. 
OR to keep It truly one pan, add your cooked chickpeas and sweet potato into your mixing bowl so you can reuse your baking sheet. 
Massage your kale with a dash olive oil , maple syrup, and sea salt. Spread onto your parchment paper and roast for only three minutes! Goal is to soften your kale not crisp it up!  Remove from oven. 
For your dressing: Whisk your runny tahini and maple syrup in a bowl. Add your lemon juice , garlic, and ginger, and whisk. Your tahini will start to seize up – so start by adding 1/4 cup cold water and vigorously whisk in.  Keep adding 1 tbsp water until you reach the thinness you want. Taste and adjust salt, maple syrup or lemon.
Add your kale to the bottom of your bowl. Add in your warmed rice, chickpeas and sweet potato. Top with your diced shallot and drizzle on desired amount of dressing. Enjoy!