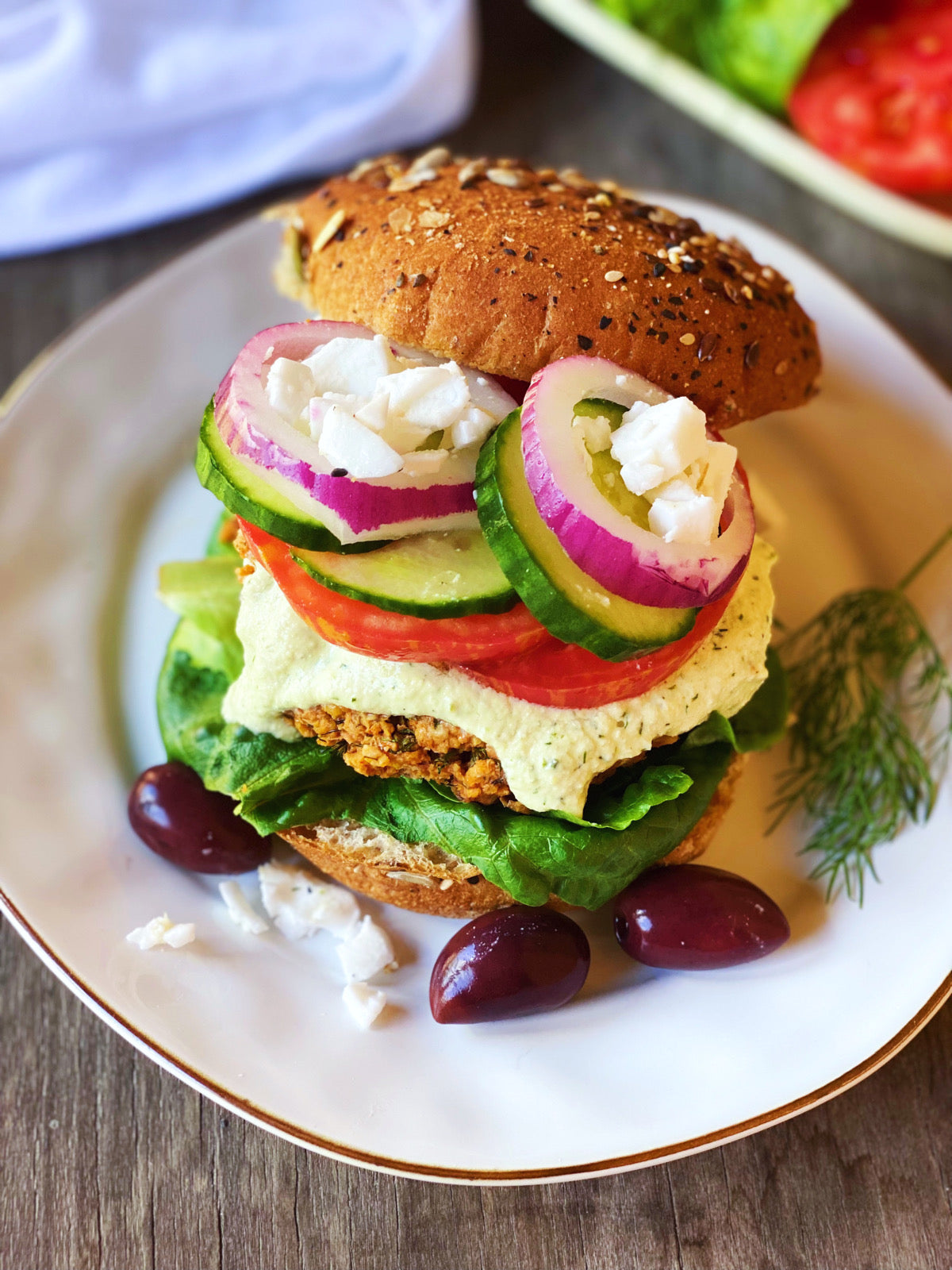 All my plant-based eaters out there, my mission is to never let you feel like you have to "miss out" on a meal again, even if its a summer burger or grill party. 
These Greek burgers are INCREDIBLE and the perfect recipe to take to a party or to host your own...."Build Your Own Burger" party anyone?
These burgers have all your favorite Mediterranean flavors like vegan feta cheese, Kalamata olives, fresh dill, lemon, red onion and they come together in no time. 
I've eaten on a gluten free bun, over a massive salad, or in a wrap-- the options are endless! 
Equipment:
Food processor 
Baking Sheet
Mixing Bowl 
Suggested toppings:
Heirloom tomatoes
Sprouts
Red onion 
Feta Cheese 
Tzatziki Sauce
( see my recipe here )
Ingredients
1 can chickpeas, drained, pat dry 
1 can pinto beans, drained, pat dry
2 tbsp flax meal + 1/4 cup water, mixed in a small bowl
1 cup gluten free oats
1 cup cashews ( sub gluten free bread crumbs)
1.5 tbsp smoked paprika
3/4  tsp sea salt
3/4 tsp pepper
1/2 large red onion, diced
1/2 cup vegan feta, crumbled
1/3 cup dill, de stemmed and rough chopped 
1/4 cup kalamata olives, chopped
1 large jalapeno, de-seeded and diced
2 tbsp lemon juice
Directions 
Preheat your oven to 350F. Line a baking sheet with parchment paper. 
Drain and rinse your chickpeas and pinto beans in a mesh strainer. Pat dry and set aside to ensure dry when used. 
Mix your flaxmeal and water in a small bowl, set aside. 
In a large food processor add your gluten free oats. Process on high until oat flour forms. 
Now add in your cashews, smoked paprika, sea salt, and pepper. Process on high until all resembles a flour. 
In a large bowl add your diced onion, feta, dill, kalamata olives and jalapeno. Mix well.
Add in your dry mix and add in your lemon juice and flax egg mixture.
Using your hands work dry mix into wet until a dough forms. Mix thoroughly. 
Place dough into refrigerator for 30 minutes. 
Remove from refrigerator and begin to make patties with your hands. Place each patty onto the parchment paper. 
Bake your patties for twenty minutes, then flip for another fifteen. 
Allow your patties to cool for another fifteen minutes to hold their shape. 
Grab your bun, your toppings, and enjoy the most delicious burger!