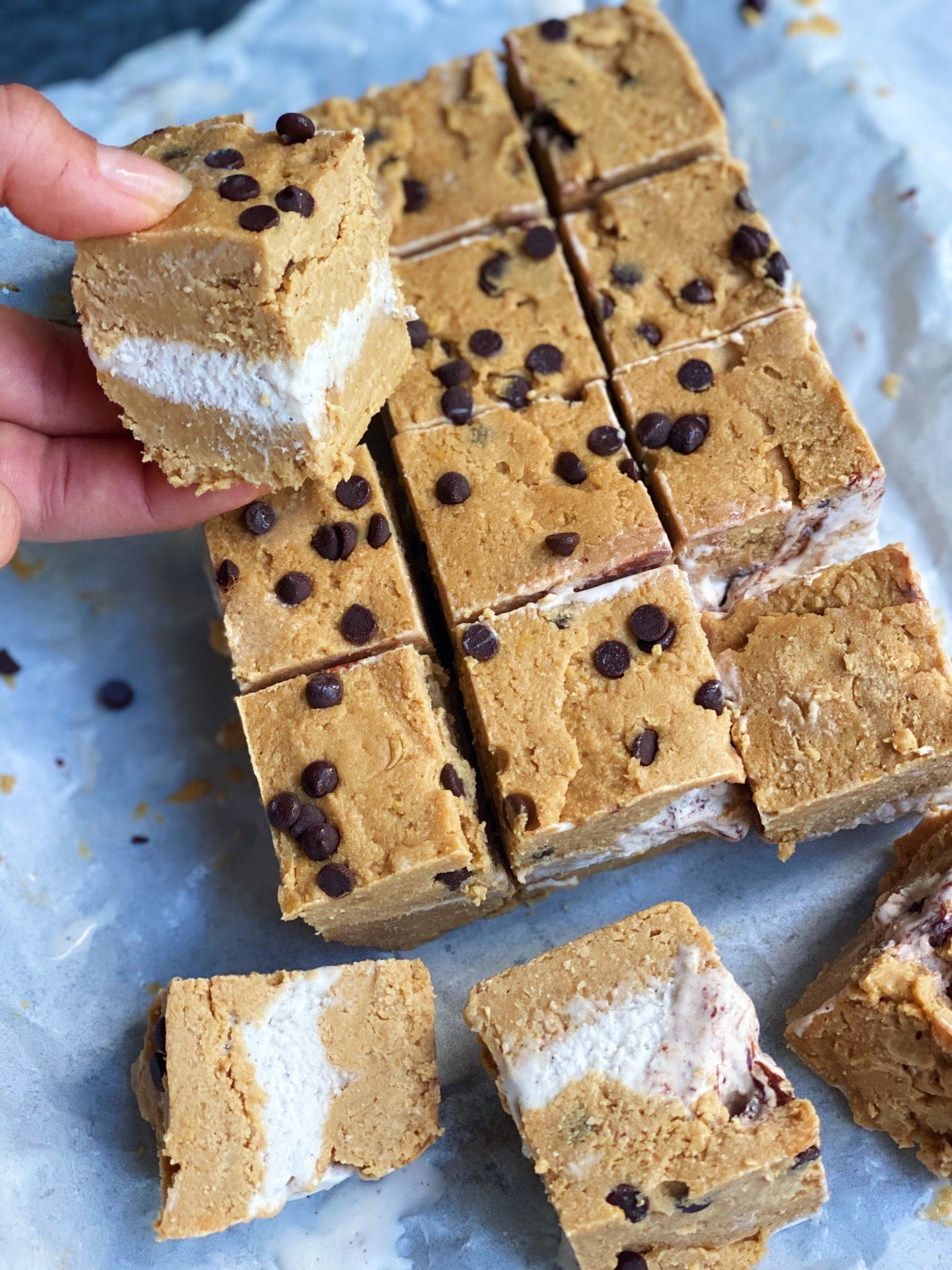 Cookie Dough Ice Cream Sandwiches
I prefer my sandwiches to be made out of chocolate chip cookie dough and vanilla bean ice cream! Doughn't you? 
One bite of these and you will be reminded why these two make such an epic combo. In fact, I don't think I can ever go back. Im pretty sure these are suitable year round too. 
Go ahead and get crazy with your ice cream flavor too, Im thinking cookies and cream might be my next test! 
Ingredients 
2 cans chickpeas, unsalted
1 cup gluten free oats
1/2 cup coconut sugar
1/4 cup coconut flour
1/4 cup cashew butter
1/3 cup maple syrup
1 tbsp vanilla extract
1/3 cup almond milk
1 tsp sea salt
Stir In: 2/3 cup chocolate chips
4 cups ice cream flavor of choice 
Directions
Line a loaf pan with parchment paper. 
Drain and rinse your chickpeas, pat dry. 
Add your oats into your food processor and process until a fine oat "flour" forms. Add in all other ingredients  ( except chocolate chips) and process until dough is nice and smooth. Scrape down the sides as needed and continue to process until you reach desired consistency. This takes a few minutes.
Taste and adjust sweetness! Remove your blade and STIR in your chocolate chips. 
Spread exactly half of the cookie dough batter on the bottom layer of the loaf pan, smoothing out the edges and making all even. Place in freezer for 30 minutes. 
At about 20 minutes, remove your ice cream from the freezer so that It can *very* slightly thaw. 
Remove cookie dough from freezer, spread ice cream on top, and then spread the rest of your cookie dough batter on top of ice cream, making sure top layer is smooth and even. 
Pop into the freezer for at least 3 hours. Allow to thaw 20 minutes before slicing and serving!