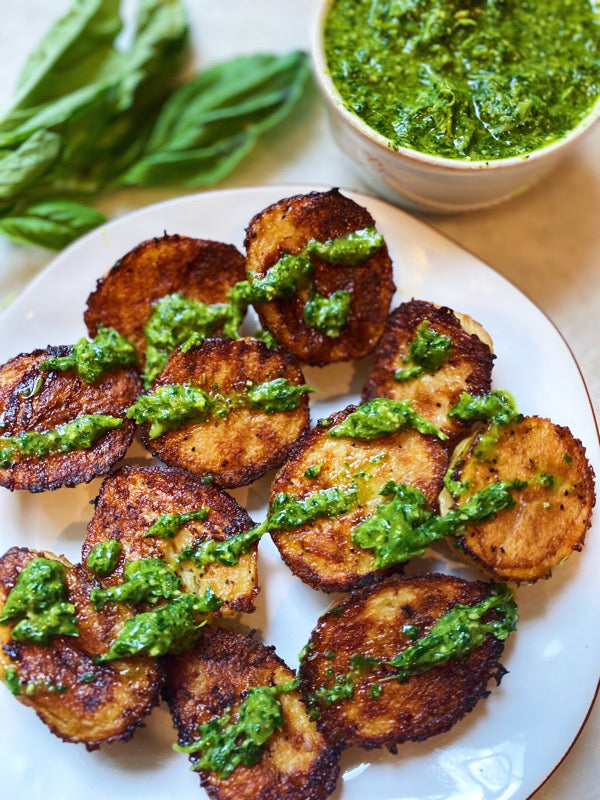 (extra) Crispy Pesto Potatoes
These potatoes are the side dish that will steal the main show! 

Extra crispy potatoes ( used my favorite trick ) paired with extra creamy (arugula) pesto turns out to be a match made in heaven.

I used arugula as the base for this pesto and It is just as delicious as it is nutritious. Combined with fresh basil, pine nuts, fresh lemon, nutritional yeast, EVOO, and more -- this pesto is the perfect dipping sauce for any roasted veggie or baked bread! 
Arugula Pesto 
3 cups fresh arugula 
1 cup basil leaves 
3/4 cup fresh parsley 
2 green onions sliced 
1 large clove of garlic 
1 lemon juiced 
1/4 cup pinenuts 
3 tbsp nutritional yeast 
1/4 tsp sea salt 
1/3 cup olive oil 
Add all ingredients EXCEPT olive oil in a large food processor. Pulse your ingredients for about 30 seconds. Scrape down the sides of your food processor. Set to a slow churn and slowly add in your olive oil. Scrape down sides as needed and continue to churn until a pesto consistency forms. 
Taste and adjust salt/lemon/ garlic. 
Crispy Potatoes 
10 mini potatoes, peeled 
1 tbsp olive oil 
2 tsp arrowroot starch 
1/2 tsp garlic powder 
3/4 tsp sea salt 
1/2 tsp pepper 
Add your peeled potatoes to a bowl of cold water, and ensure potatoes are covered. Allow your potatoes to soak for an hour — this helps to remove some starch and get them crispy. 
Preheat your oven to 425F and line a baking sheet with parchment paper. 
After an hour, drain your potatoes and pat them dry with a dish cloth. 
Slice in half and add back into your dried off bowl. Add your olive oil, arrowroot, garlic, sea salt, and pepper. Mix well. 
Place potatoes face down on your parchment paper. Bake for 20 minutes. Flip over and bake another 10-12. Potatoes are done when golden brown and crispy. 
Serve alone or with our creamy arugula pesto ! Eat immediately for crispiest potatoes.