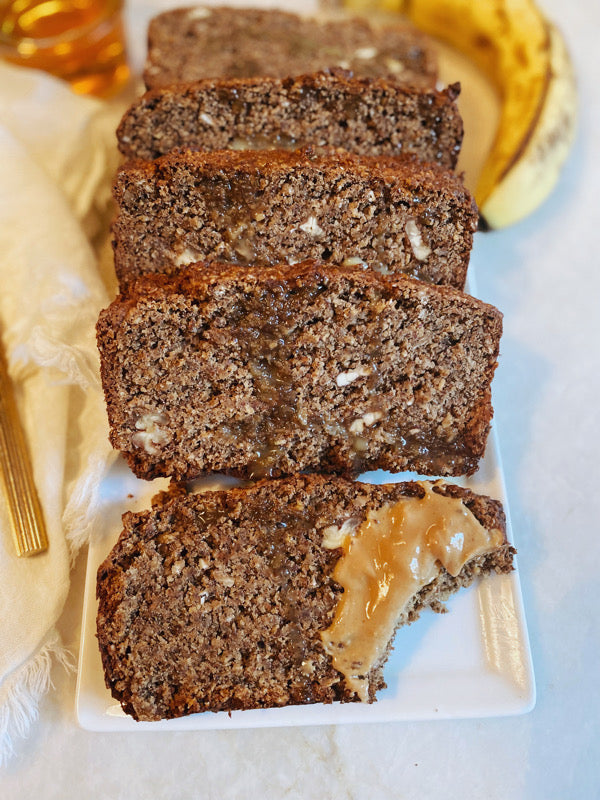 Just to put It out there, I did not set out to create my favorite banana bread recipe last night... this banana bread created itself. It was me throwing in some almost empty bags of flour and hoping for the best.
At best, I intended to make something decent to use up some old bananas that passed the Harper test. 
But the baking gods were with me last night because my GOODNESS this banana bread is real good. Like real real good. 
I love a thick, melt-in-your-mouth, good ole piece of banana bread and that is exactly what this is. She gets crispy on the outside and incredibly moist on the inside. 
Lather on a drizzle of honey or a smear of your favorite nut butter, and I promise you will be making this one on repeat. 
Equipment:
Oven 
Loaf pan
Mixing bowls
Parchment paper 
Wet
1 flax egg ( t tbsp flax meal + 2 tbsp water) 
1.5 cup mashed banana 
1/2 cup coconut sugar 
1.5 tsp vanilla 
2 tbsp coconut oil 
2 tbsp cashew butter
3.5 tbsp honey or maple syrup 
2 tbsp almond milk 
Dry
1.5 cup oat flour 
1 1/4 almond meal 
1/2 cup buckwheat four 
1/4 cup almond flour 
3.5 tsp baking powder
1/2 tsp cinnamon
1/2 tsp sea salt 
Preheat your oven to 350F and line a loaf pan with parchment paper. 
Mix your flax egg in a small bowl and set It aside. In a larger mixing bowl add your wet ingredients and whisk until no more clumps remain. 
In a separate bowl whisk your dry ingredients. 
Once coagulated whisk your flax egg into your wet ingredients. 
Add your dry ingredients into your wet and mix to combine. 
Pour batter into your loaf pan and bake for 50 - 55 minutes. Bread is done when there is a beautiful golden color to the top layer and a toothpick comes out clean. 
Allow bread to cool before removing from loaf pan and slicing. 
Store in a sealed container for up to one week. 
Enjoy!