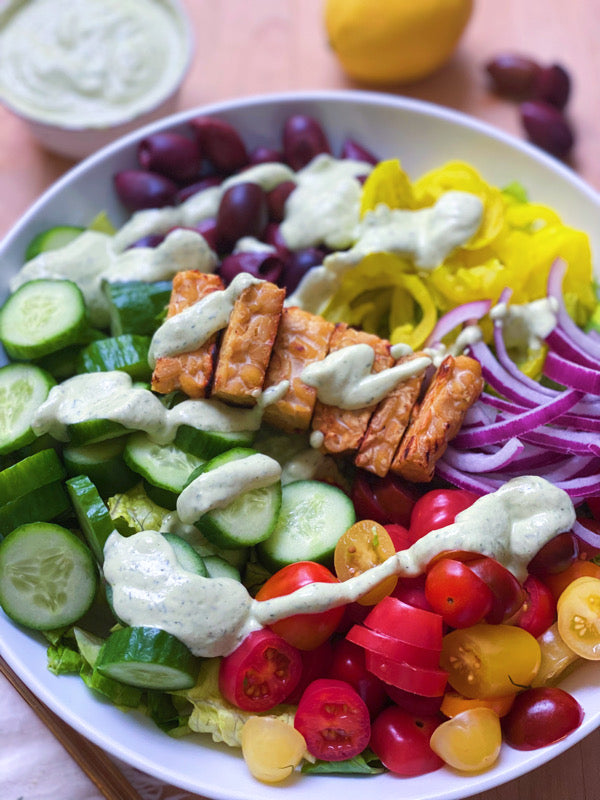 Everything you love about a gyro, just in bowl form. All that means is more toppings and more room to mix It all together.
Crispy tempeh and a creamy tzatziki dressing are the stars of the show here, and together they really take things over the top. Great protein, fiber, and healthy fats make this bowl one that deserves to be on your nightly rotation.
I live for big salad bowls once the weather starts to climb and this one will be no exception! 
Equipment: 
Steam pot 
Cast Iron Skillet 
High Powered Blender 
Gyro Salad
1 pack original tempeh, sliced into 1/2 inch strips
avocado or olive oil 
1 large head romaine ( about 5 cups ) , chopped 
1 cup grape tomaoes, halved
1 cup kalamata olives, pitted 
3 persian cucumbers ( sub 1 english cucumber ) , sliced 
1/2 cup pepperoncini peppers ( sub banana peppers ) 
1 small red onion , sliced 
Tzatziki Dressing
1 cup cashews (soaked overnight)
2 tbsp olive oil
2 large garlic cloves
1/4 cup fresh lemon juice
1 tsp lemon zest
1 cucumber, grated skin on (see below instructions)
1/4 cup nut milk 
1/2 cup water (to start)
3/4 tsp sea salt, (to start)
1/3 cup (+ more to taste) fresh dill, chopped


toppers: extra grated lemon zest and dash olive oil 
D I R E C T I O N S 

Let's prepare the dressing first, so It has time to thicken in the fridge. 
Drain your cashews and add to blender. Add your lemon juice, water, garlic, olive oil, and sea salt. Blend until completely creamy and thick. If you need more water, add a tbsp at a time! You don't want It to be overly thin.

Grate your cucumber into a fine strain mesh bag or into a cotton dish rag. Squeeze out all excess water, should yield about 1/3 cup!
.
Pour the sauce into a large mixing bowl. Stir or pulse in your chopped dill and cucumber. Once well mixed taste and adjust! I added a tad more salt and lemon. Grate a little lemon zest and drizzle of olive oil to top! .
Prepare the salad.
Add your tempeh to a steam pot and steam until softened, about 10 minutes. Pat dry. In a bowl, mix your tempeh with a dash olive oil and season with salt and pepper. 
Coat your cast iron skillet with a good dash avocado ( higher heat point but olive oil works fine too! ) to your cast iron skillet and warm to medium / high heat. Once sizzling add your tempeh slices. Allow your tempeh to brown on each side, flip / stir occasionally until both sides are browned. Taste and adjust seasonings. 
In a large bowl add your romaine. Top with your tomatoes, olives, cucumbers. peppers and red onion. Add desired amount of tempeh strips and drizzle on desired amount of dressing.