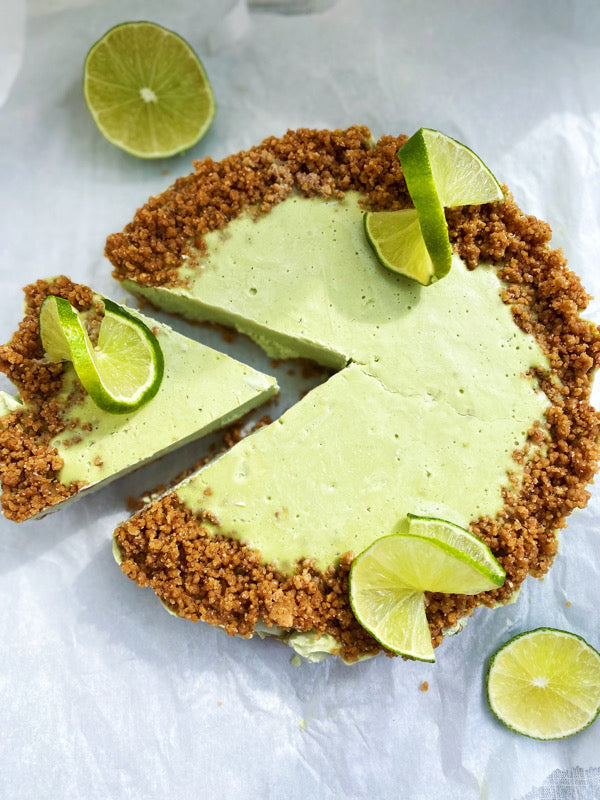 Happy St. Patricks Day! The day your new favorite' No-Bake Key Lime Pie w/ Graham Cracker Crust' was born. 
This recipe is for your enjoyment today and everyday … oh and that graham cracker crust , yep , good luck getting It actually into the pan.
Graham Cracker Crust 
1 1/4 cup gluten free oats 
3 tbsp almond flour 
1 tbsp coconut flour 
1/2 tsp sea salt 
4 medjool dates 
3 smyrna dried figs ( can sub for more dates) 
1/4 cup creamy cashew butter
2 tbsp raw honey 
1.5 tsp vanilla extract
Key Lime Filling
1.5 cup raw cashews ( soaked overnight ) 
1 can coconut cream ( refrigerated overnight) 
1 tbsp lime zest ( more for topping ) 
1/3 cup lime juice 
1/3 cup raw honey 
3 tbsp coconut oil , melted 
1.5 tsp vanilla extract 
1/2 tsp sea salt 
If your dates and figs are not squishy, soak them in hot water for 10 minutes prior to making your cheesecake. 
Line a cake pan with parchment paper.
In a large blender add your gluten free oats. Blend until a very fine flour forms. This works best in a blender, and not a food processor! 
Add your oat flour, almond flour, coconut flour , and sea salt into your food processor. 
Drain your dates/figs and make sure there are no stems or pits remaining. Add them into your food processor along with remaining crust ingredients. 
Process until a crumbly mixture forms , slightly sticky. 
Reserve about 1/3 cup for the topping. 
Pour the remainder of your crust into your cake pan. Use your fingers to press the mixture into the base of the cake pan, forming an even layered crust. Pinch the sides of the crust up the cake pan slightly, to help form the "edge" of the crust. 
Place your cake pan in the freezer while you prepare the filling. 
Drain and rinse your cashews , add into your blender. 
Scoop all of the coconut cream out of your refrigerated can. Discard of any of the liquid in the bottom of the can— you only want the hardened cream! 
Add your cream and all other filling ingredients into your blender. Blend on high for 3-4 minutes or until you have a very smooth filling — no clumps remaining. 
Pour your filling over your crust. Top with your saved crust crumbles. Optional: add additional lime zest for color or some lime slices! 
Freeze for a minimum of four hours! 
When ready to serve allow your cheesecake to slightly thaw on the counter and slice when ready. 
Store leftovers in the freezer.