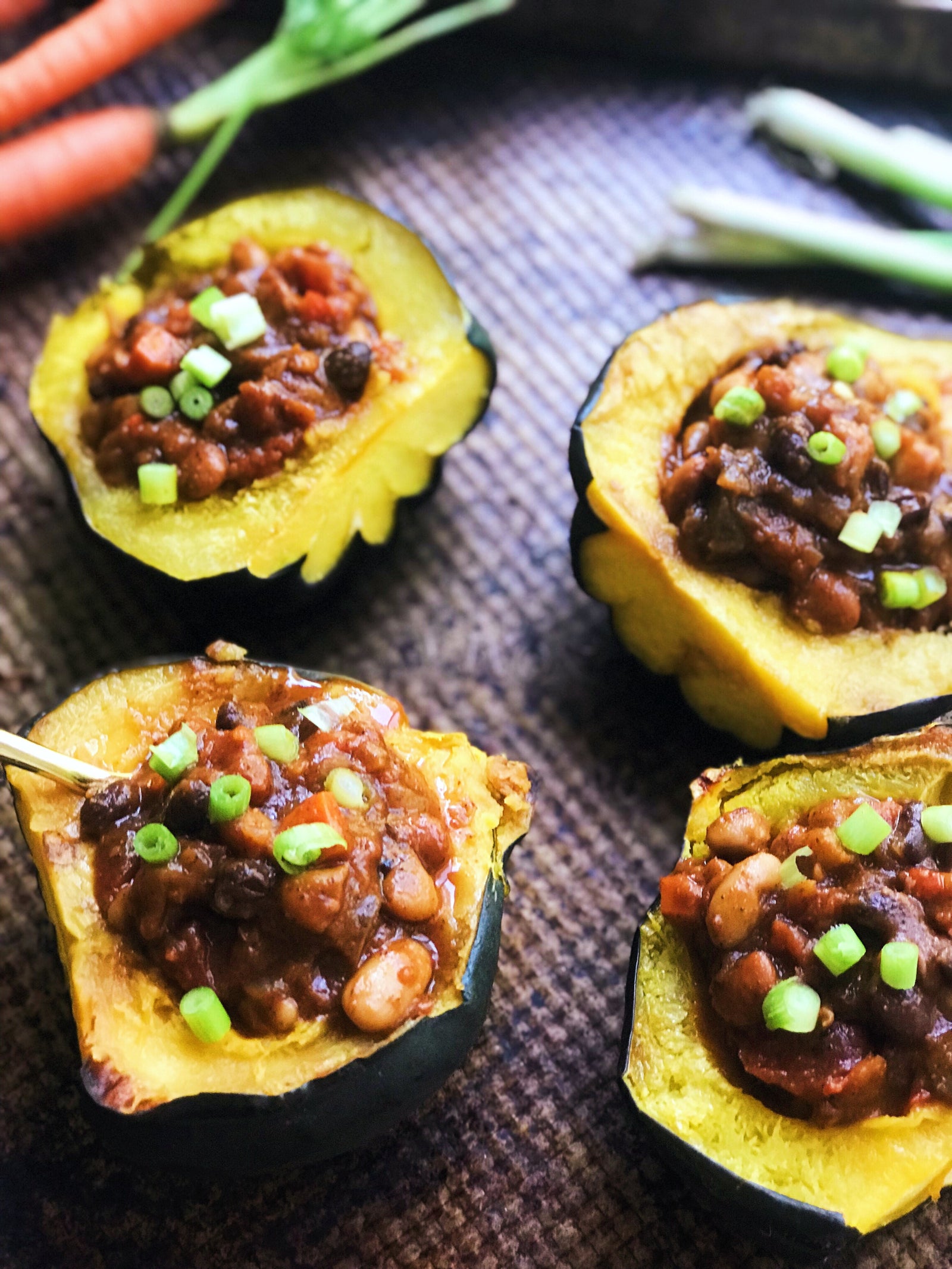 Tis the season for soup, and more importantly CHILI! Seriously, nothing better than a big bowl of warming, hearty veggie filled chili. And on Halloween night?? Nothing better.

I love THIS chili. Most importantly, I love the addition of pumpkin to this chili.

The pumpkin adds a subtle sweetness to counteract the spice of the chili, and also adds an element of creamy, thickness to the broth. So. dang. good.

If you are having people over for Halloween, and still don't know what to make, this baby takes under 15 minutes to throw together and then you just let It simmer. My kind of dinner!


I n g r e d i e n t s 
1 cup carrot, diced 
1 yellow onion, diced
3 small rib celery, diced 
2-3 garlic cloves 
2.5 tbsp chili powder
3 tsp cumin 
2 tsp paprika 
1/4 tsp cinnamon 
2 cans diced tomatoes ( I used one fire roasted and one regular)
1-2 tbsp siracha ( for added heat, optional) 
1 can pumpkin puree 
2 cups broth ( less if you like super thick) 
3 tbsp coconut sugar 
1 can black beans 
2 can white kidney beans 
1 can pinto beans 
2 tsp sea salt
D i r e c t i o n s 
Drain and rinse your beans. Set aside. In a large soup pot, add a tbsp or so olive oil. Add your carrots, onion, & celery. Saute for a few minutes and then add your garlic. Saute 7-8 minutes more, continuing to stir.

Add in your chili powder, cumin, cinnamon, paprika, and stir to combine. Add in your tomatoes, broth, pumpkin, siracha, coconut sugar, beans, and salt.

Bring to a boil and reduce to simmer and continue to simmer for 1 hour (if you have the time). Taste and adjust salt and spices.

Enjoy!