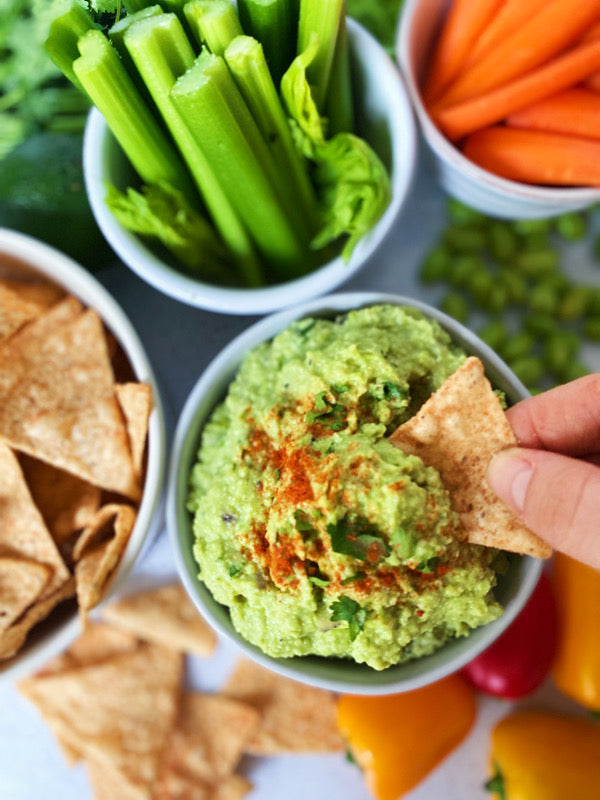 Protein Edamame Guacamole
If you know me you know my love of guacamole runs deep. Never did I think I need to strengthen our relationship, but this "Protein Edmame Guacamole" recipe might have done the trick .
Im in love with the texture that the edamame brings, and of course, the nutritious punch it adds.
Moral of the story, your weekend appetizer plans have been made!
PSA: i have the best margarita recipe on website too
Ingredients
2 ripe avocados
1 cup edamame
1.5 tbsp lemon juice
1.5 tbsp lime juice
1 jalapeno, deseeded and chopped
1/4 cup cilantro, finely chopped
1/2 small red onion, finely chopped
1/2 tsp cumin
1/2 tsp sea salt
1/2 tsp pepper
Sprinkle smoked paprika
*more seasonings to taste
Directions
Add your cooked edamame, flesh from your avocados into your food processor, lemon and lime juice , and seasonings into your food processor. Process until creamy.
Now pulse in your red onion, cilantro, and jalapeño if using.
Taste and adjust seasonings.
Scoop into a serving bowl.
Serve/ Top with:
Smoked paprika
Lime wedge
Veggies
Tortilla chips