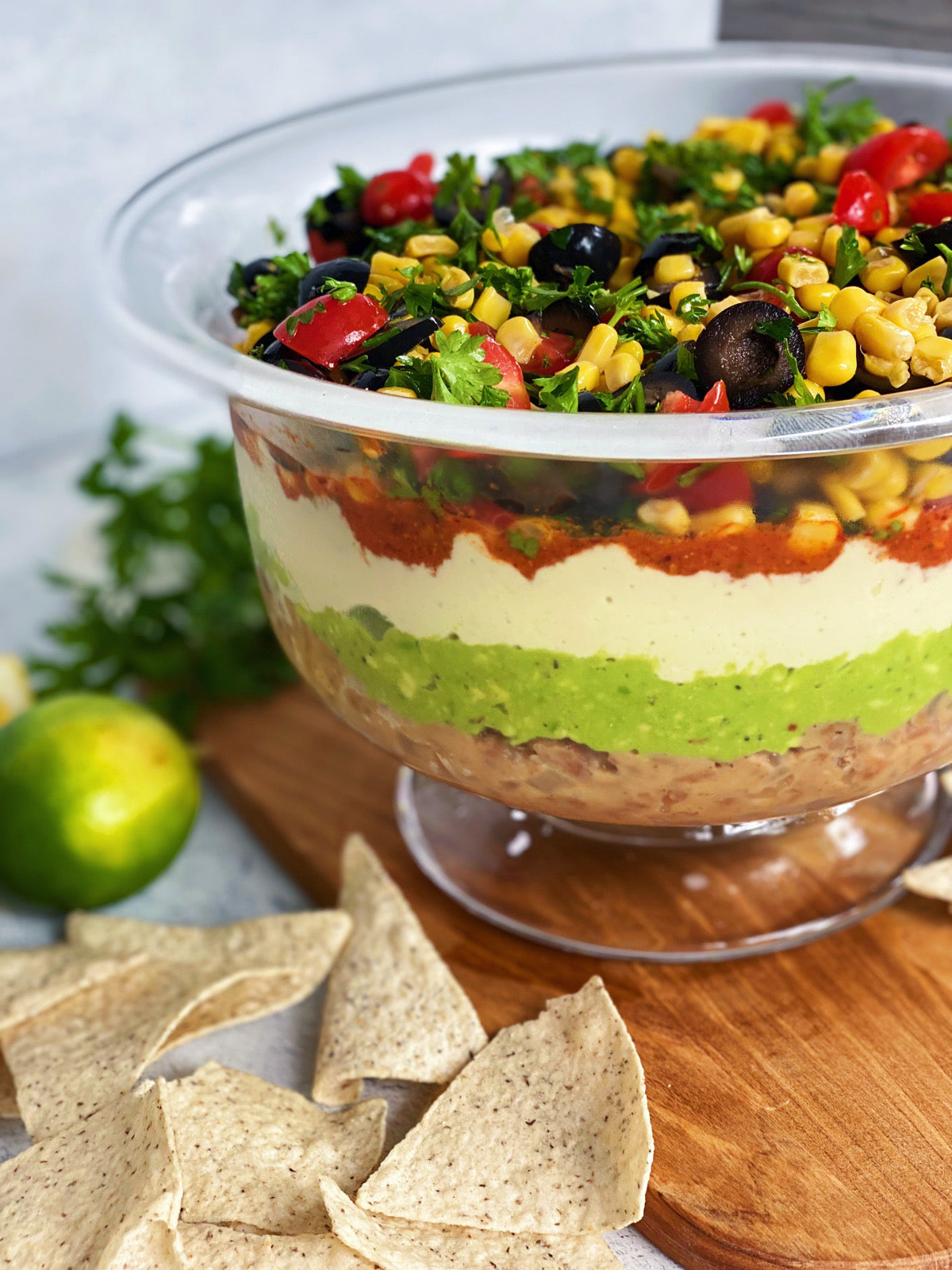 Ya'll know I love a good dip that gets the family gathering around  -- If you need a refresher, check out my absolute favorite Cheesy Spinach Dip or Spinach Artichoke Dip . 
But for now, lets focus on these LAYERS. Homemade refried beans ( takes 10 minutes ) , fresh guacamole, spicy cashew queso, chunky salsa, all topped with black olives, corn and fresh herbs. I'm telling you, this is a dip chip lovers heaven. 
Next tailgate, birthday, or girls night -- this will be your new go-to! And bonus -- It takes twenty minutes to whip up! 
"Refried" Bean Layer
2 tbsp olive oil
2 cans pinto beans, rinsed and pat dry
½ large onion, diced
2 cloves garlic, diced
½ cup vegetable broth
½ tsp cumin
½ tsp chili powder
½ tsp sea salt
Pinch red pepper flakes
Warm your olive oil over medium heat in a small sauce pot. Add your onion and sauté a few minutes until translucent. Add your garlic and sauté a minute more.
Add your beans, your broth, and rest of your spices. Stir well.  Mash your beans with a potato masher or back of a fork. Bring your beans to a simmer for 5 -7 minutes, stirring occasionally. Add a dash more liquid if become too dry. Taste and adjust seasoning.
Guacamole Layer
4 large ripe avocados
1 tbsp fresh lemon juice
1 tbsp fresh lime juice
1.5 tsp cumin powder
1/2 tsp sea salt + more to taste
Few pinches pepper
Few pinches red pepper flakes ( optional for a kick)
In a large mixing bowl, scoop out the flesh of each avocado, discarding of the pit. With the back of a fork mash your avocados. Add all the rest of your ingredients into the bowl and stir with a mixing spoon. Taste and adjust your salt/pepper!
Cashew Queso
Ingredients
¾ cup cashews, soaked for a minimum of 4 hours
1 jar Green Tomatillo Sauce ( I use this brand found at Whole Foods) 
Pinch sea salt
 **If you do not have the ability to make Cashew Queso, Siete Foods makes a great option, linked here! Found at Whole Foods.
Salsa Layer
Any favorite store bought salsa will work great!
Black Olive Corn Mix
1 can black olives, rinsed and sliced
1 can sweet corn, rinsed and dried
1 cup tomatoes, quartered
1 cup parsley or cilantro, rough chopped
Juice of ½ lime
Pinch sea salt
Pinch pepper
Add all ingredients into a bowl and stir well!
Assemble:
Layer your refried beans , then your guacamole , then your cashew queso, salsa jar, and your black olive corn medley!